Passengers are not flying, but cargo is
Covid-19 is rewriting the rules of how we live, behave and work. The novel coronavirus (SARS-CoV-2) is rapidly choking off the life of the world economy. The pandemic has already taken its worst toll on global aviation industry as airlines after airlines ground their aircraft as demand plummeted over fears of contagion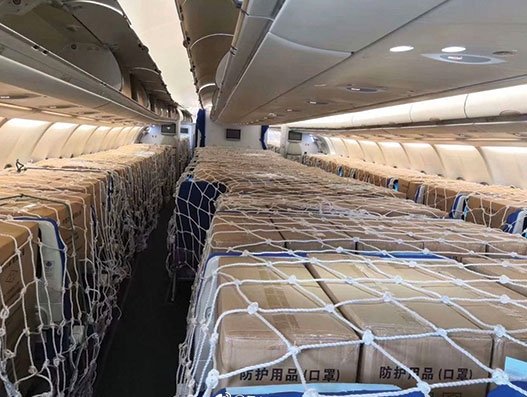 Covid-19 is rewriting the rules of how we live, behave and work. The novel coronavirus (SARS-CoV-2) is rapidly choking off the life of the world economy. The pandemic has already taken its worst toll on global aviation industry as airlines after airlines ground their aircraft as demand plummeted over fears of contagion, reinforced by air travel restrictions. There is no doubt that the aviation industry is going through the greatest crisis in its history and it must be saved at any cost.
Global supply chains are getting disrupted like never before. More airlines getting grounded mean that there is significant loss of cargo capacity on passenger belly-hold. Remember, more than 50 percent of global air cargo volume is carried in the bellies of passenger airplanes. Just-in-time, humanitarian, relief, premium and express categories of cargo types are suddenly stuck at factories, warehouses and airport cargo terminals.
But unprecedented times call for unprecedented solutions and that is where the cargo divisions of grounded airlines are literally thinking out of the box to deal with the current crisis. Airlines are taking extraordinary measures to keep the world moving, while their own business is in crisis. Airlines are using their grounded passenger jets to move goods which are critical to deal with the pandemics all around the world.
For the airline industry, it is critically strategic to keep at least some top line in place to offset enormous fixed costs as demand for travel is almost nil for most of the airlines. And it is here that airlines are turning creative; all within the rules. Airlines are loading cargo into the passenger cabins of wide body passenger planes. Ever seen a passenger aircraft with its main deck full of cargo boxes securely strapped to the passenger seats?

Route network of Emirates SkyCargo's passenger freighters and full freighters published as of March 23
China Eastern recently sent two of its wide body passenger aircraft (A330 and B777) with cargo filled both in their main deck and belly holds. The aircraft was full of medical supplies to Prague in Czech Republic.
Is cargo allowed to be loaded into cabins of passenger aircraft? If yes, what does the law mandate?
According to Federal Aviation Administration (FAA), cargo may be carried anywhere in the passenger compartment if it is carried in an approved cargo bin that meets requirements like: "The bin must be attached to the seat tracks or to the floor structure of the airplane, and its attachment must withstand the load factors and emergency landing conditions applicable to the passenger seats of the airplane in which the bin is installed, multiplied by either the factor 1.15 or the seat attachment factor specified for the airplane, whichever is greater, using the combined weight of the bin and the maximum weight of cargo that may be carried in the bin."
The FAA conditions further state: "the cargo bin must be properly secured by a safety belt or other tie-down having enough strength to eliminate the possibility of shifting under all normally anticipated flight and ground conditions".
In addition to regulations by FAA, International Air Transport Association (IATA) mandates its member carriers to seek guidance from origin and destination civil aviation authorities when they intend to use the passenger cabin for the carriage of cargo.

American Airlines first cargo-only flight ready to take off from DFW to FRA
China Eastern is among the many airlines which have put their passenger jets for cargo transport. Korean Air, American Airlines, Lufthansa, United, Swiss, Delta, Cathay Pacific, Singapore's low cost carrier Scoot and Emirates Airline are the others. Air Canada has announced cargo only flights between Toronto, Montreal and Vancouver to UK, Europe and the US. It is likely that more airlines will follow in the near future.
However, as per the information available with The STAT Trade Times, after talking to several airlines, it is only China Eastern that is using the passenger cabins to load cargo. Emirates SkyCargo will be soon flying some of its B777-300 passenger aircraft with cargo to 19 destinations in Africa, Asia and Europe. However, for Emirates, all cargo goes below deck and not into the passenger cabins. Its B777-300 passenger plane takes more or less 28-30 tonnes of 140-160cbm or cubic metre.
American Airlines' first cargo-only flight departed from Dallas Fort Worth International Airport (DFW) last weekend to Frankfurt Airport (FRA). Its B777-300 operated two round trips between DFW and FRA over the course of four days. The 777-300 has 14 cargo positions for large pallets and can carry more than 100,000 pounds. This is the first scheduled cargo-only flight since 1984 when American retired the last of its Boeing 747 freighters.
The STAT Trade Times has learnt that American Airlines as of now carries cargo only in the bellies of their passenger aircraft by may consider carrying cargo in the passenger cabins.
Charter broker firm Air Charter Service has listed the availability of B777 and B787 passenger aircraft for cargo charters on Asia-Pacific routes.
Air Charter Service lists availability of B777 and B787 passenger aircraft,
among others, for cargo charters on various routes

All cargo carriers and full freighter operations of major airlines are all running in full capacity as cargo operations are allowed by governments around the world. While IATA and its members continue to support governments in their efforts to contain the spread of Covid-19, the industry body is pleading governments to exclude air cargo operations from any Covid-19-related travel restrictions, to ensure life-saving medical products can be transported without disruptions.
By putting those idled jets to work, these carriers can at least gain some revenues, and in the process also get critical items where they need to go as medical professionals battle Covid-19 pandemic.
Amid declining oil prices and the prospect of realising higher freight forwarding fees, putting idled passenger jets in the air is serving as a tailwind for airlines to embrace cargo transport. And this comes as some relief for airlines already choking under the Covid-19 pandemic.