Implementation of SAATM takes centre stage in Africa during crisis
Compared to the other regions, African airlines saw freight demand go up by 9.7 percent year-on-year in September. Aviation stakeholders believe that the pandemic is the right time to set the tone for intra-African trade as SAATM continues to be a priority for the aviation sector.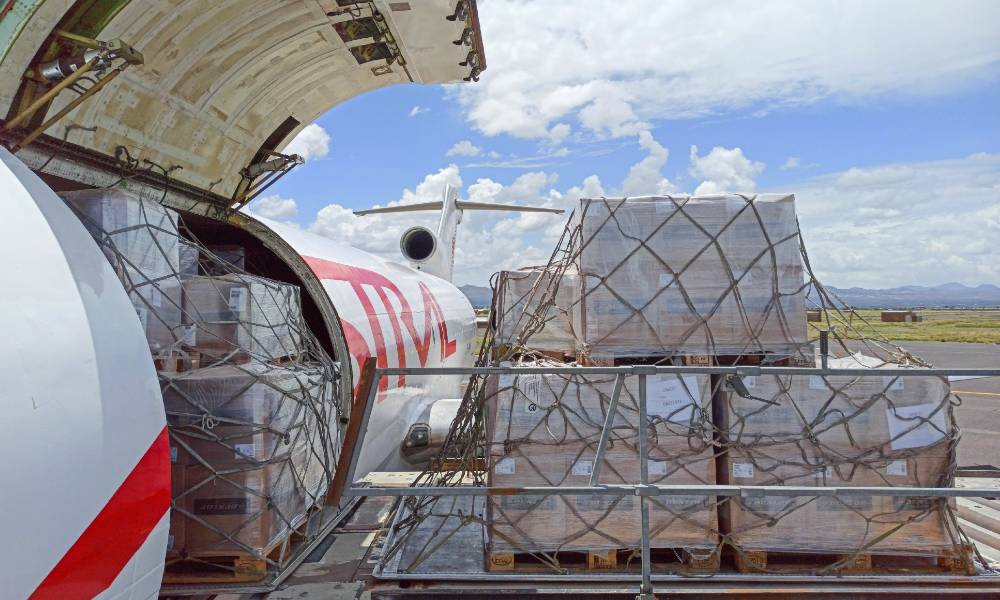 Compared to the other regions, African airlines saw freight demand go up by 9.7 per cent year-on-year in September. Aviation stakeholders believe that the pandemic is the right time to set the tone for intra-African trade as SAATM continues to be a priority for the aviation sector.
Renationalising Kenya Airways, Air Mauritius slipping into business rescue, and South African Airways disappearing from the sky – these are the few disappointing stories on Africa in 2020 added with the Covid-19 impact.
The shattered economy has begun to show a positive sentiment since September in the freight demand. Compared to other regions, the continent's aviation industry recorded an uptick during this period, according to the International Air Transport Association (IATA). African airlines saw freight demand go up by 9.7 per cent year-on-year. Investment flows along the Africa-Asia trade lane continued to drive the regional outcomes while international capacity decreased by 24.9 per cent.
Considering this improvement in freight numbers and sharing the projection for 2021, Sanjeev Gadhia, CEO and founder, Astral Aviation, says, "The air cargo sector in Africa will remain depressed in 2021 due to the slowdown in the trade as the world moves into recession and economic stagnation. There will be a reduction in the capacity of at least 30 per cent in 2021 compared to 40 per cent during the same period in 2020. Yields will continue to remain high in 2021 due to the lack of belly capacity and lack of capacity to and within Africa."
"There will be a reduction in the capacity of at least 30 percent in 2021 compared to 40 percent during the same period in 2020."

Sanjeev Gadhia, Astral Aviation
Recently, Astral leased B767-200F from ATSG subsidiary Cargo Aircraft Management (CAM). The freighter will commence scheduled flights in mid-January 2021 and will focus on commercial flights from Nairobi to Sharjah and Nairobi to Johannesburg with two frequencies each per week.
Agreeing to Gadhia, Fitsum Abadi, MD, Ethiopian Cargo & Logistics Services observes, "For 2021, in line with the production of Covid-19 vaccine we have assumed that the impact of Covid will diminish world trade. The demand for perishable and consumer goods will rise and this will enable African airlines to get benefited on both to/from African trade lanes."
IATA and African Airlines Association (AFRAA) have joined forces with the African Civil Aviation Commission (AFCAC) to provide technical support to the African air operators of states party to the African Union's (AU) flagship Single Africa Air Transport Market (SAATM) programme to ensure that they achieve and maintain global aviation safety standards.
Gadhia leads AFRAA as chairman of the cargo and route network committee (since October 2020); and as the International Air Cargo Association's (TIACA) vice chairman and secretary general. Responding on how he will utilise this key positions to implement SAATM and create a value proposition for the African aviation industry, Gadhia, stresses, "Africa has lost its value proposition due to the lack of consolidation or cooperation between the member airlines, especially during the pandemic. Despite limited passenger flights being resumed by some of the larger airlines, it is sad to note that the member airlines continue to operate with poor load factors on thin routes. Having chaired my first meeting in the new role at AFRAA, we have come up with several initiatives on greater collaboration by the introduction of a reporting mechanism. It will enable member airlines to provide schedule information for meaningful communication."
The plans to renationalise Kenya Airways by the end of 2020 has been shelved to allow for a fresh round of public debate. The airline sank into debt in 2014 after a failed expansion drive. As maladministration of state-owned airlines is becoming a nightmare in Africa, Kenya Airways to stay privatised is continuing to focus on its business during the Covid era and has flown over 1,000 flights from April till date for cargo.
In a recently concluded virtual webinar hosted by The STAT Trade Times and air cargo Africa on 'Future forward - what does it take for Africa to create a competitive landscape for air cargo?', Peter Musola, manager, cargo commercial, Kenya Airways, commented, "We need a clear legislative framework. We need to harmonise to progress. AU and other umbrella bodies are driving the legislative policies."
Meanwhile, to promote intra-African trade, the carrier has started direct freighter service from Johannesburg hub to Maputo, Harare, Lilongwe, Lusaka, and Dar-es-Salaam. Earlier, all traffic departing from Johannesburg had to pass through its Nairobi hub. With this new development, cargo from Africa's largest manufacturing economy will now fly directly to these markets.
Speaking at the same webinar, Bongiwe Pityi-Vokwana, general manager, O.R. Tambo International Airport, highlighted, "Covid has allowed improvising on trade integration, regional infrastructure, financial and macro integration, product integration, and free movement of people. Air cargo has an opportunity to grow in precious metals and perishables in Africa. It is important to strengthen intra-African trade and it is the next phase of industrialisation, with a market potential of $160 billion."
On November 9, Ethiopian Cargo & Logistics Services launched Trans-Pacific routes, extending from Incheon to Atlanta via Anchorage using a B777-200F. The service cuts the total air transport time significantly between the Asia Pacific and North America facilitating fast and efficient global trade.
Abadi, states, "The SAATM was created to expedite the full implementation of the Yamoussoukro Decision. In line with this, Ethiopian Airlines has been trying for a unified African air transport market especially through a joint venture with African airlines on different parts of the continent."
The IATA released a revised outlook for airline industry performance in 2020 and 2021, stating that the African airlines have received little government support and there have been several failures. The lack of cold chain facilities in the region may delay the distribution of vaccines and it is expected to experience a delayed recovery in financial performance.
Observing on building enough cold chain facilities to handle vaccines, Gadhia says, "Initiatives being developed by TIACA and Pharma.Aero such as Project Sunrays aims to help the air cargo industry get ready for the future handling, storage, and transportation of Covid-19 vaccines. Being a member of both associations, Astral will have clarity on the needs and expectation from vaccine producers and share its experiences on the infrastructure constraints of distributing vaccines in Africa. Our objective is to ensure that the aviation industry collaborates to distribute the vaccines to and within Africa, as it will be impossible for one airline to meet this challenge by itself, due to large scale coordination between all members of the supply chain and the vaccine manufacturer. By operating a thin scheduled network, we will have the opportunity to operate charters for the Covid vaccine which will take priority."
Ethiopian expects a B737F and B767F to join its fleet, and four Q400 to be converted into freighters for 2021 operation. Abadi, states, "Major collaborations which will be best in moving the vaccines are DHL-Ethiopian Airlines Logistics Services, and WFP, which has launched its hub in Addis Ababa. Besides, Ethiopian is working on CEIV Pharma and expects it to be certified in the coming months."
"Ethiopian is working on CEIV Pharma and expects it to be certified in the coming months."

Fitsum Abadi, Ethiopian Cargo & Logistics Services
In addition to being the hub for Kenya Airways and Astral Aviation and the preferred airport for over 20 foreign freight airlines, Kenya Airports Authority (KAA) stated on its Twitter page, "JKIA is ready to facilitate the safe transhipment of the vaccines. The company is working closely with TIACA and other organisations to ensure that it maintains international air cargo services standards."
JKIA has five airside cargo terminals with a capacity of 1.2 million tonnes which includes a cold-room capacity of 9,000 square metres.
Most African carriers ceased their operations, laid off their employees, and some even have asked bailout from their governments. But their governments are not likely to finance their carriers. Also, African governments have opened their airspace as of late August. This means they have missed the months of high peak seasons - June, July, and August. Abadi comments, "The possibility of the outbreak of the 2nd wave may obstruct the next peak season - January and February as well. Also, we are closely working with NGOs and government health sectors in Africa. Due to these developments, it is not likely that the term 'collaboration' is becoming a reality due to the pandemic."
On questioning about collaboration becoming a reality during the pandemic, Gadhia notes, "Indeed but the aviation industry remains divided during the pandemic which threatens their very existence. The perfect time to collaborate is during the pandemic but many airlines suspended interline agreements during the pandemic which is contrary to my belief that the pandemic should have brought the aviation industry together, but sadly it is far apart now compared to pre-Covid levels. Collaboration is essential at a global scale rather than at a continent level, as together we will be able to withstand the shocks of Covid and start a new journey which embraces consolidation, co-operation and collaboration."
Recently, the UK and Kenya signed the sixth bilateral trade deal worth £1.4 billion a year. The UK is, by far, the largest foreign investor in Kenya. To promote this, Perishable Movements Limited is in talks with Kenya Airways to charter a B787 Dreamliner between Nairobi and London Heathrow twice a week. To promote trade efficiency and timely delivery of Kenyan exports, in November last week, Kenya Airways Cargo started a direct flight from Mombasa to Sharjah. "In future, there will be flights leaving Kisumu, Eldoret to any destinations it demands," Dick Murianki, director of Kenya Airways Cargo stated on the company's LinkedIn page.
SAATM provides a logistics pillar which is crucial to the success of the Africa Continental Free Trade Area (AfCFTA), which is envisaged to be the world's largest single market for goods and services, facilitated by the movement of people and promoting trade and economic integration. SAATM continues to be a priority for the aviation sector in Africa. In a communiqué of the 2020 African Aviation Industry Group Aero-political Forum on November 11, it was resolved to have a "continued focus on the implementation of the SAATM which is more important than ever, particularly as a key cornerstone to revive the sector'.

Read also: Drone Council South Africa launched officially today