From Covid-19 Issue: Cargo checks in as the new passenger
A spike in rates has given an opportunity for airliners with passenger-only fleet to stay afloat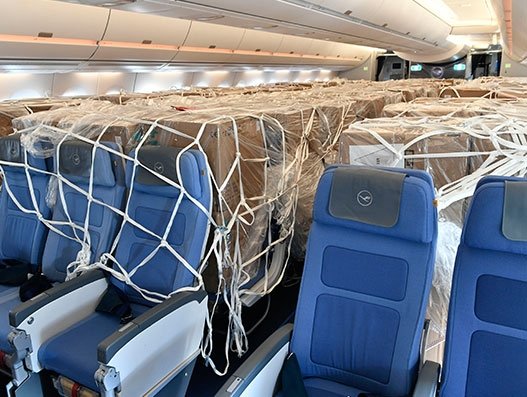 With passenger traffic shut down, cargo capacity has taken a hit as more than half of air-cargo volume is carried in the bellies of passenger planes. This has resulted in a sharp spike in charter and freight rates, throwing open a window of opportunity for airliners with passenger-only fleet to stay afloat in turbulent times. And they have grabbed it.
The Covid-19 pandemic has brought the passenger aviation industry into a grinding halt. The pandemic has already taken its worst toll on global aviation industry as airlines after airlines ground their aircraft as demand keeps plummeting over fears of contagion, reinforced by air travel restrictions. The International Air Transport Association (IATA) estimates that the airlines worldwide could lose $252 billion in revenue this year, threatening even the survival of the industry. And it is not just the aviation industry; the novel coronavirus (SARS-CoV-2) is rapidly choking off the life of the world economy.
With more airlines grounding their passenger operations, the air cargo capacity is declining further. Remember, more than 50 percent of global air cargo volume is carried in the bellies of passenger airplanes. Just-in-time, healthcare, humanitarian, relief, premium, perishables and express categories of cargo types are suddenly stuck at factories, warehouses and airport cargo terminals. It is estimated that global international passenger belly cargo capacity is now 70 percent lower than last year.
Airlines, according to (IATA), transport over 52 million metric tonnes of goods a year, representing more than 35 percent of global trade by value but less than one percent of world trade by volume. That is equivalent to $6.8 trillion worth of goods annually, or $18.6 billion worth of goods every day. Therefore, air cargo plays a very crucial role in enabling global trade. Not just enabling global trade, but it becomes the lifeline of vital supplies in the time of a pandemic like Covid-19. Can you imagine what today's supply chain would have been like without freighters and passenger aircraft carrying only cargo right now?
Air Canada's remodelled B777-300ER aircraft
Air cargo is booming now. Pure-play freighter operators and airlines with cargo planes in their fleet have their asset utilisation at their peak. It is not business as usual for them. All of a sudden air freight demand largely outstrips supply. Urgent demand for medical equipment and other essential healthcare products to fight Covid-19 has sent the cost of cargo charters skyrocketing. The rate now varies from anywhere between $800,000 and $1.5million, depending on the route. Usually, the cost of chartering a Boeing 747 or 777 freighter from Hong Kong to Europe would be around $300,000.
The current situation, according to a cargo head of an airline that I spoke to, is "schizophrenic where the environment is super negative. At the same time we are making millions".
With the unprecedented grounding of passenger aircraft, airlines with only a passenger fleet are now flying some of their parked wide body aircraft as cargo-only flights much to the relief of forwarders, shippers and government agencies, who are desperate for air freight capacity. They are taking extraordinary measures to keep the world moving, while their own business is in crisis. For these airlines, it is critically strategic to keep at least some top line in place to offset enormous fixed costs as demand for travel is nil and it is not likely to return immediately.
The supply demand mismatch has also spiked the freight rates, which, according to most airlines and forwarders that I spoke to, have gone up from $1.5 and $2 per kilogramme to $4 and $5 per kilogramme in the last few weeks. The cargo load that aircraft can take in their bellies for both Airbus and Boeing wide body products is pretty substantial. For example, the Boeing 777 passenger aircraft, which are now deployed by major airlines to ferry cargo in their bellies carry around 30 tonnes. However, the aircraft has the capacity to carry a maximum of 60 tonnes payload provided the operator is able to optimise the lower deck.
China Eastern, Korean Air, American Airlines, Lufthansa, United, Delta, Cathay Pacific, Emirates, Qatar Airways Air India, Air Canada, Cathay Pacific, Virgin Atlantic, Air New Zealand and Etihad are the major airlines which have already launched their passenger cargo-only flights.
Emirates has been operating daily passenger cargo-only flights to seven destinations in India since March 30. It deployed its Boeing 777 passenger planes to ferry cargo to and from Delhi, Mumbai, Hyderabad, Bengaluru, Kochi, Thiruvananthapuram, and Chennai to its hub in Dubai. Qatar Airways launched 19 weekly passenger freight-only flights this month to Delhi, Hyderabad, Bengaluru, Chennai and Kolkata connecting to its hub in Doha using Boeing 777-300ER and Boeing 787 Dreamliner aircraft. While these airlines bring in urgent medical aid for the Covid-19 mission, they carry back pharmaceutical products besides perishables such as vegetables and fruits from India.
As part of India's fight against Covid-19, the Ministry of Civil Aviation, Government of India has launched "Lifeline Udan" flights for movement of medical and essential supplies across the country and beyond. Under this initiative, 62 Lifeline Udan flights have been operated during the five day period from 26 to 30 March, transporting over 15.4 tonnes of essential medical supplies. The carriers involved in Lifeline Udan operations include Air India, Alliance Air, Indian Air Force (IAF) and Pawan Hans. Private carriers like IndiGo, and Spicejet are operating medical cargo flights on a commercial basis.
While Air Canada is operating a greatly reduced schedule, Air Canada Cargo is utilising the airline's fleet to keep the flow of goods moving. Cargo capacity is available on scheduled widebody flights operating on routes between Canada, Europe and Asia. Ad-hoc all-cargo flights on Boeing 777 and 787-9 aircraft are available on demand to almost anywhere in the world. Dozens ofsuch flights have operated so far, mostly from Toronto to Europe and Asia.
Capacity is available on four weekly cargo-only flights to and from Shanghai and the carrier offers the possibility of additional scheduled flights as well. The cargo carried include shipment of medical supplies, including gloves, masks and other PPE.
"The Air Canada fleet is ready to be used to help the flow of goods and materials to fight the pandemic. We've operated dozens of cargo-only flights to date, to London, Frankfurt, Amsterdam to name a few in Europe, as well as Incheon and Shanghai, in addition to scheduled flights. The demand is there, and we are ready. We're in talks with authorities to help move medical supplies from Asia and are ready to serve," said Tim Strauss, Vice President, Air Canada Cargo.
With the cost of purchasing jet kerosene continue to fall despite a slight uptick in crude prices and as demand from airlines dries up completely, airlines are making a reasonably good decision to utilize some of their assets. And it seems to be working well in the current situation. "Given the take down of passenger belly capacity and the elevation of air cargo rates, it does make sense. We are not living in normal times. There are lot of things that make sense today that would not have made any sense six weeks ago," a Boeing official, who did not want to be named, told me.
Airlines with only passenger aircraft are also turning very creative, all within the rules. With the pandemic making more than half of the world population confined to their homes, airline seats and overhead stowage in the passenger cabins are occupied by cargo boxes. Ever seen a passenger aircraft with its main deck full of cargo boxes securely strapped to the passenger seats?
China Eastern recently sent two of its wide body passenger aircraft (A330 and B777) with cargo filled both in their main deck and belly holds. The aircraft was full of medical supplies to Prague in Czech Republic. Austrian Airlines and Lufthansa have done multiple passenger cargo-only flights between China and Europe using their Boeing 777 and Airbus A330 respectively to move several hundred tonnes of medical and healthcare goods. Pictures of boxes tightly strapped to the seats with nets in the passenger cabins have gone viral in social media.
Is cargo allowed to be loaded into cabins of passenger aircraft? If yes, what does the law mandate?
Regulations associated with carriage of cargo in passenger compartments are contained in 14 CFR 121.285 of Federal Aviation Administration (FAA). According to FAA, cargo may be carried anywhere in the passenger compartment if it is carried in an approved cargo bin that meets requirements like: "The bin must be attached to the seat tracks or to the floor structure of the airplane, and its attachment must withstand the load factors and emergency landing conditions applicable to the passenger seats of the airplane in which the bin is installed, multiplied by either the factor 1.15 or the seat attachment factor specified for the airplane, whichever is greater, using the combined weight of the bin and the maximum weight of cargo that may be carried in the bin."
The FAA conditions further state: "the cargo bin must be properly secured by a safety belt or other tie-down having enough strength to eliminate the possibility of shifting under all normally anticipated flight and ground conditions".
In addition to FAA regulations, IATA mandates its member carriers to seek guidance from origin and destination civil aviation authorities when they intend to use the passenger cabin for the carriage of cargo.
Ram Menen, the man credited with creating Emirates SkyCargo, the cargo division of Emirates airline, into the world's largest cargo carrier, says there is nothing stopping us from putting cargo in the passenger cabin. "British Airways (BA) used to do this back in the 70s and 80s. They used to have something called the cargo seat packs which fitted on to the seat and could be well secured. These seat packs could be used on any passenger aircraft. We use to do it on L1011s and B747s," Menen adds.
Having observed the current trend, plane maker Boeing issued a multi operator message (MOM) for passenger airplane carriage of cargo. According to Boeing, the message was meant to provide operators of Boeing aircraft general guidance on carrying humanitarian aid and cargo as a result of the Covid-19 crisis which has disrupted global supply chains.
If airlines seek to carry cargo on passenger seats, Boeing recommends that they coordinate with their regulatory agency to ensure compliance with any regulatory restrictions that include cargo type, fire suppression, smoke detection, etc.
Boeing, in its latest guidelines to operators, reiterates the regulation by FAA and other aviation authorities. Carrying cargo on the seat is allowed if the seat cargo is less than 170 lbs or 77.1kg. That the seat cargo is adequately restrained and the restraints are attached to the seat itself and not to adjacent structure or seat track locations. That the centre of gravity (CG) of the cargo is equal to or lower than the passenger CG shown in the envelope drawing of the seats in use. Boeing will provide a status on this work in an update to this MOM by April 3, 2020.
Amid declining oil prices and the prospect of realising higher freight forwarding fees, putting idled passenger jets in the air is serving as a tailwind for airlines to embrace cargo transport. And this comes as some relief for airlines already choking under the Covid-19 pandemic.
While Covid-19 has revealed some real weaknesses in our global health supply chains; it has also put some spotlight on air cargo, a much under-appreciated link in the global supply chain.
This feature was originally published in April 2020 Covid-19 Special Issue of STAT Trade Times.