Garuda, Skye Air to pilot Swiggy's drone trials
Finalists are Garuda Aerospace, Skye Air Mobility, ANRA+TechEagle and Marut Dronetech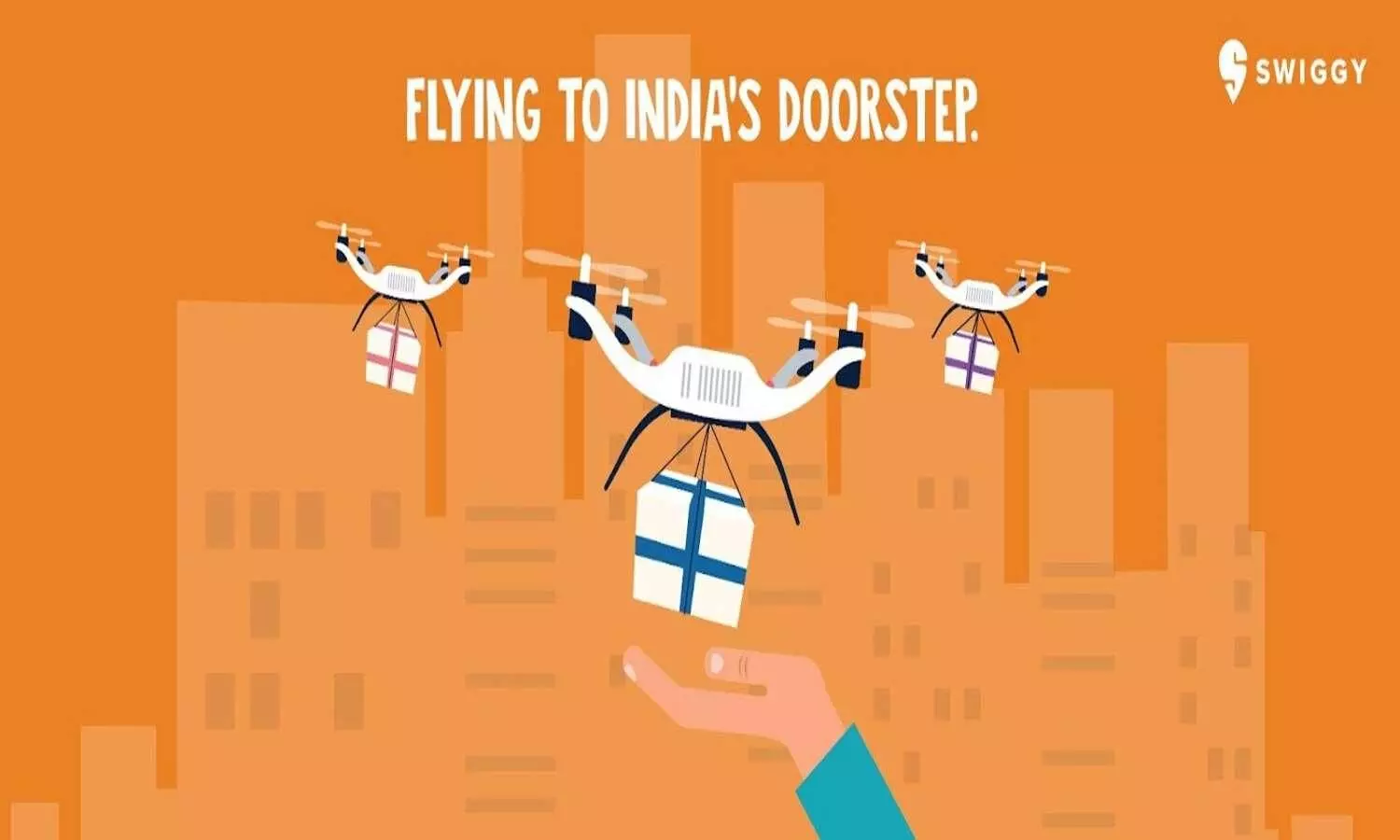 (Story has been updated with inputs from Skye Air Mobility, Marut Drones and Garuda Aerospace)
The wait is finally over! Swiggy, the Bengaluru-based online food ordering and delivery company, has officially named the four drone firms with which it would collaborate on its grocery delivery project.
Swiggy picked the final four from 346 registrations: Garuda Aerospace (in Bengaluru) and Skye Air Mobility Pvt Ltd. (in Delhi — NCR), ANRA + TechEagle Consortia, and Marut Dronetech.
"We have finalised four vendors in two tranches (stages) who have a mix of capabilities in drone hardware, potential to scale up, investment in innovation, research and development, and the overall ability to deliver the service," said the official announcement.
Swiggy first posted a statement on LinkedIn two months ago, requesting bidders to express interest in conducting drone delivery for groceries and essential products in different locations for a six-month trial period.
The food delivery business unveiled the arrangement with four final companies yesterday. "After an extensive evaluation process covering legal, financial, and technical rounds, we finalised the award of the RFP," said the official announcement.
The pilot will be carried out in two stages:
Stage 1 - Garuda Aerospace in Bengaluru and Skye Air Mobility Pvt in Delhi - NCR. will begin the pilot immediately.
Stage 2 - ANRA + TechEagle Consortia and Marut Dronetech Pvt. Ltd. will begin the pilot when the first tranche's learnings have been compiled.
"Tranche 1 will start from the first week of May and tranche 2 will commence after we get results from the former. Our intent is to use valuable learnings from the first tranche and design a tranche 2 experiment to specifically address any shortcomings that are identified," said the official release.
"The trial period will last around a year." This year, they (Swiggy) will stabilise and develop their own way. Because only the government was coming for BVLOS flights, this will encourage a many people from the industry to come forward. In this first step, a business organisation such as Swiggy has expressed interest in BVLOS drone delivery in places such as Bangalore, Delhi, and others," said Prem Kumar Vislawath, Founder and Chief Innovator, Marut Drones.
The first stage of trials is scheduled to start in the second week of May. For the drone trials, Skye Air Mobility has selected NCR as its location. "We have yet to dive and fine tune on what locations and what geographies we are going to work on, but we have picked NCR as the place since we discover that most of the sites in the NCR are in the green zone, which is extremely ideal for us to add as many points as we possibly can," said Ankit Kumar, CEO, Skye Air Mobility.
Kumar intends to deploy two types of drones. The first is a multi-router drone with a payload of 5 kilos and a range of 30 kilometres. Second, they may introduce a new drone called Artemis, which will have a payload of 5 kilos and a range of roughly 100 kilometres and will be able to hop on to several sites in the neighbourhood.
Garuda Aerospace plans to create a full roadmap for integrating drones into the delivery ecosystem. Following the trials, we they will evaluate if Garuda Drones can ensure end-to-end delivery for Swiggy.
"We are planning to design 2 types of drones. One with a payload that can land and the consumer can pick up their product using face recognition. The other is based on a wench approach, in which the drone remains in the air while the package is lowered using a wench and a chord/cable. Both will have a BVLOS endurance of 60 minutes and a payload capacity of 5 to 15 kilos," Agnishwar Jayaprakash, Founder & CEO, Garuda Aerospace.
The purpose of the pilot is to assess the feasibility of drones for the middle mile use case, specifically for Swiggy's grocery delivery service Instamart. Drones will be utilised to restock supplies between seller-run dark stores as well as from a store to a common client location. A delivery partner will then pick up orders from the common location and bring them to the customer's door.
"The pilot will commence in Bengaluru and Delhi-NCR with Garuda Aerospace and Skye Air Mobility. Based on the progress, expansion will take place in the region and beyond. This is an exciting and challenging journey. We look forward to working with our partners and using the findings from these pilots as the stepping stone in unearthing possibilities for drone-assisted deliveries in the e-commerce space," said the official announcement.