Swiggy thinks drones, seeks RFPs from serious players
A Linkedin post has invited bidders to express interest in executing drone delivery for grocery and essential items in several cities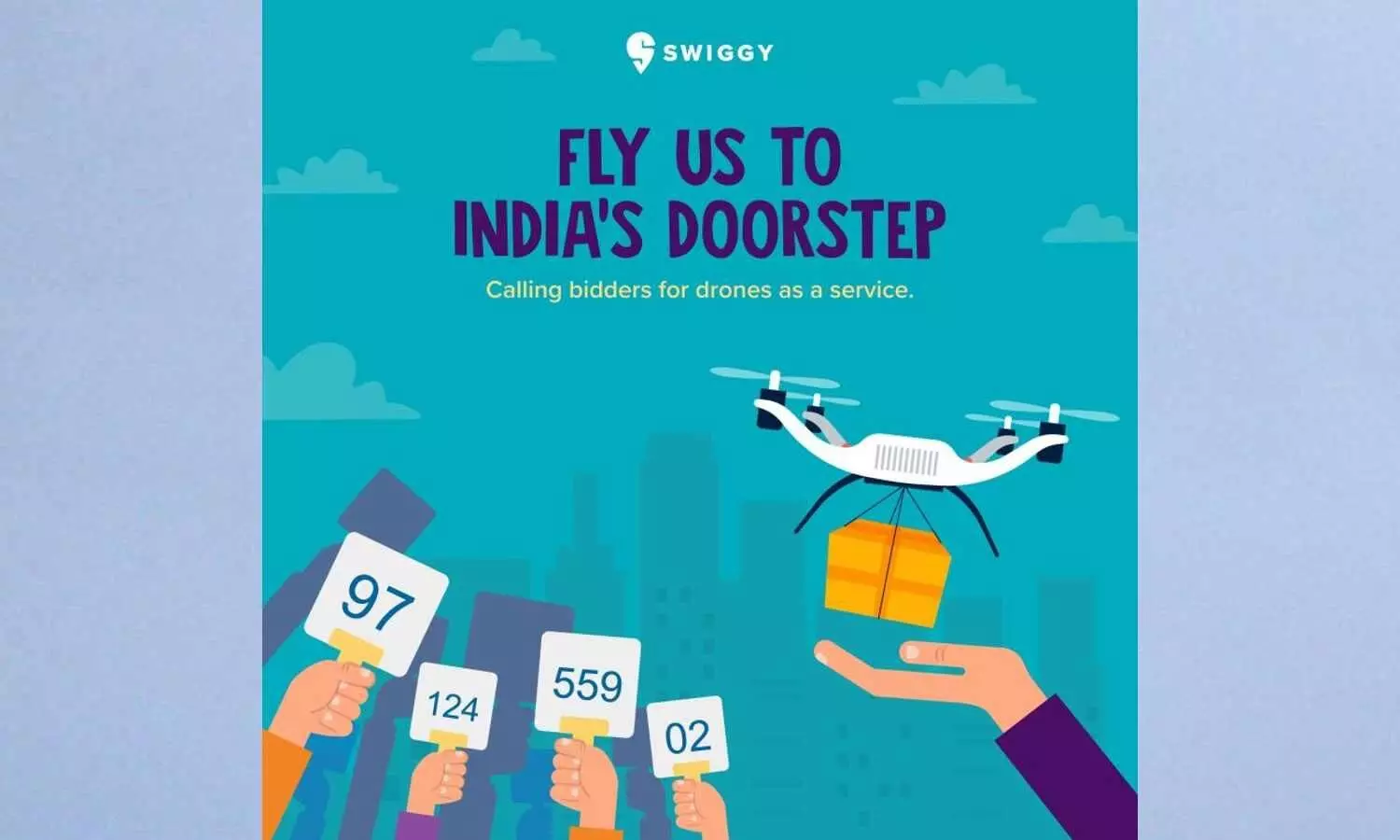 Swiggy, the Bengaluru-based online food ordering and delivery platform, announced a strategic move of stepping into the drone delivery service.
A LinkedIn post has invited bidders to express interest in executing drone delivery for grocery and essential items in several cities for an initial period of six months – a duration that may be amended from time to time.
Swiggy's drone delivery intentions are exclusively middle-mile and B2B and to extend operations across several locations including Mumbai, Delhi, National Capital Region (NCR), Bengaluru, Hyderabad, and Goa.
What would the middle-mile operation involve? If a Swiggy InstaMart shop runs out of a certain product, a drone will be dispatched to the next Swiggy InstaMart store that has the product in stock and will restock the first store. The objective is to not keep the consumers waiting and to make the goods available to them as soon as possible.
Another Swiggy drone proposal is to carry meals from a restaurant to a community, in which case a Swiggy delivery person will be ready to pick the food from a certain location and bring it to the community for which he will be responsible.
This means that you will not have your two donuts ordered on the food app being delivered to your doorstep by a drone.
The online food delivery company has posted a request for proposal (RFP) for the drone services after signing a non-disclosure agreement (NDA) effective from today and to be submitted by March 2, 2022.
The NDA specifies:

- In case the bid is submitted by a consortium, each member of the consortium shall sign these documents separately and submit the signed version online before accessing the RFP.
- It must be executed on a stamp paper of Rs 750, and
- Each page must be initialled and the signature box signed with full details.
The online food ordering and delivery market in India has almost come down to two main players - Swiggy and Zomato. Swiggy is also proposing to raise at least $800 million in an initial public offer (IP) early next year, reports Nikkei Asia.
With the proposed drone delivery service, Swiggy is likely going a step ahead than the Haryana-based food delivery platform.
Swiggy has raised about $3.3 billion since it began operation in 2014 from marquee investors that include SoftBank, Prosus Ventures, Invesco and Accel Partners. The firm was valued at $10.7 billion earlier this year after it raised $700 million. That valuation is nearly double the $5.5 billion it garnered in July last year when it raised $1.25 billion, Nikkei Asia reported.
Zomato, which raised $1.3 billion in an IPO last year, is valued at about $9 billion.
Swiggy's interest in drone deliveries follows an interesting question - is India ready for food/groceries to be delivered via drones and if metropolitan cities are compatible with such a service?
In December 2021, Swiggy and integrated airspace company ANRA Technologies conducted over 300 drone-led deliveries of food and medicines at the Indian Institute of Technology- Ropar campus in Punjab and in Uttar Pradesh's Etah district, reports Mint.
As per the same report, a total of 352 drone testing were undertaken, totaling more than 100 flight hours and 1,100 kilometres of incident-free operations. ANRA's SmartSkies CTR and SmartSkies DELIVERY systems were utilised to power the multirotor drones.
Some of the key players in the global drone delivery industry include Amazon, FedEx, United Parcel Service, Boeing, DHL International Matternet, Zipline, Flirtey, Drone Delivery Canada and Flytrex.
The trend of attempted drone delivery began in 2013 when Amazon announced an experiment to deliver lightweight commercial products via unmanned aerial vehicles (UAVs). Since then, there have been many advancements in the drone delivery industry globally, and India has been making headlines in the market.
Prime Air, a future delivery system from Amazon, US-based online retail behemoth, designed to safely get packages to customers in 30 minutes or less using autonomous aerial vehicles or drones, is on the verge of shuttering it's UK drone delivery operations following massive layoffs and transfers.
As per the recent report by Verified Market Research published on Drone Package Delivery Market, the global drone package delivery market was valued at over $501 million in 2020, and is projected to reach $15 billion by 2028.
In India, domestic companies have initiated operations by joining hands with state governments and pharmaceutical companies to ensure that vaccines and medicines are delivered in hard-to-reach places like the hilly regions.
TechEagle, a leading deeptech startup, has partnered with the government of Himachal Pradesh and Meghalaya to deliver medicines and vaccines.
The pharma industry has been eyeing 2022 as an opportunity to upscale the drone delivery market as India has the potential to be a global drone hub by 2030.