QR Cargo may extend ACMI contract to operate 2 CMA CGM B777Fs beyond 2 months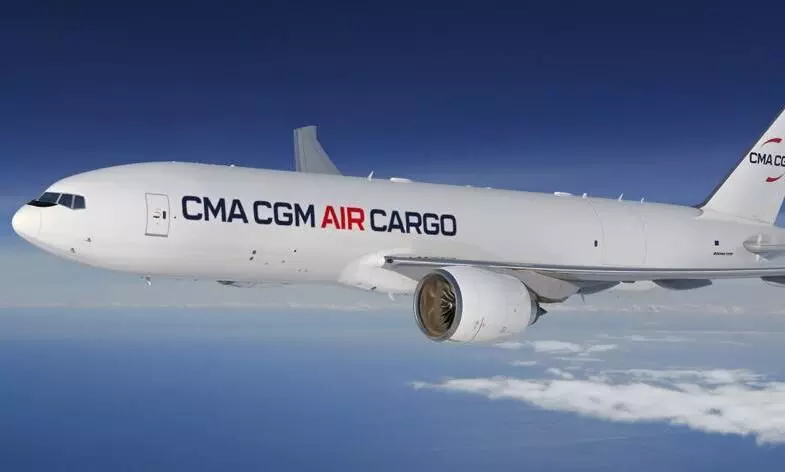 Qatar Airways Cargo may choose to extend the ACMI (aircraft, crew, maintenance and insurance or wet lease) contract to operate the two CMA CGM AIR CARGO B777 freighters beyond July 31, when the initial ACMI agreement for two months with the shipping giant comes to an end.

"The initial agreement is for two months. Having said that, we are keeping the option open to extend this ACMI contract beyond two months, depending on the market situation and mutual discussions," Guillaume Halleux, chief officer cargo, Qatar Airways, told The STAT Trade Times.

These two aircraft are brand new production freighters that CMA CGM AIR CARGO took deliveries on May 31 and June 7 this year. The French shipping giant placed the order for these production freighters in 2021, just a few months after it announced the launch of a dedicated cargo airline in February 2021.
When asked about the reasons for such an arrangement with CMA CGM, Halleux said that the current market dynamics led the Doha-headquartered carrier to go for it. "We all know that the current air cargo market is very dynamic and for us, commitment towards our customers is of utmost importance. Adding these two new freighters in our fleet gives us the much required additional capacity that we can offer to our customers globally." The chief officer cargo also said that it provides "even more diversity in its fleet mix".

Currently, these two freighters are connecting Qatar Airways Cargo's Doha hub with key European destinations that include Frankfurt, Amsterdam, Paris, Luxembourg, Brussels, Munich and Budapest.

According to a person familiar with the CMA CGM AIR CAGO operations, the current deal is a "good fit" for CMA CGM AIR CARGO whilst they get their crew trained to line. "They need short sectors, and Europe-Doha counts for that."

CMA CGM AIR CARGO has plans to operate the B777Fs on the US and Asia (Hong Kong) routes as early as the summer of 2022 and then extend the destinations in Asia to include Shanghai, Seoul and Bangkok in the fourth quarter of 2022 and early first quarter of 2023. But these are subject to getting the right permissions.

Qatar Airways Cargo has a fleet of 28 freighters, which include 26 Boeing 777-200F and two Boeing 747-8F aircraft. In addition to this, earlier this year Qatar Airways leased three more freighters. Since January 1, 2022, it has been operating two Boeing 747-400 freighters under ACMI contract with ACT Airlines, and from January 14, it started operating an Airbus A310-300 freighter leased from ULS Airlines. Qatar Airways Cargo declined to disclose the duration of the ACMI contract with ACT Airlines and ULS Airlines when asked about it.
Qatar Airways Cargo reported record revenue of $6.3 billion for the year ended March 31, 2022, an increase of 25 percent, on almost 10 percent growth in freight carried at over 3 million tonnes.

CMA CGM AIR CARGO began its commercial operations in March 2021, with Air Belgium operating its fleet of four Airbus A330-200Fs. It had its hub in Liege then and had appointed ECS Group as its commercial agent. The start-up cargo airline was also developing a blocked space agreement with CEVA Logistics, a CMA CGM Group subsidiary. The initial cargo routes for CMA CGM AIR CARGO were Liege to Chicago and Atlanta.

Responding quickly to the elevated market demand, CMA CGM placed an order with Airbus for four of its new generation freighter aircraft, the A350F, in November 2021. At the same time, CMA CGM decided to apply for an AOC with the French Civil Aviation Authority and move its operations and hub from Liege to Paris. The move then was described as an attempt to "offer a complete logistics solution to CMA CGM customers".

While taking delivery of the second B777 freighter on June 7 at the Boeing Everett factory, CMA CGM placed a fresh order for two more B777Fs. By the end of 2026, the Marseille-headquartered cargo airline aims to have a fleet of 12 freighters to accelerate its growth.

In May this year, CMA CGM Group signed a long-term strategic partnership with Air France-KLM Group for the air cargo business combining their complementary cargo networks, full freighter capacity, and dedicated services in order to build an even more competitive offer.