Qatar Airways Cargo clocks record USD 6 billion revenue in FY21-22
Qatar Airways Cargo posted an impressive growth of 25 percent over last year with a growth in cargo capacity (Available Tonne Kilometres) of 25 percent annually in its revenue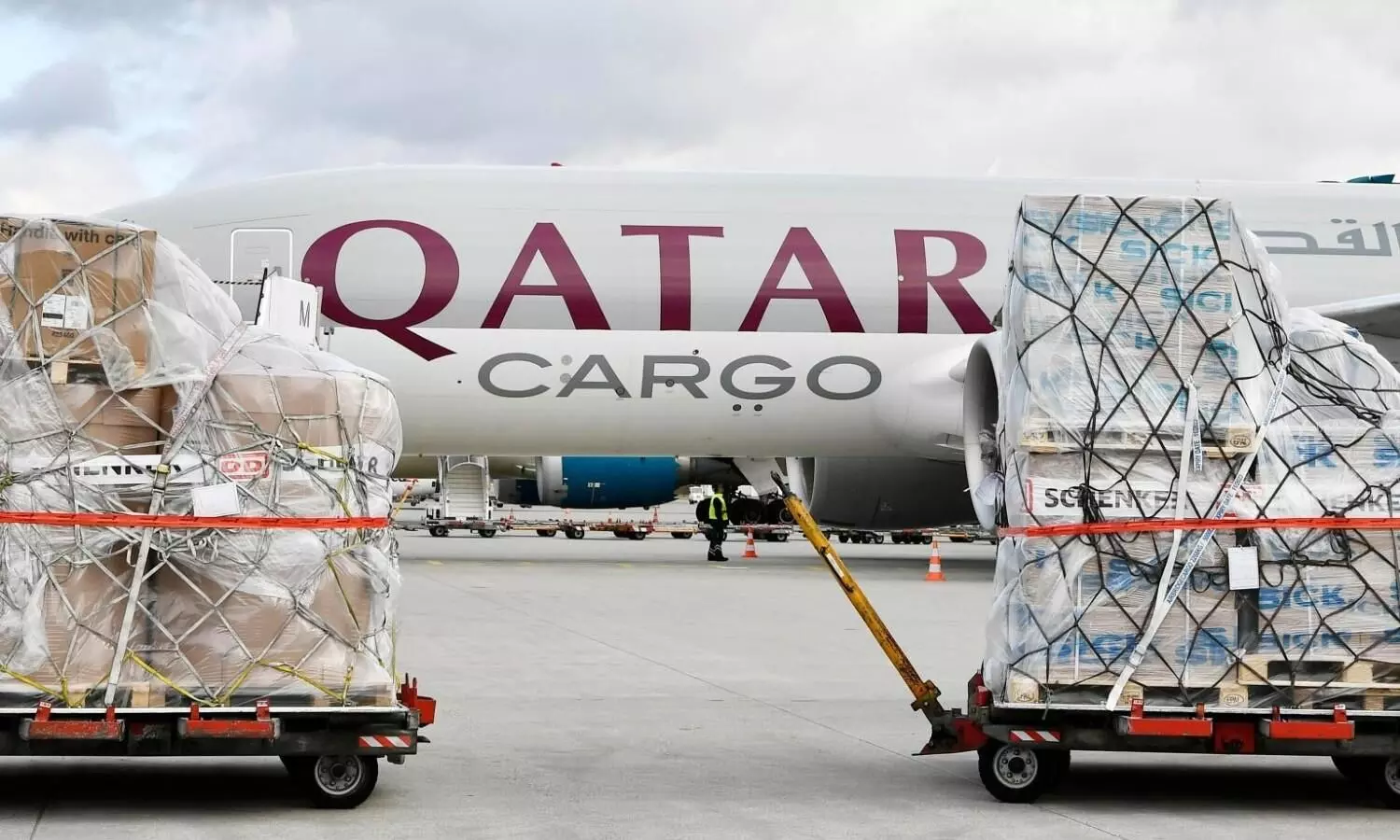 Qatar Airways Cargo, the airline's freight division reported a record revenue of $6.3 billion for the year ended March 31, 2022, an increase of 25 percent, on almost 10 percent growth in freight carried (272,975 tonnes) at over 3 million tonnes.
Qatar Airways Group also reported its highest net profit in its 25-year history by reporting a record net profit of QAR 5.6 billion (USD 1.54 billion) during the fiscal year 2021/22. The overall revenue increased to QAR 52.3 billion (USD 14.4 billion), up 78 percent compared to last year and a remarkable two percent higher than the full financial year pre-COVID (i.e., 2019/20).
Qatar Airways Cargo remained the leading player in the world as its revenue experienced an impressive growth of 25 percent over last year with a growth in cargo capacity (Available Tonne Kilometres) of 25 percent annually.
The Group generated a strong EBITDA margin of 34 percent at QAR 17.7 billion (USD 4.9 billion). EBITDA was higher than the previous year by QAR 11.8 billion (USD 3.2 billion) due to streamlined, agile, and fit-for-purpose operations across all business areas. These record earnings are the result of decisions made during the pandemic to expand the Qatar Airways' passenger and cargo networks, with a more accurate forecast of the global market recovery, building further customer and trade loyalty and product excellence combined with strong cost control.

Despite the challenges of COVID-19, the national carrier of the State of Qatar grew to more than 140 destinations in 2021/22, opening new routes including Abidjan, Côte d'Ivoire; Lusaka, Zambia; Harare, Zimbabwe; Almaty, Kazakhstan, and Kano, and Port Harcourt, Nigeria in addition to resuming flights to key markets across Europe, Africa, the Middle East, and Asia. The company has operated continuously the largest network among all Middle Eastern airlines, as measured by the number of destinations as well as weekly flights. The Group has also recently released its Sustainability Report 2021 to highlight key initiatives and its commitment to the environment and sustainability.

Qatar Airways Group Chief Executive, Akbar Al Baker, said: "This year Qatar Airways Group celebrates a quarter of a century of history since its relaunch, whilst maintaining strong performance and growing profitability. We have pursued every business opportunity and left no stone unturned as we aimed to meet our targets. Our strategic investments in a varied fleet of modern, fuel-efficient aircraft have helped us overcome the significant challenges related to capacity constraints while balancing commercial needs as swiftly as possible."

CARGO HIGHLIGHTS

Serving over 65 dedicated freighter destinations and more than 140 belly-hold passenger destinations worldwide, the carrier mirrored its strong performance from 2021/2020, operating a maximum of 155 flights per day at its peak in the month of June 2021.

With a tonnage growth of 272,975 tonnes in chargeable weight, Qatar Airways Cargo demonstrated almost 10 percent growth in the same period in the previous year transporting 3,000,961 tonnes of air freight and accounting for a 7.99 percent share in the global market from 1 April 2021 to 31 March 2022.
The airlines transported more than 600 million doses of COVID-19 vaccines over the course of the pandemic and enhanced its pharma product and industry presence with WeQare initiative.
In a significant move towards sustainability, Qatar Airways Cargo continued to expand its fleet of technologically advanced and sustainable freighter aircraft. In January 2022 the air freight carrier places a USD 20 billion order for up to 50 of the world's largest twin-engine cargo jet Boeing 777-8 freighter.
In July, Qatar Airways Cargo became a member of both Pharma.Aero as well as the Cool Chain Association.
In a move towards digitalization, the carrier became the first to join the IATA CO2NNECT platform launching a new voluntary carbon offsetting programme as part of its WeQre sustainability programme for air cargo shipments.
The financial year also saw the completion of Freightos WebCargo third-party e-booking platform, offering real-time pricing and booking platform for customers across Europe, the US, and the rest of the world between February and August 2021.
The carrier also increased its presence across Central Eastern Europe with the appointment of a new GSA for Bulgaria, Croatia, Czech Republic, Hungary, Romania, Serbia, Slovakia, and Slovenia and adding belly-hold cargo capacity to 140 destinations in FY 21-22.
Qatar Airways Cargo also became the first cargo carrier to adopt Safran Cabin's new fire-resistant Container FRC solution, having taken the delivery of the initial batch of containers in September 2021. Over the next five years, the cargo carrier will be injecting 12,800 FRC's out of which 9000 of these will be received by December 2022, and replace the 9500 AKEs or lightweight containers that the airline currently uses.