Can Turkey be the grand central for air cargo?
Turkey is rising and with the recent strides it has made in the air freight sector, it is aiming to be one of the world's leading hubs. We track some key moves and developments that are likely to shape the cargo fortunes of this nation that has a unique vantage point of being spread over the two continents of Europe and Asia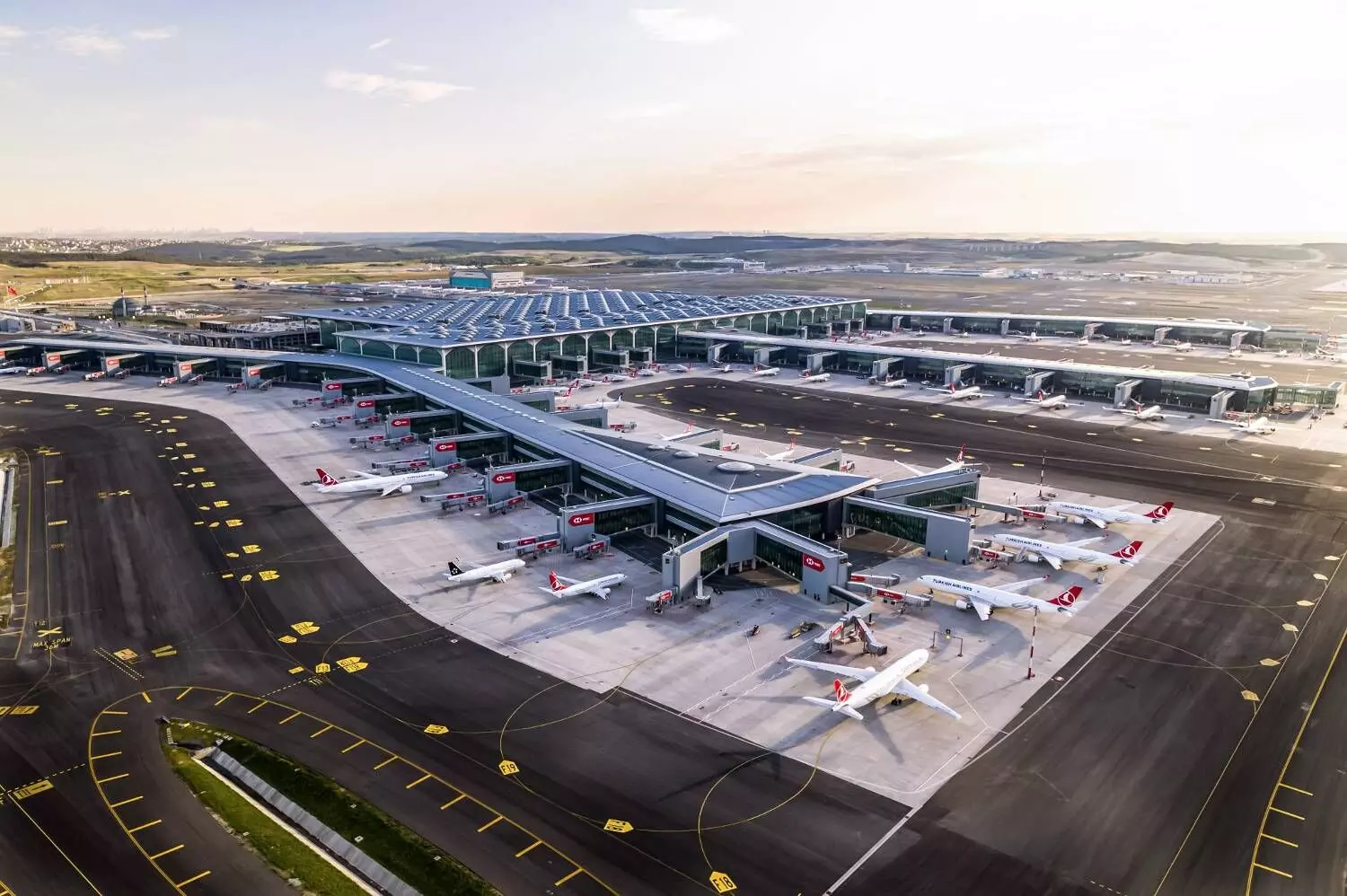 Transportation for trade has always played a crucial role in the history of Turkey for centuries owing to its unique geographical location between Europe and Asia.
Located just five to seven hours from Europe, the Middle East, Central Asia, and North and East Europe, Turkey's strategic location is a natural advantage when it comes to cargo and logistics operations and on its journey of becoming a key transit hub for the transportation of international cargo.
Politically too, there has never been a better time for the nation. By adopting a prudent independent foreign policy, the world is witnessing the rise of Turkey as a smart regional power. Despite its current challenges of inflation, a poll looming in May, and the recent devastation caused by a 7.8 earthquake in Turkey and northern and western Syria, Turkey has in recent years wrested a place for itself on the world stage owing to its economic force and as a key player in international politics.
With the recent strides it has made in the air freight sector, Turkey is aiming to be one of the world's leading top 3 hubs. Turkey has over 50 airports and carriers including Air Partner Inc, Atlas Global Airlines, MNG Airlines, Turkish Airlines, and ground service organizations like Celebi Aviation Holding, Havas Ground Handling Co., S Sistem Logistics Services Co. among others.
Christoph Scheithe, the Key Account Manager and host of PlanetLogistics platform and 'Joy of Logistics' Podcast told The STAT Trade Times, "A look on the map says it all; Turkey is perfectly located. It is close to Europe and halfway to Asia. When it comes to the Americas, Turkey also offers direct flights to Mexico, the US, etc. From a transshipment point of view, they compete against the Middle East and their flagship hubs such as Dubai or Doha. With Turkish Cargo, 340 global destinations are within reach and 100 of these are direct flights which are also for cargo."
A key transit marketThe transit market is vital for Turkey whose cargo revenues largely come from transit cargo apart from 20% of Turkey's exports and imports.
Jade da Costa, Chief Commercial Officer at Aero Africa, a leading air cargo management group dedicated to providing African logistic solutions says, "Turkey is rising in Africa, and recently we are witnessing a dynamic interaction between Turkey and African countries in terms of trade, business, and diplomacy. Today Turkey is a more visible player in Africa and Turkish Airlines, which claims to be the foreign airline with the largest number of destinations on the continent, wants to connect and pursue all major (African) cities. With over 62 destinations in over 40 countries, Turkish (Airlines) is the only non-African airline that flies to the most destinations in Africa. All these developments have boosted the trade opportunities between Turkey and Africa and that is a market that we as Aero Africa plan to develop within 2023, by introducing weekly scheduled airfreight consolidations from IST (Istanbul Airport) to JNB (OR Tambo International Airport) and NBO (Nairobi Jomo Kenyatta International Airport )", said Jade Da Costa, Costa, Chief Commercial Officer at Aero Africa.
Key developments
Some key developments that are likely to shape the cargo fortunes of this nation that is spread over two continents include Israel and Turkey signing a historic bilateral aviation agreement last year making room for Israeli carriers to fly to various Turkish destinations and vice versa. This is a first since 1951 for the nation.
Secondly, this year saw Turkey and Armenia decide to allow direct cargo trade operations from January 1, 2023, in a friendly move after decades of animosity between both nations.
This development was the outcome of both nations holding the first round of talks in more than 10 years in January 2022, followed by several rounds of talks since then.
An Airport for the Future
The Atatürk International Airport was once among the busiest airports in Turkey until it became unable to meet Istanbul's growing demand for domestic and international traffic. Its commercial flight operations moved to the newly constructed Istanbul Airport (IST) on April 2019 and cargo operations commenced in February 2022, marking a significant milestone in Turkey's aviation fortunes.
In February 2022, Turkish Airlines ended its cargo operations at Istanbul Atatürk Airport and moved to the new airport. The Istanbul Airport and Sabiha Gokchen Airport are the country's two busiest international airports on the European and Asian sides respectively.
A hub for national flag carrier Turkish Cargo, the Istanbul airport is a cargo airport with 5.5 million tonnes of capacity and is on its way to becoming a super-hub. While its construction is still ongoing, by 2025 the airport is slated to have 6 sets of runways, 16 taxiways, and four terminal buildings. Currently, it provides connectivity to over 120 nations, 60 capital cities, and over 250 international and close to 50 domestic cities in Turkey.
Scheithe told the publication "With their newly built Istanbul Airport, Turkey is well equipped for the future. Turkish Airways as their main carrier offers it all (including) great global connections as well as a large and modern fleet. As Turkey continued their investment strategy throughout the pandemic, they were able to open the grand cargo terminal at the new IST-Airport in 2021."
A big reason for Turkish Cargo moving its freighter operations from Atatürk Airport to Istanbul Airport is the airline's 'new cargo hub' called SMARTIST which measures 340,000 square meters and is one of the world's largest cargo hubs in terms of capacity.
When the second phase is completed, with 3.7 million square feet of space, it will be able to handle 4.4 million tonnes of cargo per year. The current facility has 2.2 million square feet of storage capacity.
Flagged off with the aim to transform Istanbul into the world's leading logistics centre, the mega cargo facility has advanced technological features like automatic storage systems, unmanned ground vehicles, and AR (Augmented Reality), and an annual capacity of four million tonnes of air cargo.
Air cargo traffic across Europe airports declined by -5% in 2022 compared to the previous year owing to the Russia-Ukraine war, muted consumer demand, and inflationary pressures. Despite this, last year saw Istanbul Airport handling 1.43 tonnes of freight showing a 88% jump from 2021 becoming one of the leading European Airports For Freight Traffic last year alongside Frankfurt Airport, Paris CDG, Leipzig, and Amsterdam airports.
Industry watchers claim that middle eastern airports like Doha, Abu Dhabi, and Dubai that are home to the 'Big 3' including Qatar Airways, Etihad Airways, and Emirates now have a serious contender in the IST which is armed with the expanding network, fleet, and cargo arm of Turkish Airlines. Many believe that IST may be capable of capturing the market share from the Gulf hubs and home carriers if it plays its cards right.
The new development is slated to attract more carriers with wide bodies and the airport plans to upgrade existing narrow-body capacity to wide-body, to accommodate cargo potential. In three years since IST opened, it has catered to 16 cargo airlines.
With the activation of other phases of Istanbul Airport Cargo City, the commissioning of new runways, and the increase in flight frequencies, Istanbul Airport Cargo City is expected to reach a 5.5-million-tonne cargo handling capacity.
Fleet expansion and operations
Showcasing the integrated strength of around 350 passenger aircrafts and their belly capacities and a dedicated cargo fleet of 20 widebody freighters is Turkish flag carrier Turkish Airlines, which has become the fourth largest cargo airline in the world by volume. Other rival carriers like ULS Airlines Cargo, MNG Airlines, and newbie Air Anka have also added to their fleets and upped the competition in the cargo segment in Turkey.
MNG Airlines, a contract carrier for express delivery and general freight customers, has plans to grow its all-cargo fleet by more than 50% over two years, while Air Anka recently got the aviation authorities' nod to use its aircrafts for commercial purposes just last year.
As per last year's financial results, Turkish Cargo flies to 132 countries and 355 destinations with 21 freighters and 373 passenger aircrafts and ranked fifth among all air cargo carriers in terms of FTK (Freight Tonne Kilometer), according to IATA.
Turkish Airlines Cargo has moved from a 1.8% market share in 2016 to 5.2% last year, according to figures from the International Air Transport Association. It is now the largest European carrier in terms of cargo volume. In fact, its investment in the construction of the mega-cargo terminal at Istanbul Airport which opened in 2021, also propelled its growth trajectory.
E-commerce beckons
Now more than ever, the world is eyeing Turkey for its unique geographical vantage point and economic might. With the e-commerce sector gaining momentum post-pandemic, last year saw Amazon set up its first logistics base in Turkey in the Tuzla district.
Armed with an investment of $100 million, Amazon's first logistics centre in Turkey is slated to support domestic and export operations of its own sellers and SMEs there.
Among other developments include Turkish Cargo signing an e-commerce sector joint venture (JV) with Chinese express delivery firm ZTO Express and Hong Kong-based PAL Air Ltd for creating a new freight integrator.
Earlier this year, Alibaba Group Holding Ltd. also announced that it will invest more than $1 billion in Turkey for a 'logistics hub' at Istanbul Airport and a data center near the Turkish capital. Michael Evans, President of Alibaba Group had also reportedly said that the firm was eyeing a serious investment at the Istanbul Airport and looking to e-export to Europe, the Middle East, and to the Far East regions.
Making sense of these developments, Alastair Tempest, CEO, of E-commerce Forum Africa told the publication that Turkey has a major e-commerce link with Egypt and that Turkish Air also aims to become a hub for African e-commerce trade into Europe and Asia.
Tempest said, "Turkey is geographically perfectly placed to act as a hub for digital commerce going from Africa to Europe, the Middle East, and the Far East, and for goods moving down into Africa. Turkish Airlines is therefore positioning itself as the carrier for e-commerce. There is a need for a wider reach of destinations which a hub in Turkey will offer to e-commerce merchants."
Tempest further added, "Turkey is also seeing a rapid growth of e-commerce. The international research company, Statista, which estimates e-commerce turnover around the world, has noted that e-commerce spending in Turkey has shown dynamic growth over the last few years, and represented 5.7% of total FMCG sales in 2022. The forecast for (Turkey's) e-commerce market is 14.46% growth per year over the next four years (2023-2027) which would result in a market volume of $39.44 bn in 2027."
Scheithe further added, "According to Technavio, e-commerce grew strong through the past years and is expected to continue in doing so. Turkey is home to some high-revenue e-commerce platforms such as Trendyol, hepsiburada.com, and icwaikiki.com, which had a combined revenue of $ 5 billion in 2021. Furthermore, it is reported that 40% of the Turkish population had ordered at least once online in 2021."
Future outlook
Sizing up the opportunities thrown up owing to Turkey's potential to become a cargo hub with a huge transshipment opportunity, Scheithe says, "Only 20% of Turkey's revenue is from Turkish origin/destination export and import, the remaining part is from transshipment activities only. The Turkish logistics market is expected to grow by 7.2% between 2022-2027, which equals an increase of $10.3 million."
One step in that direction is that the International Air Transport Association (IATA) will be hosting the IATA World Cargo Symposium (WCS) with a focus on sustainability, safety, and digitalization in Istanbul, Turkey from 25 to 27 April 2023, where it will be leading discussions and creating a roadmap for the air cargo industry to follow in challenging times.
"Air cargo plays a critical role in delivering aid to those in need. The industry's recent mobilization to provide support to the people of Turkey and Syria affected by the tragedy is the latest example. With this year's WCS being hosted in Turkey, it is the perfect opportunity to reflect on the role that air transport plays so that airlines are even better prepared for the next humanitarian crisis," said Brendan Sullivan, IATA's Global Head of Cargo.