SWISS and Neste collaborate for sustainable aviation fuel
SWISS has established the first-ever end-to-end logistics chain for importing sustainable aviation fuel (SAF) to Switzerland in collaboration with Neste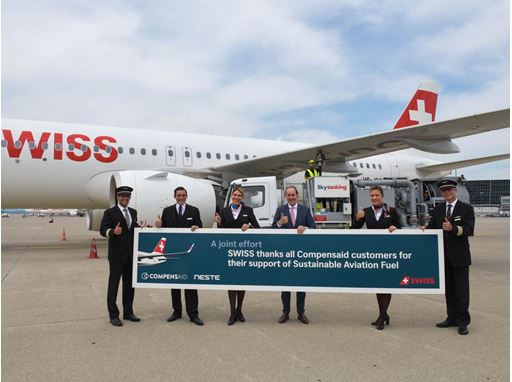 Swiss International Air Lines (SWISS) and Neste, one of the world's leading sustainable aviation fuel (SAF) providers have joined hands to establish the first-ever end-to-end logistics chain for importing SAF to Switzerland.
This makes SWISS the first commercial airline to use SAF in its scheduled flight operations from Switzerland. Aircraft fuel with a biogenic component has been importable to and usable in Switzerland since 1 July 2021, thanks to new customs provisions.
"We are delighted to have received the first delivery of our own-sourced SAF into Switzerland so soon after these new customs regulations came into force," says SWISS CEO Dieter Vranckx. "For years now, SWISS and the Lufthansa Group have been lobbying for the import of sustainable aviation fuels, because these will be the key technology for the mid-to-long term future in enabling us to achieve our climate goals for 2030 using present aircraft powerplant technologies. We would like to thank everyone who has been involved in establishing this new process and has worked to make it happen – especially the Swiss customs authorities, Flughafen Zürich AG, Avenergy and Neste."
SWISS's first delivery of neat SAF amounts to more than 460 tonnes. With SWISS's highly advanced aircraft such as the A32Xneo family, this is mathematically sufficient to fuel more than 175 flights. SAF will be fuelled at Zurich Airport via the conventional hydrant system. The Neste SAF blend is Jet A-1 certificated, and can be used just like fossil jet fuel on all aircraft types without any modifications required to the aircraft or its engines.
"This is a milestone for Swiss aviation on the sustainability front," SWISS CEO Vranckx continues. "We are proud to be the first airline to have laid the foundations for SAF to be used in scheduled flight operations in Switzerland. Because this, combined with our highly advanced aircraft fleet, really enables responsible air travel."
SAF has a vital role to play in decarbonizing air transport. In view of this, SWISS considers it crucial that the commercialization and market introduction of SAF should be driven and promoted in an internationally coordinated way. With its first import of SAF to Switzerland and its associated actions to establish full SAF logistics, SWISS is underlining its own intention to support SAF's market introduction.