LATAM Cargo Brazil flies 2 bears to São Paulo sanctuary
September 7, 2019: LATAM Cargo Brazil has flown two bears from Fortaleza to a wildlife sanctuary in São Paulo. The bears were transported in partnership with the Brazilian Institute of Environment and Renewable Natural Resources (Ibama) and the Fortaleza State Environmental Superintendence (SEMACE). Veterinarians and animal protection experts were on standby to oversee the loading […]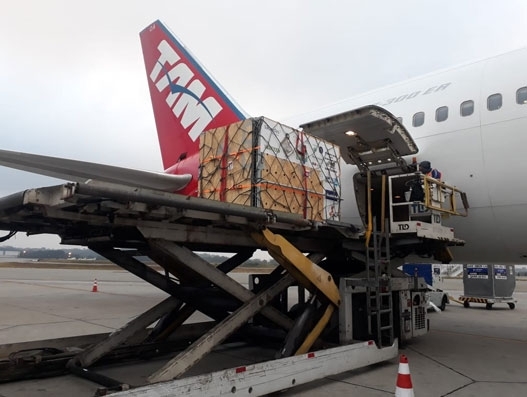 September 7, 2019: LATAM Cargo Brazil has flown two bears from Fortaleza to a wildlife sanctuary in São Paulo.
The bears were transported in partnership with the Brazilian Institute of Environment and Renewable Natural Resources (Ibama) and the Fortaleza State Environmental Superintendence (SEMACE).
Veterinarians and animal protection experts were on standby to oversee the loading of the bears on a Boeing 767-300 aircraft, which weighed a total of approximately 1.3 tonnes when loaded with both animals. The bears travelled in specially produced transport containers for loading into the cargo hold.
More than 20 LATAM Cargo workers ensured the aircraft was ready for the shipment and the well-being of the animals as preparations began six hours before the flight's departure time.
The animals lived in a zoo in Ceará and were rescued from a circus. They were transported to the the Rancho dos Gnomos Ecological Sanctuary Association (ASERG), which specialises in wildlife preservation and cares for animals that have been kept in captivity and/or been victims of abuse.
The partnership between LATAM Cargo Brazil and Ibama started in 2009 and has facilitated the transport of more than 4,500 animals in various projects aimed at preserving Brazilian fauna.
In May this year, LATAM Cargo transported five big wild cats - two lions, one lioness and two tigresses, from Santiago del Estero in Argentina to sanctuaries in Johannesburg, South Africa.
In June this year, two Beluga whales were transported by Cargolux Airlines from from China to the international airport of Iceland, Keflavik Airport. They were then delivered to their final destination - the SEA LIFE TRUST Beluga Whale Sanctuary.
Earlier this year, four young lions were rescued from a circus in Ukraine and transported to their natural habitat of South Africa by Turkish Cargo. Similarly, in July, Turkish Cargo carried out a life-saving operation of transporting Dobrila, an endangered griffon vulture to Belgrade.