Covid-19: A 'New Normal' for Asia
The expectation is that the confidence of air travellers for both business and leisure will not return to normal levels soon. Most of the passenger carriers in Asia which have had so much of belly space within intra-Asia halted their services. Even though the freight rates have been stabilised in April, the supply shortage in cargo capacity available in the bellies of the passenger flights will continue to remain short for two-three months.
The governments in Asia are continuing to monitor the coronavirus infection rate as part of a four-phase lockdown to ease its restrictions. But many businesses remain closed and the inevitable economic damage brought by continuing curfew means the economies will be put to the test. 
The International Air Transport Association (IATA) released an analysis showing that the airline industry's global debt could rise to $550 billion by year-end, i.e. a $120 billion increase over debt levels at the start of 2020. The April data by the association shows that the Asia-Pacific airlines saw demand for international air cargo fall by 28.1 percent, compared to the same period in 2019. However, the Asia-North America trade lane recorded less decline i.e. 7.3 percent due to the rise in the movement of personal protective equipment (PPE).   
Historically, most of the passenger carriers in Asia which have had so much of belly space within intra-Asia halted their services. Cathay Pacific has pulled out 80-90 percent of their capacity. Delta Air Lines and United Airlines are frustrated they cannot add flights to China due to the current restrictions.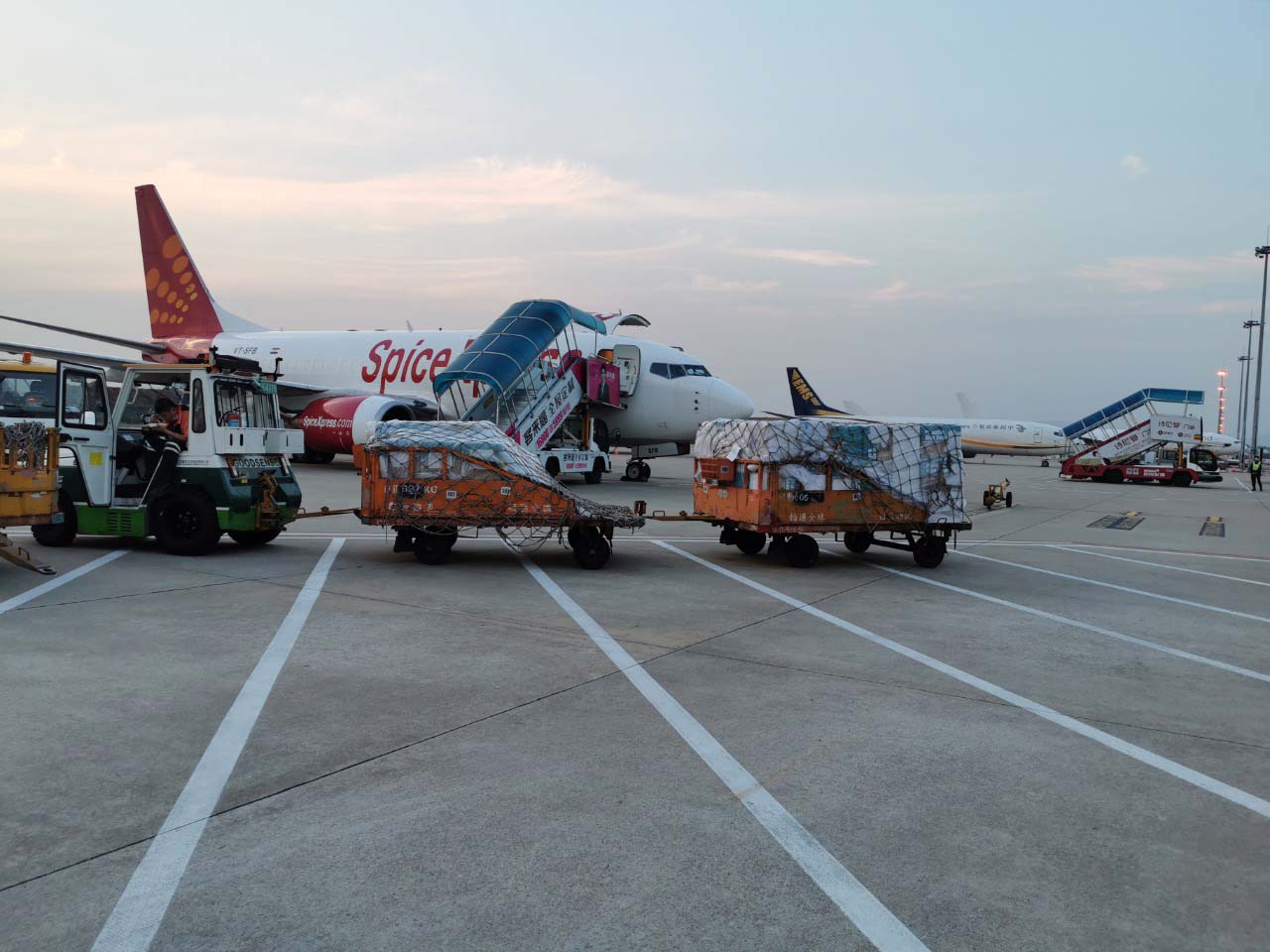 SpiceXpress, the cargo division of SpiceJet, to several Asian destinations; it flew 14 tonnes of medical supplies from Guangzhou to Delhi

Due to the passenger belly capacity withdrawals in intra-Asia, B2B and B2C businesses have been equally affected. Chaminda Gunasekera, senior director - air freight, e-commerce, and network development, Asia Pacific and Africa, SEKO Logistics says, "Considering the effect on B2C, the e-commerce cargo from China and Hong Kong entering Malaysia, Singapore, and the Philippines have to leave early morning to get the same day customs clearance done in other countries. Now, without the belly capacity, the business is hampered. While B2B also stays affected as there are not many freighter operations within intra-Asia."
As India opened its domestic air space for passenger fleets, the belly space regained its position after two months with passengers in the cabin. Thus, IndiGo, one of the airlines which operated passenger-only freighters during Covid-19, took off 200 flights on May 25. William Boulter, chief commercial officer states, "Most of the cargo markets have dipped nearly by 50 percent. China is an exception, where there has been a very strong demand and is anticipated to continue for a month or two. After this, we expect pre-Covid-19 businesses to fall on the track. Presently, the markets are unbalanced mainly outbound from China and even demand for perishable goods such as fruits and vegetables from Kerala, India to Dubai, Kuwait, Muscat, and Abu Dhabi."
Observing the demand to improve in the coming months, SpiceXpress' chief executive officer, Sanjiv Gupta states, "The Asian region has shown resilience in the past to all business disruptions. I expect the market to show a 'U-shaped recovery' and not a 'V-shaped recovery' that we expected earlier. On the demand side, we have a mixed bag. The nature of cargo has almost completely shifted to essentials, medical supplies and perishables that are still holding up the air cargo industry."
In Q1, the airline's business saw a 60 percent growth compared to the same period last year. The impact of the lockdown on its business started only towards the end of Q1.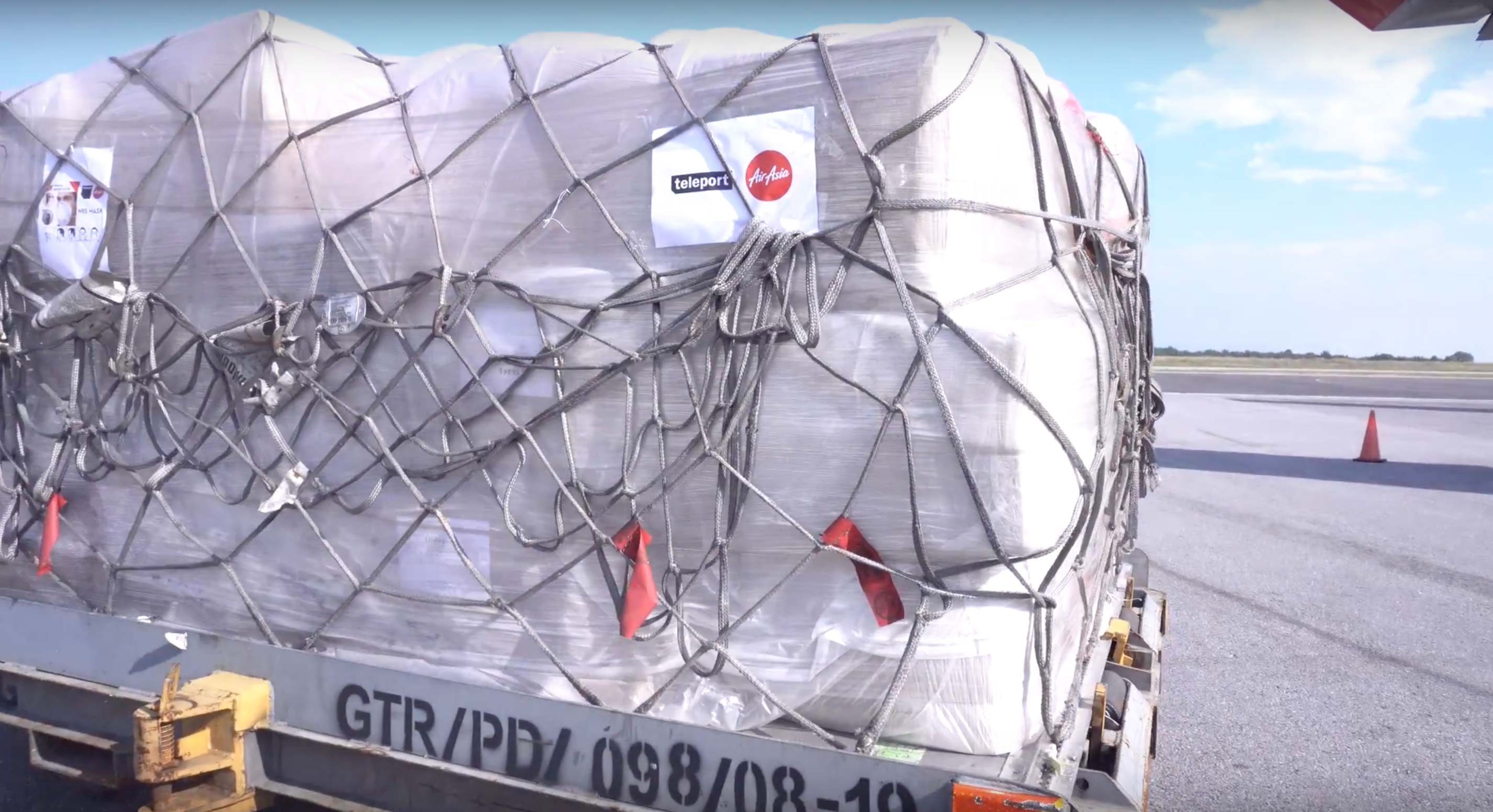 AirAsia's cargo and logistics platform, Teleport focuses on transporting medical aid and protective equipment intended for hospitals or frontline emergency responders

Kelvin Leung, CEO, DHL Global Forwarding Asia Pacific mentions, "We have seen the volume of PPE taper off from its peak some weeks back and as some countries in Europe and certain parts of the US lift restrictions, we may see an increase in demand in other commodities. With the resumption of production lines in various countries around the globe, we should start to see more shipments of parts or components for different industrial segments."
DHL launched a dedicated 100 tonnes weekly air freight service from China to the Middle East and Africa to help customers overcome capacity shortage amid Covid-19 travel restrictions and changing freight routes.
Commenting on how the GSSAs business will remain impacted, Stephen Dawkins, CEO, Air Logistics Group says, "The volume contraction in Asia has been low than the rest of the world. Some of the GSSAs whose carriers have suspended completely or in India where the lockdown has been severe - GSSAs have found it tough to manage. For network GSSAs, it's been a mixed bag depending on markets which have been stronger and less on weaker markets."
India has banned all domestic as well as international flights during the last week of March 2020. Due to this sudden blow, several airlines have faced heavy losses and the situation continues to look grim, and the flights may not resume with full operations for another couple of months. Keku Gazder, CEO of AAI Cargo Logistics and Allied Services Company (AAICLAS) notes, "The loss in Asian air cargo business would be similar to what the industry experienced during the US-China trade tensions. It is unclear yet, to what extent and how the virus will impact the Asian air cargo business leading to a loss in revenue. The impact of Covid-19 largely confines to markets associated with China."
The boon for China came in the form of the Middle Eastern carriers which operated without any interruptions. Although the prices were high they operated as per schedule. The carriers generated capacity out of Asia to the US mostly by charters driven by the PPE demand. Even to Europe, the capacity was shared between charters and passenger cargo-only aircraft. Due to this huge capacity crunch rates have touched its peak. 
Gunasekera points out that most of the PPE shippers wanted to complete customs clearance in advance for the flights which were scheduled after two weeks, which lead to clogging at the airports. In the first week of May, airports in China could not deal with it. "At Shanghai Pudong International Airport, one of the terminals was frozen up. Therefore, the custom clearance authorities granted permission to clear the cargo 28 hours before to curtail the situation. Zhengzhou Xinzheng International Airport was the fastest to recover as the management was able to manage the situation very well by expanding the terminal and using its express terminal for cargoes."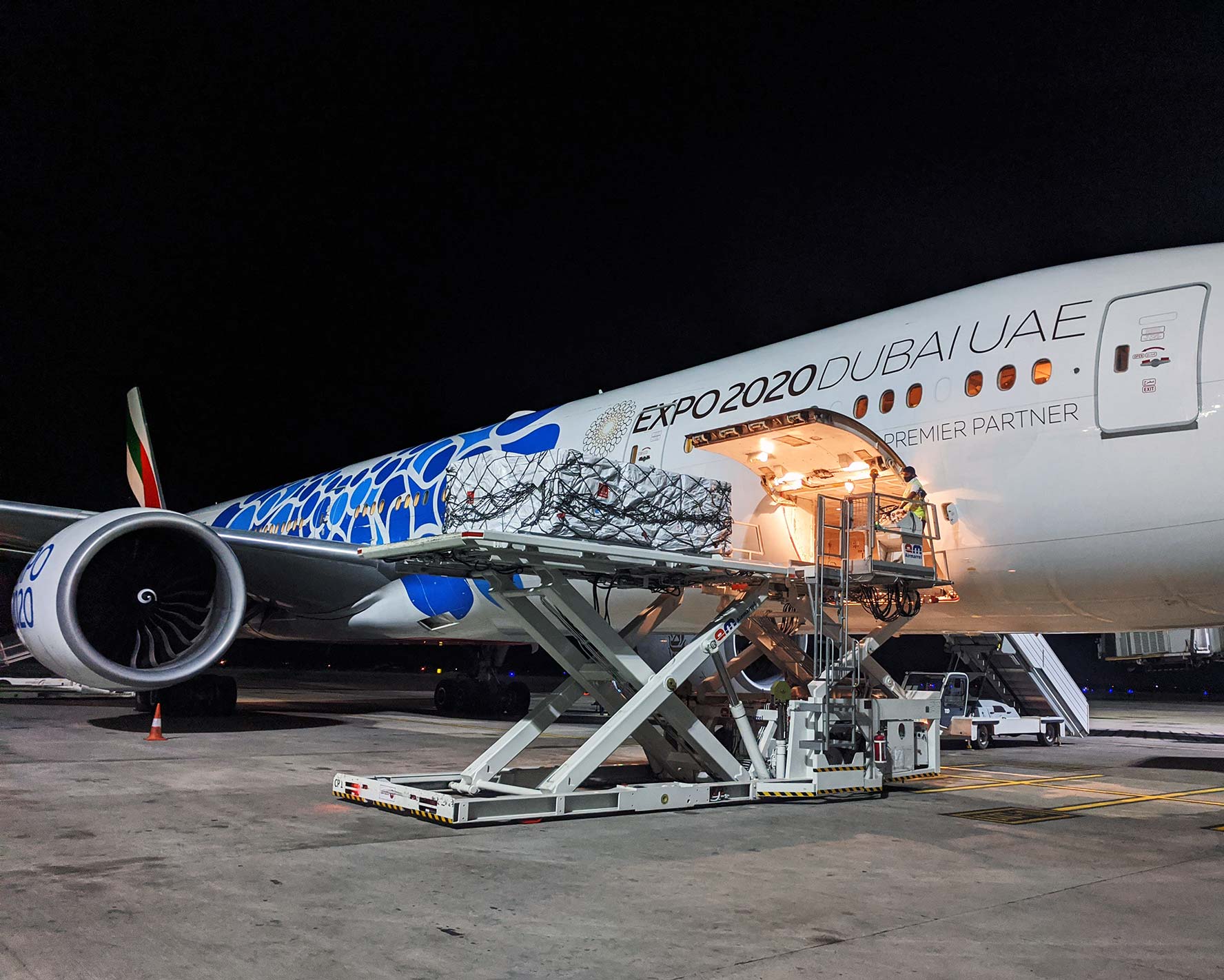 Emirates operates cargo-only passenger freighters to Indian destinations that include Hyderabad

Notably, digitalisation deserves applause for moving businesses across the globe amid pandemic. For IBS Software, Asian region especially the Far East has been a very important region. Ashok Rajan, senior vice president - global business head cargo & logistics solutions states, "Carriers in the region were the first to come on board with our iCargo platform, and we now have a 100 percent market share in Japan and Korea. We are closely engaged with every carrier/ground handler in the region in providing the digital backbone to several business initiatives whether it is opening up new sales channels, or setting up new freighter hubs for servicing the regional market, etc."
Due to the reduction in flight operations of airlines, many destinations operated by an airline have now become unavailable. To simplify this, AirAsia's logistics arm Teleport launched a blockchain-based air cargo network called Freightchain, which offers digital on-demand interlining of flights of different airlines to offer a wider supply chain network to buyers. 
Since the launch of Freightchain on April 16, the platform has received positive enquiries from new and existing agents. It is now in the process of onboarding them during this early stage. Vishal Batra, chief technology officer of Freightchain says, "The platform is built on an industry-standard microservices architecture. It has REST APIs for every function and features it offers. The existing software systems of the airlines and buyers can be easily integrated with Freightchain using the platform-agnostic APIs of Freightchain. Those airlines who do not have any existing software or those who want to start first and do the API integration in parallel can use the built-in application offered by Freightchain for airlines."
Since the pandemic, Teleport has arranged over 310 cargo-only passenger planes to transport medical aid supplies to countries in Asia and even as far as Prague, Czech Republic.
"Our proprietary ERP system SpiceTag has given visibility to our customers. Strategically, we have decided to extend SpiceTag to our airport-to-airport business as well.  Additionally, our new customers initiate engagement with us through our website and are managed on salesforce CRM. We use SpiceTag with a combination of ultra-high-frequency RFID tags, smart apps, global information system, EDI / API integration with customers' ERP systems," Gupta comments.
IndiGo has migrated to a new cargo system known as SmartKargo in 2019. The system has improved customer interactions, improved the management of business internally and helped with high growth on the cargo side. "We went from a market share of around 25 percent to 40 percent domestically in 2019. Digitalisation and use of SmartKargo as a system contributed to this growth. Additionally, we were using digital channels to advertise our cargo schedules during this crisis. Thus, we were convinced that we need to invest in our digital platform and will continue to do that."
While airlines found an option to fly cargo even in passenger aircraft, air freight costs were pinching the pockets of supply chain stakeholders. The situation led to price-sensitive customers resorting to cheaper alternatives. In late April, air freight costs started stabilising after a surge.
Gupta says, "For us, the difference in commercials is the absence of passenger revenue, reduced available manpower and related challenges. We managed to keep the same rates for cargo-only and freighter so that it is simpler for our customers."
Even though DHL declined to discuss the pricing model it believes that the pricing is dependent on the economics of demand and supply. Leung adds, "Passenger planes converted to cargo-only planes during this pandemic would not have the same efficiency as freighters simply because pallets cannot fit into them, and a lot of cargo has to be manually carried on-board."
This January, SEKO Logistics acquired New York-based Air-City, which helps it to expand on the westbound airfreight market. Mentioning on the freight rates increase, Gunasekera says, "Whenever there is a crisis, you have a lag time of 2-3 weeks to catch up because customers do not realise the rates are high and it becomes difficult for a freight forwarder to explain. It is no secret that when rates go up it is good us. But at the same time, we have seen rates coming down from $12, which was three weeks ago to $5 now."
Getting back on business in full swing is what the aviation industry is looking forward to. Commenting on economy revival once it stabilises and what type of commodities will gain traction to support the limping Asian business, Gupta mentions, "June and July 2020 will be critical months for the industry as supply chains have been disrupted and end-consumer demand has fallen. I expect these two months to be the build-up months and therefore, a growing, albeit slow demand for air cargo is expected. In the second half of this calendar year, I expect new norms for 'business-as-usual', and demand should be up to earlier levels by early 2021, of course with a fresh set of commodities and possibly a new set of trade lanes."
Gunasekera says that e-commerce has been doing well in Europe amid pandemic as most of the companies have seen peak demand during April and May, which is more than the year-end demand; the US also witnessed a similar trend. "Till August, essential goods will move from Asia but luxury goods will not pick up for three months as the manufacturing stay halted."  
Some sectors took a backseat amidst the lockdowns across the world but there is an optimism that it will bounce back when things return to normalcy. Leung notes, "We have seen significant developments in intra-Asia trade for both air freight and ocean freight in recent years and expect to continue to see growth post-Covid-19. This is due partly to the shift in production lines of different companies to optimise their supply chains, even before the crisis, and therefore leading to more movements of parts, components or raw materials intra-Asia. We also see strong demand for food supplies, perishables etc."
It is difficult to estimate the quantum of loss suffered by the air cargo industry at present. A positive side effect of these passenger aircraft flying for cargo operations is minimising the maintenance and operational effects of parked aircraft. As per reports, the expectation is that the confidence of air travellers for both business and leisure will not return to normal levels soon. Therefore, the supply shortage in cargo capacity available in the bellies of the passenger flights will remain short.
This feature was originally published in June 2020 issue of The STAT Trade Times