Cathay Pacific H1 cargo revenues up 8.8% amid tough conditions
Cargo revenues at Cathay Pacific and Cathay Dragon topped passenger revenue and accounted for HK$11,177 million in the first half of 2020, up 8.8 percent from the same period a year ago.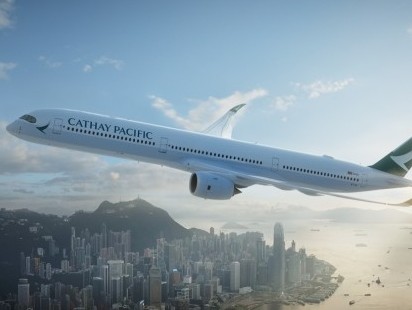 Cargo revenues at Hong Kong-based airline Cathay Pacific and Cathay Dragon topped passenger revenue and accounted for HK$11,177 million in the first half of 2020, up 8.8 percent from the same period a year ago.
Cargo yield increased by 44.1 percent to HK$2.71 in the first six months of the year. There was an imbalance between capacity and demand in the cargo market, which led to higher cargo revenues compared to the first half of 2019. AFTK capacity decreased by 31 percent, reflecting the considerable loss of available capacity as a result of the extensive cuts to its passenger schedule. The loss of belly capacity due to the travel restrictions that forced passenger flights to be grounded resulted in an overall tonnage carried decreased by 31.9 percent to 667 thousand tonnes. The load factor increased 5.9 percentage points to 69.3 percent.
Highlighting the course of events over the first half, Cathay Pacific Group's chairman Patrick Healy said in the interim report that although passenger demand shows signs of returning following the months-long social unrest last year, the first half this year remains the "most challenging" Cathay has faced in its more than 70 years of history.
Cargo highlights in H1
Demand was strong in the first three weeks of January, but dropped significantly as manufacturing came to a halt in the Chinese mainland during the Chinese New Year holiday. The delayed resumption of manufacturing significantly affected Hong Kong and Chinese mainland markets, with outbound demand only beginning to recover by mid-February.
In February, there was an overflow of demand for cargo services into the Chinese mainland and Hong Kong, in particular for pharmaceutical-related orders involving medical equipment such as face masks and coverings, hand sanitisers and personal protective equipment.
In March, exports from Hong Kong and the Chinese mainland rebounded as production resumed; however, other trans-shipments were negatively impacted by lockdowns around the world, in particular on the India sub-continent.
Also Read: Cathay Pacific rejigs top cargo management
Covid-19: A 'New Normal' for Asia
Demand for medical equipment and pharmaceuticals remained high from March onwards, while the volume of consumer goods such as garments and automobile parts declined.
In April, overall tonnage dropped by a third compared to March as our passenger network further contracted. Lockdown measures around the world also hindered the movement of certain cargo such as perishables, seafood, live animals, industrial parts and equipment.
In May, significant effort was made to prioritise capacity for routings with the highest airfreight demand, most notably to the Americas, Australia and Europe. To meet increased airfreight demand amid the global reduction in available cargo capacity, we sourced additional capacity from our subsidiary Air Hong Kong and mounted additional freighter services. The carrier also operated a total of 2,243 pairs of cargo-only passenger flights throughout the first half of the year. As of 30th June 2020, a regular schedule of cargo-only passenger flights to 51 major destinations had been reinstated. In June, Cathay Pacific continued to operate a full freighter schedule as well as chartered flights from Air Hong Kong, though there were fewer cargo-only passenger flights compared with May. Cargo tonnage fell slightly month-on-month as demand for medical supplies waned following a peak month in May, and yields came down following the significant rise seen that month.
"We introduced additional cargo-carrying capacity wherever possible. We increased the utilisation of our freighters. We chartered flights from our all-cargo subsidiary Air Hong Kong. We operated 2,228 pairs of cargo-only passenger flights between March and June. At the end of April, we started to carry cargo in the passenger cabins of Boeing 777-300ER aircraft. This increased their cargo-carrying capacity by 5-9 percent," said Healy.
The Cathay Pacific Group's attributable loss was HK$9,865 million in the first half of 2020 (2019 first half: profit of HK$1,347 million). Cathay Pacific and Cathay Dragon reported a loss after tax of HK$7,361 million in the first half of 2020 (2019 first half: profit of HK$675 million), and the share of losses from subsidiaries and associates was HK$2,504 million (2019 first half: profit of HK$672 million).
The loss for the first half of 2020 is net of the receipt of HK$1,060 million of Covid-19 related government grants globally and includes impairment and related charges of HK$2,465 million relating to 16 aircraft that are unlikely to re-enter meaningful economic service again before they retire or are returned to lessors, and to certain airline service subsidiaries' assets.