FROM MAGAZINE: Cargo handling in the times of a pandemic
Cargo handlers are ensuring that cargo moves safely to the aircraft in the times of a pandemic.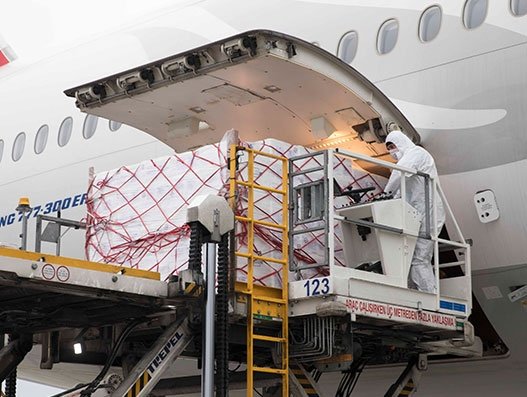 Since the last decade, the air cargo industry has braved hurdles of various kinds - hurricanes, political unrest, tsunami, border closures, massive tariff shifts, capacity spikes and shortages, port strikes, war, cyberattacks, and much more. But the recent Covid-19 pandemic, draconian in its consequences, has led to travel restrictions and flight cancellations, which has severely limited cargo capacity for essential goods. With airlines transitioning to cargo-only flights from passenger planes, cargo handlers are putting their best foot forward to ensure that cargo moves safely from the apron not just to the aircraft belly but to passenger seats as well.
As American writer Tom Peters said, "Leaders win through logistics. Vision, sure. Strategy, yes. But when you go to war, you need to have both toilet paper and bullets at the right place at the right time. In other words, you must win through superior logistics." These are nothing less than war-like times. Over the last few weeks since Covid-19 snowballed into a pandemic, air cargo has played a critical role in keeping global supply chains functioning to handle the fight against the virus. Be it through dedicated freighter operations or through utilisation of cargo capacity in passenger aircraft, the industry is working round the clock to ensure that timely distribution of essential goods and medical supplies all over the world. And the soldiers in this battle include the ground and cargo handling teams who continue to work tirelessly on the apron to move the cargo to the aircraft.
"A cargo plane, loaded with medical supplies, landed at Liège airport, the largest cargo airport in Belgium and one of the key logistics hubs in the fight against the coronavirus crisis. Our Swissport colleagues worked day and night to handle the flight and support the distribution of medical supplies in Europe. But it wasn't only our colleagues in Liège who were busy handling critical flights. We are proud of all the Swissport teams around the world who are still working on the apron to handle air cargo and thus maintain the supply chains for medical care, food and goods for everyday use. The circumstances are not easy, but we will do everything we can, to ensure that critical supplies are ready for distribution," read a social media post shared by Hendrik Leyssens, vice president global operations – cargo for ground handler Swissport.
While responding to the Covid-19 crisis remains the current and primary concern for the ground handler at the moment, Swissport, the global player in airport ground services and air cargo handling, has also been making significant investments in new technologies and automation at its warehouses to enable end-to-end visibility of shipments.
In February, Swissport announced that it will rig its cargo warehouses with Bluetooth readers supplied by Unilode and Descartes. The technology will increase transparency for Swissport customers using digitally tagged ULD. Geolocation of ULD enables real-time tracking and inventory control, enabling airlines and freight companies to plan the distribution of their vast ULD fleets more efficiently and cost effectively. Self-service cargo kiosks will enable truck-drivers to skip counter queues and manual paperwork processing. The kiosks help saving valuable time and often speed up the delivery of time-critical shipments, benefiting Swissport and its customers alike. In 2019, around 4.6 million tonnes of air cargo passed through Swissport's warehouses world-wide. Currently, nine facilities are CEIV Pharma-certified by IATA's Center of Excellence for Independent Validators.

Lufthansa's Airbus A330 passenger aircraft loaded with 30 tonnes of medical goods was transported from Shanghai to Frankfurt
Photo Source: Lufthansa Cargo
Meanwhile, another important player in the ground handling space Worldwide Flight Services' (WFS) team at Milan's Malpensa Airport are supporting the urgent medical effort to saves the lives of coronavirus victims in Italy by expediting the handling of time-sensitive materials destined for hospitals and medical centers.
In recent days, this included handling cargo onboard special China Eastern Airways charter flights from Shanghai to Milan carrying 20 tonnes of medical equipment and supplies as well as a team of doctors to help deal with the crisis, which has already claimed the lives of over 7,500 people in Italy.
The WFS team ensured the medical cargo was immediately processed and cleared so it could be despatched to hospitals in Milan, Venice, Padoa and Siena. WFS expects to handle more charters into Italy in the coming days and weeks as it continues to give its full support to the relief effort taking place across the country.
Organised by the Chinese Government, the flights also repatriated 187 Chinese citizens from Italy to Wenzhu in southern Zhejiang Province. Massimiliano Introini, managing director of WFS in Italy explained how cargo handling specialists at airports around the world are playing a vital role in helping governments and the healthcare sector deal with the urgent medical response to the outbreak of Covid-19.
"In Milan, we were able to ensure that by 20.00hrs on the day medical supplies had arrived, they were delivered to Protezione Civile, Italy's emergency agency, to be distributed to various hospitals. We are ready to support more such flights to ensure life-saving equipment reaches patients as quickly as possible. This is one of the ultimate examples of the important role the airline and cargo handling industries play at times of national and international crisis. We must ensure these vital supply lines remain open," he said.
Introini further went on to applaud the team's commitment for the cause. "I also want to acknowledge the commitment of our team for ensuring this particular project was completed so efficiently and for all their hard work and support during such a difficult time for the Italian population. The health and wellbeing of our staff, alongside the safety and security of our operations, remains our highest priority and we will continue to take the necessary measures to protect all the people involved in this essential work," he said.
Apart from its work in Italy, WFS handled 34 temperature-controlled containers at its new pharma centre at Paris Charles de Gaulle Airport (CDG) – its largest single shipment since it opened the €10 m facility late last year. The containers, which were handled on behalf of WFS' customers AirBridgeCargo Airlines and Kuehne + Nagel, spent 24 to 48 hours at the pharma centre ahead of their delivery to China on an AirBridgeCargo Boeing 747 freighter.
Hugo Rodrigues, vice president of cargo France, at WFS, explained, "This particular shipment for AirBridgeCargo and Kuehne + Nagel was the biggest so far and helped to demonstrate the capabilities of both the facility and our team."
Rodrigues believes that their decision to invest in this facility to support airlines and freight forwarder customers, as well as the pharmaceutical industry, has already been validated by the strong demand that it is seeing from different organisations. "With the need for pharma products all over the globe likely to soar in 2020, we will deliver the capacity and quality of service our customers need to ensure the integrity and efficiency of their pharma supply chains," he said.
In yet another successful movement of critical medical supplies, WFS' Ireland team helped US carrier Delta Airlines' cargo-only passenger jet to carry critical medicine from Dublin to Atlanta in what is likely to be the first of a number of such services by the airline in the coming weeks. Delta operated an Airbus A350-900 passenger jet for this service from Dublin, flying much-needed medical supplies to Atlanta. 80 percent of the cargo handled by WFS in Ireland is currently pharmaceuticals. The remaining 20 percent includes valuable food and electronic equipment.

Cargo handlers load Antonov 124 aircraft with medical supplies
Photo Source: Geodis
Meanwhile, Frankfurt Cargo Services (FCS), an affiliate of Worldwide Flight Services (WFS), has been ensuring immediate processing of all incoming shipments at Frankfurt Airport to expedite their delivery to frontline medical teams. In the past few days, FCS has provided handling services for flights carrying medical supplies from the United States, China and Mexico, and further aid flights will continue to arrive to support Germany's healthcare sector.
The latest passenger aircraft to operate cargo-only flights to Frankfurt include two American Airlines Cargo services from Dallas/Fort Worth. The Boeing 777-300 aircraft, which offers 14 cargo positions for large pallets and can carry around 45 tonnes, transported medical supplies, mail for active US military, telecommunications equipment and electronics. The flights also offer much-needed capacity for the airline's regular cargo customers.
FCS also handled seven tonnes of respirator masks from China for the German Ministry of Health, which arrived in Frankfurt onboard Air China and China Southern Airlines' flights. This equipment is now in use in hospitals across the country. Other life-saving shipments have included respirator masks from Asia, which touched down in Frankfurt on their way to Romania, and medical equipment carried onboard an Aeromexico Boeing787-900.
Claus Wagner, managing director at FCS, said, "Alongside our priorities of safety and security, all the emphasis for these shipments is on speed because the faster this equipment reaches medical professionals, the more lives they can save. In these extreme circumstances, our team are using all of their longstanding handling expertise to ensure every flight is unloaded and loaded, and all cargo processed, with immediate effect because we recognize our responsibility to support key workers all over Germany."
Meanwhile, Dubai-based dnata of the Emirates Group has been working with various airlines to transport essential goods including medical supplies around the world. The dnata team at London Heathrow recently handled Virgin Atlantic's first-ever cargo-only charter flight. The Boeing 787-9 was carrying essential medical and pharmaceutical supplies to New York. Dnata has also been instrumental in helping Emirates for the transport of essential goods including medical supplies across the world.
dnata is also well-invested in technology to achieve an efficient flow of operations. "Our One Cargo tool, a first for ground handlers, digitised our customers' booking process and service, ensuring a seamless experience at delivery bays. We have also trialled drones in the warehouse to identify and monitor shipments with 100 percent accuracy," said Kevin Ennis, vice president, commercial and business development, cargo, UAE Airport Operations, dnata.
"To ensure seamless delivery of temperature-sensitive goods from the warehouse to the aircraft, we launched 'cool dollies' in our operations. These high-tech containers were specially designed to serve the pharmaceutical industry with a closed temperature-controlled system," Ennis added.
Just like cargo handling operations during the current crisis in other parts of the world, Flughafen Wien, the cargo handling company at Vienna Airport has been co-ordinating operations to deliver time-critical supplies to different parts of Austria. "Our groundhandling workers have already dispatched more than 52,000 tonnes of freight this year. In the last couple of days, we saw urgently needed medicinal goods, like protective masks, being delivered to Vienna Airport," informed Julian Jäger, joint chief executive officer at Flughafen Wien - Vienna Airport in a LinkedIn post.
Like many other airlines, American Airlines is utilizing its currently grounded passenger aircraft to move cargo between the United States and Europe to ensure the movement of essential commodities to its destined locations. The first cargo-only flight departed from Dallas Fort Worth International Airport (DFW) March 20 and landed at Frankfurt Airport (FRA) on March 21. The Boeing 777-300 operated two round trips between DFW and FRA over the course of four days, carrying only cargo and necessary flight personnel. The 777-300 has 14 cargo positions for large pallets and can carry more than 100,000 pounds. The four scheduled flights this weekend are expected to be booked to capacity and transport medical supplies, mail for active US military, telecommunications equipment and electronics that will support people working from home, and e-commerce packages. The flights provide much-needed cargo capacity for many of the airline's regular cargo customers, allowing them to continue operating in this challenging environment.
"We have a critical role to play in keeping essential goods moving during this unprecedented time, and we are proud to do our part and find ways to continue to serve our customers and our communities," said Rick Elieson, president of cargo and vice president of International Operations, American Airlines. "Challenging times call for creative solutions, and a team of people across the airline has been working nonstop to arrange cargo-only flight options for our customers."
"It's an honour to be part of these cargo-only flights," said Ken Jarrell, fleet service clerk, Cargo Services – DFW. "They represent much needed aid for the world and hope for our team. Our team members across the airline are ready and willing to do what it takes to make sure people have the things they need during these unprecedented times."
Like American, Delta, United, Air Canada, Aeromexico, Austrian, British Airways, Cathay Pacific, Emirates, Iberia, Korean, LATAM, Lufthansa, Qantas, Scoot, Swiss and many other carriers have made some passenger aircraft in their fleet available for chartered cargo operations to move essential cargo to fight this pandemic. In the current context, cargo handling teams around the world continue to play a key role in servicing airlines by keeping global supply chains open and functioning for time-sensitive materials. Only time will tell when the crisis will abate, until then, the entire industry is up in arms so that 'air cargo makes it happen'.
Ground handlers seek financial support as sector faces imminent collapse
The UK's four main handling companies Swissport, dnata, WFS and Menzies have warned that their operations at the UK's airports could come to a screeching halt in weeks as the sector faces imminent collapse.
The Covid-19 pandemic has had a catastrophic impact on the sector with 95 percent of flights rendered non-operational. The ground handling majors have now written to the UK government seeking financial support "to ensure continued operational cashflow and secure employment for as many staff as possible."
In a joint statement issued by the companies, they said, "While the industry has welcomed the Chancellor's work retention package, low margins and staff, comprising 70 percent of costs, mean that the viability of the industry remains immediately unsustainable."
"Without our services and these dedicated teams, the airport infrastructure in the UK would grind to a halt for up to four months and it would take even longer to fully recover once the initial crisis is over. This is something we clearly have a common interest in working together to avoid."
In a dismal trading update, Edinburgh-based aviation services firm John Menzies, which provides ground handling, fuelling and cargo handling services for airlines all around the world, said it had been forced to cut over half its global workforce in a bid to cut costs and secure its future.
The company, which employs over 32,000 staff across 200 airports, warned that the impact of the virus on its business had 'increased significantly' in a short period of time.