Boeing issues guidelines on passenger airplane carriage of cargo
With more and more global airlines deploying their parked wide-body passenger aircraft for cargo-only flights to provide capacity for vital supplies as a result of Covid-19 pandemic, plane maker Boeing has issued a multi operator message (MOM) for passenger airplane carriage of cargo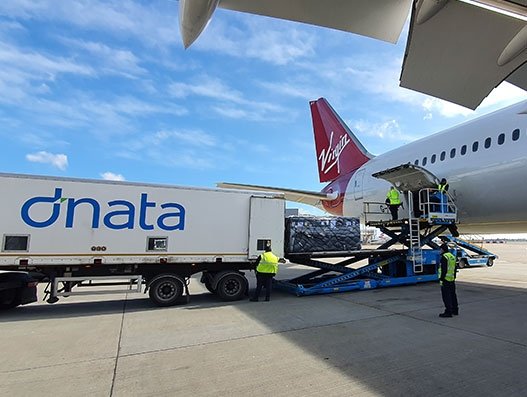 With more and more global airlines deploying their parked wide-body passenger aircraft for cargo-only flights to provide capacity for vital supplies as a result of Covid-19 pandemic, plane maker Boeing has issued a multi operator message (MOM) for passenger airplane carriage of cargo. According to Boeing, the message is to provide operators of Boeing aircraft general guidance on carrying humanitarian aid and cargo as a result of the Covid-19 crisis which has disrupted global supply chains
Delta, American Airlines, United, Air Canada, LATAM, Emirates, Qatar Airways, Etihad, Virgin Atlantic, Lufthansa, Austrian Airlines, IAG Group airlines, China Eastern, Korean, Cathay Pacific, and Air India are among the many airlines that have their aircraft already flying around as 'passenger freighters'.
In the current pandemic with several countries under lockdown and most airlines either grounding all their passenger flights or substantially reducing their services, some of the above mentioned airlines are loading cargo on to passenger seats. While Lufthansa, Austrian, China Eastern and LATAM have already ferried tonnes of cargo in passenger cabins, other airlines are seriously considering that option.

Austrian Airlines' B777 with cargo placed on seats in passenger cabin
If airlines seek to carry cargo on passenger seats, Boeing recommends that they coordinate with their regulatory agency to ensure compliance with any regulatory restrictions that include cargo type, fire suppression, smoke detection, etc.
Regulations associated with carriage of cargo in passenger compartments are contained in 14 CFR 121.285 of Federal Aviation Administration (FAA). The FAA regulation, with specific reference to carrying of cargo on passenger seats, stipulates that the seat cargo is adequately restrained and the restraints are attached to the seat itself and not to adjacent structure or seat track locations.
Boeing, in its latest guidelines to operators, reiterates the regulation by FAA and other aviation authorities. Carrying cargo on the seat is allowed if the seat cargo is less than 170 lbs or 77.1kg. That the seat cargo is adequately restrained and the restraints are attached to the seat itself and not to adjacent structure or seat track locations. That the centre of gravity (CG) of the cargo is equal to or lower than the passenger CG shown in the envelope drawing of the seats in use.

American Airlines' Boeing 777 passenger freighter
Boeing is closely evaluating the current trend and it is expected to come out with an updated guideline. "Boeing is evaluating the carriage of cargo on the main deck of passenger airplanes with and without the presence of seats," the latest multi operator message (MOM) stated.
According to Boeing, the evaluation includes the analysis of cargo restraints connected directly to the seat tracks to ensure structural loads are within design limits. "Boeing will provide a status on this work in an update to this MOM by April 3, 2020," MOM said.
Boeing has some of the most advanced and fuel efficient passenger aircraft that include the 777 (Boeing also produces a freighter version) and 787. These 'passenger freighters' can carry between 30 to 42 tonnes of cargo in the lower deck. However, when these planes are permitted to carry cargo also in the passenger cabin the total weight of the cargo carried is even more.
Lufthansa and LATAM have deployed their Airbus A330 passenger wide body planes for cargo-only services and have used the passenger cabins to carry cargo on seats. Delta is flying Airbus A350, which has a payload capacity of 49 tonnes in the lower deck.
We have not seen a similar guideline from Airbus.