Between Covid-19 vaccines and general cargo, it is competition for capacity
Though the vaccines have not yet begun cannibalizing the commercial space or competing with general cargo with regard to air cargo capacity, industry experts expect some degree of disruption in services.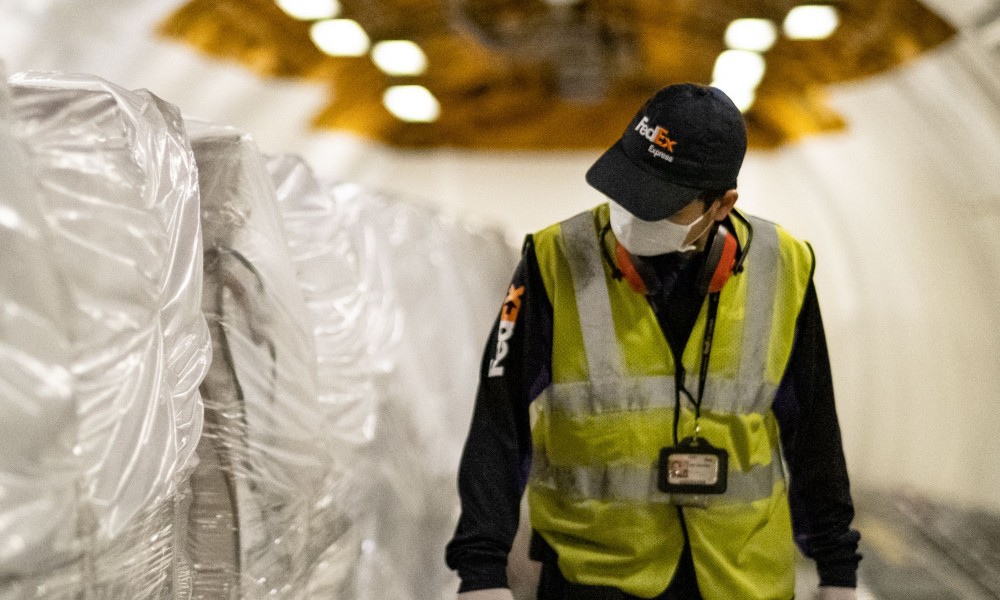 The Covid-19 vaccine distribution, which has already begun in the US following FDA's authorization of Pfizer and Moderna's vaccines for emergency use, has tightened the noose around a supply chain that is already grappling with surging e-commerce demand. Though the vaccines have not yet begun cannibalizing the commercial space or competing with general cargo with regard to air cargo capacity, industry experts expect some degree of disruption in services.
The distribution of the Covid-19 vaccine is probably one of the biggest and most complicated product launches in the history of mankind. An estimated 10 billion vaccine doses must eventually be delivered around the globe. Over the next several months, vaccine distribution will ramp up and many more vaccines will be approved for use. IATA has calculated that even providing a single vaccine dose to the 7.8 billion people on the planet would fill 8,000 747 cargo aircraft. Given the sheer volume, will this impact delivery of general cargo shipments going forward?
"The impact is mainly only with regard to the availability of freighters. A trusted source told me that US has or is looking to block 8,000 flights for the vaccines. If this happens, a good chunk of freighter capacity will be taken out and any surge in volumes for normal demand might be moving at a very high cost," informed Chaminda Gunashekara, senior director – air freight/ecommerce/network development, APAC, MEA, Seko Logistics.
Traditionally, general cargo comes second when it comes to space allocation as against pharma and other priority specials or NFO (Next Flight Out) cargo such as automotive, aerospace, marine, special events due to higher yield. So, with the vaccine distribution, it is a given that general cargo will get bumped out.
"We see this trend from the beginning of the pandemic. Initially, volumetric cargo (garments/textiles/ecommerce) were pushed back by the carriers, as they were looking for high-density cargoes only to utilize their capacity as they were full of PPE goods and masks (highly volumetric)," said Christos Spyros, CEO and founder, Neutral Air Partner.
With the vaccines, there will be more capacity available per flight for general cargo, compared with the PPE and masks season earlier this year, due to the restrictions on dry ice per aircraft. This will also push the rates to the levels of March-April with the PPE goods, if will not higher, Spyros feels.
While some displacement of commercial cargo will happen to accommodate vaccine shipments, Neel Jones Shah, EVP and global head of airfreight at Flexport believes this is likely to be confined to a few key trade lanes where capacity is already constrained.
"In spite of this congestion, there's good news for regular air shippers. Over the past few months, there have been a number of forecasts signaling that we would need anywhere between 1000 and 15000 747s worth of capacity for vaccine uplift. Now that we better understand the regional manufacturing strategy for many of the vaccines, it is believed that vaccine distribution will require about one percent of global capacity (much closer to lower forecast), which is quite manageable even in today's capacity constrained market," he added.
Integrators like Fedex, UPS and DHL and other airlines have been preparing for months for this mega distribution. The dual strain on capacity with the Christmas shopping season along with the delivery of vaccines is being well handled by these players. "We can flex our network to help accommodate any cargo capacity shortage in 2021, as we have done throughout 2020 in response to the severe shortage of cargo capacity stemming from the grounding of passenger aircraft. For example, we have expanded flight capacity across Asia-Pacific to handle unprecedented package volume in support of customers during the current peak holiday season," explained Kawal Preet, president, Asia Pacific, Middle East and Africa (AMEA), FedEx Express.
Delta delivers Covid-19 vaccine shipments Source: Delta Air Lines
DHL, on its part, is also doing the balancing act of making vaccines available to the farthest corners of the world while addressing service disruptions. "At the moment, the challenge is to produce enough vaccine doses for the global population. But the distribution of a vaccine will not fail because of logistics. We want to contribute and help countries overcome the global pandemic. However, we also remain fully committed to serving all of our customers and mitigating the impact of any potential service disruptions," mentioned a DHL spokesperson.
Recently, Singapore Airlines (SIA) delivered the first shipment of Pfizer-BioNTech Covid-19 vaccines to Singapore on board one of its Boeing 747-400 freighters. This was also the first Pfizer-BioNTech vaccine shipment to be delivered to a country in Asia. SIA had announced that it will make available cargo space on its flights and accord uplift priority to Covid-19 vaccine shipments across the key vaccine trade lanes. This includes readying the Boeing 747-400 freighters, as well as the passenger aircraft fleet, which will be deployed on cargo operations to increase the capacity for vaccine transportation where needed. The vaccines were carried on a scheduled freighter from Brussels, Belgium, to Singapore. The shipment was prioritised for loading into the aircraft in Brussels and was given similar precedence during unloading in Singapore.
There is no doubt that shippers of general cargo will face much more pressure this year; they will not only be able afford to ship by airfreight cargo of low to medium value, but they are in the middle of a crisis within the ocean freight sector where prices have jumped up to $7.000 per TEU from Asia to Europe. "This will certainly affect the entire global supply chain and the extra transportation cost soon or a later will be paid by the end consumer," Spyros added.
Shippers of general cargo will have to bear the brunt of this situation as they cannot avoid the market demand for space. Some of the general cargo shippers have been delaying or asking for slower transit products and are willing to wait 7-9 days for air freight. Shippers in the ecommerce and pharma sector are willing to pay top dollars to get capacity as these products have a very high opportunity cost. "I foresee a lot of air freight from China to Europe asking for trucking. Shipments from China to Vietnam and Thailand are already moving to the trucking mode. Sea-Air demand via SIN/Dubai/Sri Lanka will be very high next year," predicts Gunashekara.
According to him, alternate route mapping and multi-modal logistics will be more in demand. "Today, a famous Chinese company operates three times a week to Riga. Routes like this will become popular as you can use short-range aircraft to move goods from China to EU and land in EU. I believe there is a huge potential in Turkey to become an Air-Truck hub to Europe. Sri Lanka, Japan and Manila have huge opportunities to become sea-air hubs from Asia to EU, MEA, and even USA. If Kenyan air freight industry is brave enough, they can set up the largest Easter African Air Cargo Hub for Africa, even challenging the position of Dubai," he explains.
Flexport's Shah also anticipates integrator capacity and trucking to be the primary mode of transportation in many regions including the US and the majority of Europe. "The developing world will require much heavier utilization of long haul supply chains but the industry should have a good handle on these requirements over the coming weeks and months," he said.
While effective prioritization of cargo is considered, another key issue that needs attention is on the part of staffing. Across the US and Europe, JFK/ORD/LAX and LGG have been witnessing delays due to demand surge in volumes in November and Covid-affected operations. "I am sure these terminals are struggling a lot to keep their experienced staff in operations amid the Covid-19 risks. Terminals had to take extra precautions in PVG when it was detected that Covid-19 virus may have survived on the frozen meat packages coming in to Shanghai PVG airport. Every airport is really stretched for capacity and resources as all sectors are affected," said Gunashekara.
Flexport's Shah raised a similar concern. "I believe the industry has done the critical, hard work of preparing for Covid-19 vaccine distribution and will be able to effectively prioritize cargo. However, as Covid-19 cases surge across the US and social distancing guidelines are put in place, we expect there to be staffing issues at some of the country's largest air freight hubs including LAX, ORD and JFK," he said.
However, Liege Airport's (LGG) vice president – commercial, Steven Verhasselt is prepared to manage peak demand. "We are definitely preparing for a peak, and we are preparing for the vaccine distribution. As an airport, we provide infrastructure and assist the cargo community. It is not really up to us to prioritise some commodities over others, some operators over others. During the peak with PPE materials, we asked our partners to focus on the long term customers, and add operations only as possible. We managed that, even adding capacity with a pop-up handling facility."
Even without the vaccine, global cargo capacity is expected to continue to be well below historical norms with passenger belly capacity continuing to be sidelined by the pandemic. With robust demand trends, capacity on many key trade lanes was already predicted to be very tight for 2021; commercial shippers need to get used to the idea of continued high rates and longer transit times.