Airfreight is well-positioned to help e-commerce deliver
The world has a problem that it can't shop the way it used to. E-commerce is the solution which helps the world to order anything from anywhere in the world.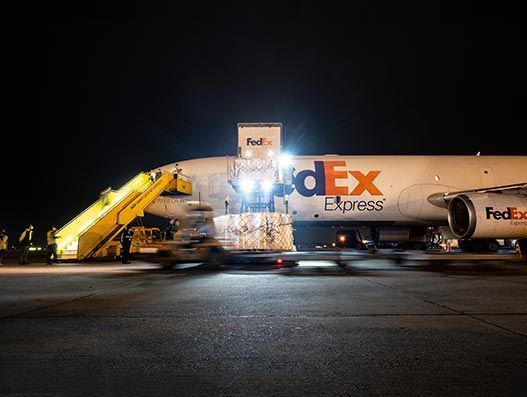 The world has a problem that it can't shop the way it used to. E-commerce is the solution which helps the world to order anything from anywhere in the world. But e-commerce also has a problem in delivering the products within the time limit with complete visibility. Being the fastest mode of transport air cargo has the solution. In other words, airfreight will determine how the world will shop.
Long before the Covid-19 pandemic, e-commerce market around the world was growing at a pace of 20 percent per year and was already disrupting the entire supply chain including air cargo by pushing towards better business models, greater visibility and speed. The factors triggered were the rising number of internet users, shifting of more products to online and the comparatively low price it could offer due to wholesale purchasing.
The Covid-19 pandemic brought in new normalcy for human interactions which included social distancing, work from home, staying at home for a longer period and reluctance to handle cash. Thus e-commerce companies witnessed a surge in demand for online shopping of medical supplies, essentials and food products. The situation has not only increased the need for e-commerce to deliver but also to do it more efficiently, swiftly and at a much larger scale.
Volumes
In May 2020, the e-commerce division of DHL in the United States reported an increase of 36 percent in domestic and 28 percent in cross border volumes compared to February 2020 which is in par with holiday peak levels.
Lee Spratt, Americas CEO of DHL eCommerce Solutions, said, "We have seen large volume percentage increases mostly in the Northeast region of the United States with a significant amount entering the US inbound from China. We have seen holiday peak-level types of volume increases, but we are also seeing our customers' volumes as representative of various consumer buying trends as a result of the general public's interest in staying healthy and taking on new roles as remote employees and students."

DHL eCommerce Solutions in the US reported an increase of 36% in domestic and 28% in cross border volumes in May 2020.
Challenges for e-commerce
However, while on one side there was a huge demand surge, on the other side businesses were struggling to move goods.
According to Brendan Sullivan, head, e-commerce & cargo operations, International Air Transport Association (IATA), around one in every three customer transaction during this period resulted in an out of stock like experience which resulted in a loss of $1 trillion for the global e-commerce industry.
IATA along with PwC conducted a study that classified the top 50 e-commerce players into four different categories according to their logistics models and identified the pain points experienced across these categories during Covid-19. Some of them include lack of visibility, risk of delaying, dependency on third parties, border control and reverse logistics issues. But the highlight is that air cargo is well-positioned to deal with all these issues.
Sullivan said, "The 4 models are 1) own and/or fully dedicated air capabilities, 2) airfreight shippers, 3) hybrid models, 4) air parcel shippers (CEP). At the highest level, our recommendations are for airlines to determine which logistics model(s) they wish to serve and work on fixing those pain-points together, using an end-to-end transportation network approach. Connecting the parties through data sharing will, in turn, optimize their processes."
Competition with ocean and rail
E-commerce growth does not necessarily mean it will benefit air cargo. Other modes of transport including ocean and rail are also finding opportunities in the growing volumes of e-commerce. Air cargo will have to compete and capitalise its benefits like speed, safety and efficiency to survive.
For example, the Israeli shipping line Zim launched an express transpacific service Zim eCommerce Xpress from Chinese ports of Da Chan Bay and Yantian to Los Angeles in June with just 12 days transit time.
Celine Hourcade, transition director, The International Air Cargo Association (TIACA) said, "Shoppers are stocking up on items, impacting probably the buying volumes and frequencies and maybe encouraging shippers to move their goods with slower modes of transport. For sure air cargo should battle to get a good share of the e-commerce world trade. Meeting e-tailers expectations, being agile, transparent, provide end-to-end visibility, guarantee speed and reliability will be key to compete with the other modes of transport. The surge of e-commerce and its potential for air cargo has been and will continue being a driver for air cargo modernisation."
Sullivan said, "Air cargo is built to handle e-commerce, even during a global pandemic. However, there is increased pressure on business effectiveness for all parties. The lack of capacity, which is changing but not back to pre-pandemic levels, means that air cargo needs to adapt rather quickly if they want to continue moving the 80 percent of B2C e-commerce goods. The industry will be further challenged to adapt and address the pain points and gaps."
Geography of e-commerce
Asia Pacific is the world's major manufacturing and distribution hub. E-commerce flows both within this region and to and from the larger consumer markets of North America and Europe are significant and this is likely to remain the case. But the introduction of new destinations in emerging markets is also attracting air cargo.
Sullivan noted, "The rapid expected growth in e-commerce volumes will certainly create opportunities for other markets and currently smaller trade lanes to develop further over the period ahead. For large and populous countries like China, the US, India and Brazil, the opportunity for domestic e-commerce air cargo connections should not be overlooked.
Hourcade said, "People from countries with high numbers of Covid-19 cases tend to reduce their shopping as they are concerned about their financials and focused on essentials only. In markets gaining back control over the pandemic with a decreasing number of Covid-19 cases, sales are picking up speed again as buyers show more confidence and appetite to return to normality.
Equity responses
FedEx stock surged 9 percent on June 30 after the company announced surprisingly better than expected adjusted profit and sales in its financial results for the fourth quarter ended on May 31 boosted by online shopping.
Frederick W. Smith, chairman and CEO, FedEx, said, "With safety as the priority, our team members provided essential transportation of critical supplies across the globe and delivered peak-level e-commerce volumes in the United States. As a result of the strategic investments we have made to enhance our capabilities and efficiencies, FedEx is well-positioned to support and benefit from the reopening of the global economy."
The investment research company Zacks Equity Research in its latest report for United Parcel Service (UPS) noted the importance of e-commerce as an optimistic factor for the express carrier and package delivery company.
Under its 'Reasons to Buy' subhead the report reads, "The increase in e-commerce sales during the Covid-19 pandemic is a huge positive for UPS. Moreover, UPS' decision to impose peak delivery surcharge on companies (Amazon, Best Buy etc) responsible for the surge in shipments including oversize items that are testing delivery networks, is aimed at controlling costs. This, in turn, will support UPS' bottom line."
"UPS Airlines, UPS' air freight division, is aided by the increase in e-commerce sales amid the plaguing pandemic. UPS Airlines is expanding its fleet by adding MD-11 and Boeing 747-8 freighter jets. With many passenger airlines currently shrinking their fleets due to tepid air-travel demand, cargo carriers like UPS Airlines are making hay and flying a lot of packages. To meet the swell in e-commerce demand and also to cater to the solid requirement for flying cargos, such carriers are extending their fleet," continues the report.

UPS Airlines in May 2020 announced its plan to expand the fleet by adding MD-11 and Boeing 747-8 freighter jets.
Aircraft demand
In June, Amazon Air announced the leasing of 12 Boeing 767-300 converted freighters to meet the increasing e-commerce demand and by 2021 the cargo airline will have around 80 aircraft in its fleet.
Sarah Rhoads, vice president, Amazon Global Air, said, "Amazon Air is critical to ensure fast delivery for our customers, both in the current environment we are facing, and beyond. During a time when so many of our customers rely on us to get what they need without leaving their homes, expanding our dedicated air network ensures we have the capacity to deliver what our customers want: great selection, low prices and fast shipping speeds."
Cainiao Smart Logistics Network, the logistics arm of Alibaba Group, in June announced their plan to quadruple its fleet of chartered flights from 260 to 1,260 over the next nine months, which would bring its average international airfreight delivery time down to three to five days as opposed to the current timeframe of seven to 10 days. The company also wants to double the floor space of its overseas warehouses to 2 million square meters. Alibaba aims to fulfil deliveries within 24 hours in China and 72 hours globally.
Wan Lin, president, Cainiao, said, "Logistics has become a game-changer and key differentiator that sets one business apart from another. Our investment to establish a global smart logistics network, including international shipping routes and warehousing facilities, will provide businesses with greater operational efficiency, cost savings, transparency and accuracy in their supply chain management."
According to Boeing, the replacement of ageing aircraft, plus growth requirements, will create a demand for 2,820 freighter deliveries in the next 20 years. Of these, 1,780 will be passenger aircraft conversions. The remaining 1,040 aircraft, valued at $300 billion, will be new freighters.

Cainiao, the logistics arm of Alibaba, in June announced their plan to quadruple its fleet of chartered flights from 260 to 1,260 in 9 months.
Digital push
E-commerce is also pushing air cargo towards greater visibility and transparency throughout the supply chain. The digitisation that used to happen in years is now happening in months.
For instance, Alibaba recently announced the partnership with online freight marketplace Freightos to launch Alibaba Freight where shippers can compare, book, manage and track ocean and air freight in real-time online.
To forwarders, handlers, airlines, airports, Hourcade said, "Accelerate digital transformation is a must as e-commerce markets require reliability and visibility at all time during the transport. Efficient track and trace capabilities at piece level, enabled by the Internet of Things (IoT) and smart data sharing is essential for the industry if they wish to grow their market shares. The recently announced partnership between FedEx and Microsoft demonstrates how critical and relevant this is to provide near-real-time information about the cargo."