Air cargo enters uncharted territory of high demand, low capacity Q4
As we have entered into the fourth and final quarter of this year, air cargo is gearing up with new capacity offerings to face the expected rise in demand, high load factor and surge in freight rates.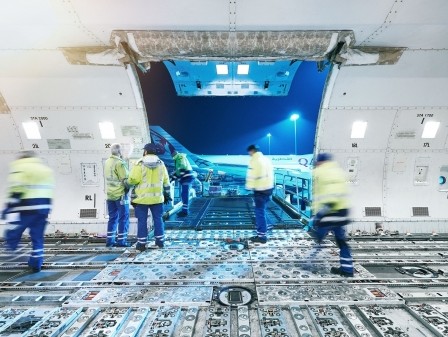 As we have entered into the fourth and final quarter of this year, air cargo industry is gearing up with new capacity offerings to face the expected rise in demand, high load factor and surge in freight rates. Coupled with the product launch season and holidays, the quarter is the busiest period for the freight movements in any given year, but this time it is different.
From October 1 to 8, it is the 'Golden Week' holidays in China, when people travel back to their hometowns for the week-long vacation. On October 9, the supply chain from the factory of the world restarts along with the manufacturing units and rises up to the busiest period of the year.
Historically, the October – December quarter is the peak season for all modes of transport, and especially for air freight, due to the upcoming holidays in Americas and Europe as well as the sheer amount of electronic product launch happens during this time. While this is the case with demand, capacity in the Covid-19 struck air cargo remains tight as the grounded passenger flights are yet to take off leaving a huge gap of belly capacity.
Along with pharmaceuticals and electronic goods, which include Sony PlayStation 5 and the much-awaited but delayed iPhone 12, e-commerce will be in demand on all trade lanes due to changing consumer behaviour. While carriers are busy adding new routes and freight forwarders in securing more capacity for their shippers, the question remains whether it is enough to deal with the upcoming demand. In other words, one could expect historically high freight rates and load factor from this pre-Christmas rush.
What does the Q4 mean to air cargo?
Camilo Garcia Cervera, global vice president, business development, WebCargo by Freightos, said, "Airfreight capacity is significantly reduced, e-commerce has continued surging, driven by Covid-19, and there are huge expectations of unprecedented pharma movements for Covid-19 vaccines. Airlines have started to adapt to these changes, with passenger jets converting into freighters, and old freighters back in the scene, but rates are at much higher levels than last year. In summary, the most similar thing between Q4 2020 and Q4 2021 might be that Christmas will still be in December."
Adrian Friederich, senior analyst at Maersk Growth, said, "Historically, a significant price increase on contracted and spot prices could be observed. This year, market participants clearly have to face additional challenges. Supply dropped more than 40 percent by end of March (aircraft 'bellies' typically constitute half of the available capacity). We hear reports of large forwarders occupying the majority of capacity on certain (heavily reduced) lanes. Further, the reduced capacity meets additional demand from new iPhone releases which will tighten the market even more."
Citing the imbalance of demand and supply, Timo Stroh, head of global air freight at Dachser, said, "Dachser sees an increased amount of charter operations from various forwarders as a reaction. The planning for Q4 2020 is very tough due to the volatility of frequencies of various airlines. Dachser however still expects a peak season beginning mid-October out of Asia."
"Dachser currently sees a big advantage for pure cargo but also for network airlines. The specific passenger airlines are struggling to come to a competitive price level by the mere utilization of their belly capacities. Especially the KEP airlines such as UPS and FedEx are benefiting from the increased demand of e-commerce business," he went ahead.

Dachser expects a peak season beginning mid-October out of Asia
Commodities driving demand
The technology giant Apple has scheduled the virtual event to launch its four iPhone models iPhone 12 mini, iPhone 12, iPhone 12 pro and iPhone 12 Pro Max on October 13. The launch is expected to absorb a large amount of capacity available in the air cargo market. Along with other electronic goods, Covid-19 induced e-commerce and the big shopping days like Singles' Day in China, Black Friday in Americas & Europe and Cyber Monday worldwide are also the main drivers for air freight demand.
Asok Kumar, executive vice-president head of airfreight, Region Americas, DB Schenker, said, "We see big movements of electronic goods in relation to equipment that typically supports a work from home environment with internet supporting equipment, servers and mobile devices. We also see large movements of e-commerce related material. The demand for certain types of exercise and lifestyle goods has also gone up like exercise equipment and bicycles."
"Strongest demand is historically ex-China be it on the transpacific or into Europe. Transatlantic is also expected to pick up as we move into October however not to an extreme level," he continued.
Cervera commented, "Q4 will be very interesting from a commodity perspective. It will have a mix of a probable surge in pharmaceutical movements related to Covid-19, the belated launch of tech devices like the iPhone and game consoles, and the traditional perishable peak season for certain trade lanes. In addition, e-commerce will continue to raise; as seen everywhere from Amazon's quarterly reports to the surge in imports on the Freightos.com freight marketplace."
Stroh said, "In terms of commodities, a shift was noticeable but mainly driven by the lockdowns and the consequences: An increase in demand especially for special commodities was recognized, while the demand for general cargo, especially in the automotive sector, declined. Dachser experienced a huge increase in the life science & healthcare sector in H1 2020 including the PPE. Also, the fashion and sports industry is recovering and increasing demand is visible. Dachser expects a further increase this year and in 2021."
"For Q4 2020, rising demand on almost all trades is expected, as production is recovering and the air freight demand is slowly rising month by month. We expect the peak season to be mainly focused on trade from Asia (China and Hong Kong) and partly from the US," he continued.
New capacity coming in
The International Air Transport Association (IATA) in its analysis for August 2020 air freight markets showed that the demand, measured in cargo tonne-kilometres (CTKs), was down 12.6 percent year-on-year (YoY), while capacity fell 29.4 percent.
Cervera said, "Perhaps for once, this year the biggest problem for the industry is not really the demand. It's the capacity on offer which is creating the biggest issues nowadays. Most trade lanes will continue to experience capacity shortages."
Kumar of DB Schenker said, "We have established our own flight operations to support our customer's demands with multiple weekly services ex-Shanghai into the USA and Europe. We are also organizing charters for specific customers where the demand warrants such a solution particularly as it relates to new product launches," he continued.
Air cargo demand in August 2020 was down 12.6 percent year-on-year (YoY), while capacity fell 29.4 percent, according to IATA's recent analysis
Dachser
Dachser on September 10 announced the launch of a new weekly Hong Kong–Frankfurt charter service and is scheduled to operate until the end of the year.
Stroh, said, "Dachser is already operating dedicated transatlantic flights on the FRA – ORD – FRA trade. Dachser further enhances the network capabilities with charter operations on HKG – FRA and FRA – PVG – FRA trades. We complement our network capabilities with long-term hard block agreements on our preferred and strategic airlines. With this global network capabilities, Dachser is well prepared to meet the challenges of the "new normal" and can offer a robust and reliable capacity solution for its customers."
DHL Global Forwarding
DHL Global Forwarding started a twice-weekly B747-400 charter service on September 14 that connects Chongqing, China – Amsterdam, Netherlands -Chicago, United States -Incheon, South Korea before returning to China for shippers in the technology, manufacturing, life sciences and healthcare.
Thomas Mack, global head of air freight at DHL Global Forwarding, said "Thanks to our long-lasting partnerships with air freight carriers and airlines, we at DHL Global Forwarding have been able to secure sufficient capacity for our customers. In total DHL Global Forwarding is currently operating 27 dedicated flight operations per week to provide our customers with reliable and stable air freight capacity on all trade lanes."
Cargolux, DSV, GEODIS
On September 18, Cargolux announced a new weekly service routed Luxembourg-Bangkok-Shenzhen before returning westbound via Bangkok with a stopover in Budapest. The airline already flies to five destinations in mainland China.
DSV announced an extra weekly inbound departure from Shanghai and a new Hong Kong-Luxembourg route with two additional 747 freighters which will start operating from October. On September 24, GEODIS announced a weekly Shanghai-Amsterdam air charter service.
Certainly, this is not a territory that shippers want to be in, as between the constrained capacity and the expected growth in demand for air freight capacity linked to pharma, e-commerce, high tech and perishables, it is likely that rates would take an upward trajectory with a high load factor.