Integrated Offerings - Massive Carriers To Become Giants
Spending billions to acquire inland services and ordering freighters, Maersk, MSC and CMA CGM did all this and more...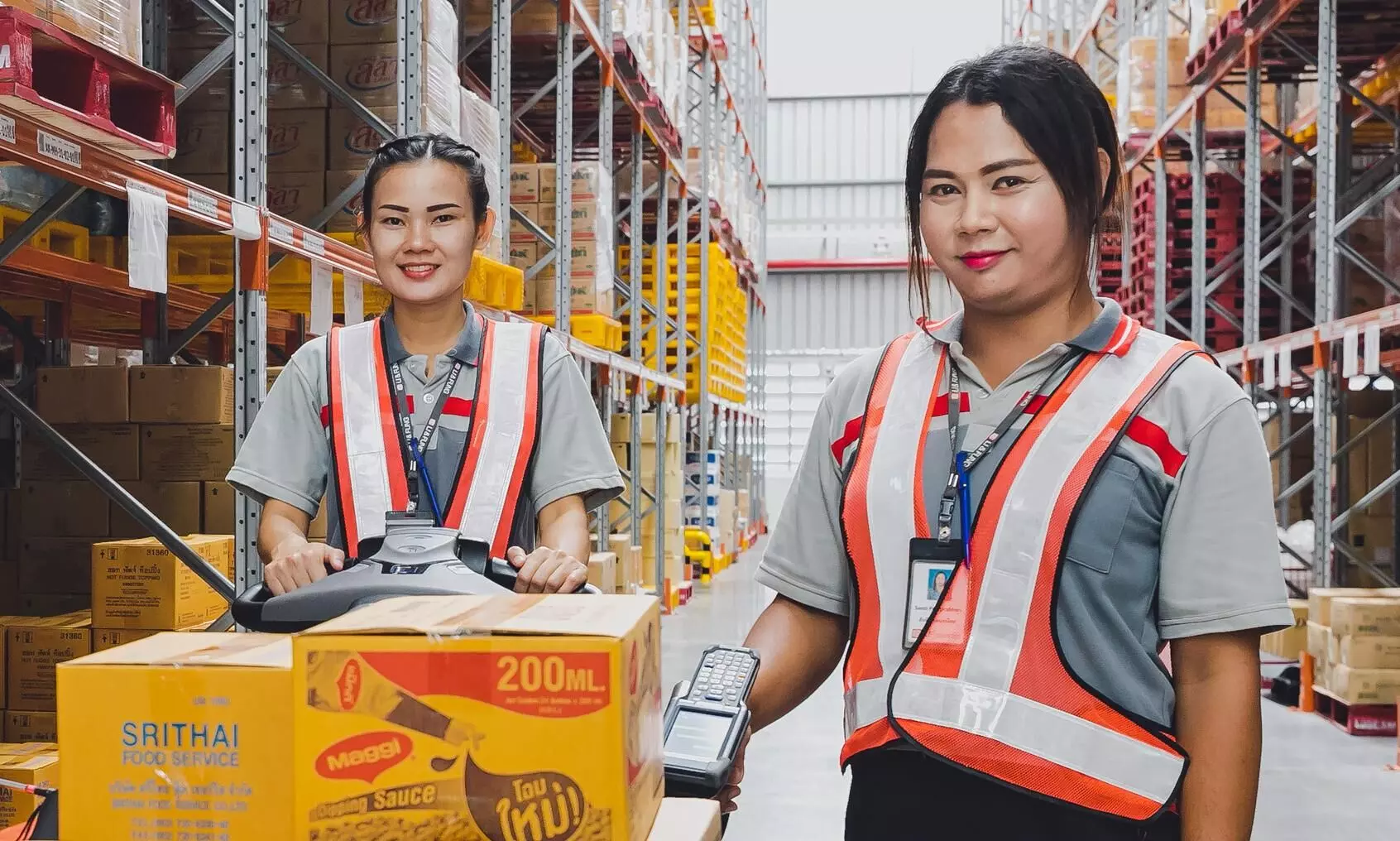 BIG gets BIGGER. $10 billion deals in a span of days…and the result could change the dynamics of the supply chain/logistics industry globally.
Denmark-based A.P.Moller-Maersk (Maersk) has signed a $3.6 billion deal to acquire 100 percent shares of Hong Kong-based LF Logistics. The deal adds 223 warehouses to Maersk's existing portfolio, taking the total number of facilities to 549 globally spread across 9.5 million square metres.
The MSC Group is acquiring 100 percent of Bolloré Africa Logistics including all of the Bolloré Group's transport and logistics activities in Africa. The deal is based on an enterprise value, net of minority interests, of €5.7 billion.
Bolloré Africa Logistics is among the biggest transport and logistics operators in Africa where it has a network with 250 subsidiaries and almost 21,000 employees in 49 countries including 47 in Africa. Its operations include 16 container terminal concessions and three rail concessions in Africa: Sitarail, Camrail and Benirail.
Maersk had earlier signed an international freight supply chain management partnership with fast moving consumer goods (FMCG) behemoth Unilever w.e.f 2022.
The four-year agreement will see the development and management of Unilever's International Control Tower Solution – an operational management solution which will consolidate the execution of its global ocean and air transport, with the aim of enhancing visibility, increasing efficiency and driving reductions in emissions across its operations.
While the value of the partnership has not been disclosed, the importance of the deal can be gauged from the following parameters:
* Unilever products are used by 2.5 billion people every day.
* With 149,000 employees, Unilever generated sales of €50.7 billion in 2020.
* Maersk reported a 68 percent increase in Q3 revenue to $16.6 billion while EBIT was up almost five times to $ 5.9 billion on high freight rates in an exceptional market situation; and
*Maersk has maintained its 2021 profit outlook at the earlier estimate of $18 billion-$19 billion.
"With our focus on connecting and simplifying our customers' end-to-end supply chain worldwide, we are looking beyond organic growth to achieve our vision as a global integrator," said Vikash Agarwal, Managing Director, Maersk South Asia. "In some areas, inorganic growth opportunities will enable us to build the capabilities needed in various parts of the logistics & services segment and harvest synergies across the supply chain..
( "In some areas, inorganic growth opportunities will enable us to build the capabilities needed in various parts of the Logistics & Services segment and harvest synergies across the supply chain. - Vikash Agarwal, Managing Director, Maersk South Asia)
Integration continues among carriers
Integration/consolidation in the logistics and supply chain sector continues unabated. Continuing its buying spree, French carrier CMA CGM signed a deal with US-based Ingram Micro to buy most of its commerce & lifestyle activities (CLS) for an enterprise value of $3 billion.
The deal includes Shipwire, a cloud-based logistics technology platform, and the company's technology forward logistics businesses in North America, Europe, Latin America and Asia-Pacific. The remaining portions of the existing CLS business will be retained by Ingram Micro.
The acquired CLS business specialises in ecommerce contract logistics and omni-channel fulfilment. The business is expected to end 2021 with a revenue of $1.7 billion and employs 11,500 worldwide across 59 warehouses.
CMA CGM Air Cargo has ordered four A350F freighter aircraft and will increase CMA CGM's total Airbus fleet to nine aircraft including five A330-200F.
With a carrying capacity of more than 100 metric tonnes and a range of nearly 9,000 kilometres, the A350F will enable us to strengthen our long-haul offer, to better meet your needs," says an official release.
Maersk had earlier announced plans to acquire Senator International, a global freight forwarding company with a strong air freight offering, for $644illion.
Maersk is also adding three leased cargo planes (B767-300) to be operational from 2022, and two new Boeing aircraft (B777F) to be deployed by 2024.
Star Air – the internal air cargo operation established by Maersk in 1987 - will support Maersk's logistics offering.
Senator brings a technology advantage with its Cargo Wise One core operating platform, an easy-to-use system that will accelerate the integration with Maersk's Air and LCL (Less than Container Load) products.
"The two liner companies are seeking to control a larger part of the supply chain and expand their offering of air freight logistics to their customers," said Peter Sand, Chief Analyst, Xeneta. "This strategy of becoming more of a one-stop logistics provider with a door-to-door offering, and not only port-to-port can be chased much more aggressively right now and next year as liners seek to spend the wind-fall profit to expand their footprint in global logistics. The simple idea behind is this: if you can carry the goods all the way, you can optimise your in-house logistics and make more money from offering this service too."
("I expect to see a flurry of mid-sized and large-size acquisitions in the coming 18 months – as the window for the one-stop logistics provider strategy seems to be wide open during that time." - Peter Sand, Chief Analyst, Xeneta)

Naveen Prakash, Director, Global Logistics Solutions India Pvt Ltd, had this to say: "Massive war chest of cash with billions of dollars of cash profit has to be utilised, and it will be counter-productive if deployed in the same business. It will only ease up the higher freight situation in the long-term and liners want to delay the bull run as much as possible. "
So, carriers are investing in new-age businesses that are more technologically-led like e-commerce, supply chain management (SCM0, warehouse management (WMS) & digital forwarding; increasing portfolio in asset-based industries like trucking, warehousing, terminals; andoffering one-stop shop for global FMCGs, fashion and chemical & pharma giants who have a global presence, Prakash said.

"We have, for instance, added and improved our capabilities within customs services through the successful acquisition of KGH, a well-established customs services provider in Europe, and most recently through the acquisitions of Visible SCM, B2C Europe, and HUUB – all players within e-commerce logistics," Agarwal said. "We are now aiming to further enhance our air freight offering by acquiring Senator International, a successful, global freight forwarding company with Air freight at the core of its offering."
Our overall strategy is to be able to streamline our operations across the supply chain and including all transportation modes (air, rail, road, and sea), Agarwal added. "By having owned/controlled assets, you can better cater for customers´ needs as you are able to offer them faster and more agile, resilience and flexible end-to-end services.
"You hear us talk a lot about changing the conversations with customers – moving more towards long-term partnerships to manage their logistics, creating meaningful value. Adding own controlled air freight to the conversation will help us to be able to tailor creative solutions for customers particularly in the current ever-changing market conditions.
"Maersk aims to become a considerable player in the global air cargo world. With this first step on our journey, we will be roughly doubling our tonnage; however absolute tonnage is not our key driver. Our aim is to become a well-established global air freight provider with a network covering all continents and with top notch products needed by our customers."
"Maersk aims to become a considerable player in the global air cargo world. With this first step on our journey, we will be roughly doubling our tonnage; however absolute tonnage is not our key driver. Our aim is to become a well-established global air freight provider with a network covering all continents and with top notch products needed by our customers."
Impact of these moves on the logistics world
So, do these acquisitions mean smaller freight forwarders would be excluded and Maersk/CMA-CGM deal directly with beneficial cargo owners (BCOs)? "Obviously, as logistics is a truly global business, any acquisition by the carriers must have a certain scale," Sand said. "This is why I expect to see a flurry of mid-sized and large-size acquisitions in the coming 18 months – as the window for the one-stop logistics provider strategy seems to be wide open during that time. Freight forwarders (FFs) of any size feel threatened by this carrier strategy – and rightly they should. As carriers are now entering FF-turf while telling FFs to stay out of ocean carrier business – game on. Carriers have always had a strong focus on BCOs – this will remain intact."
Economies of scale are always better, Prakash added. "Without naming the line, I would say, yes they want to replace mid-size and smaller forwarders as these companies need more human-to-human (H2H) interactions, which is a big cost for these companies. Most of them are based out of Europe and employee expenses are the biggest costs. They also have to keep it uniform in other parts of the world to avoid disparity and employees migrating between various geographies.
"Dealing directly with BCOs also helps them get accurate predictions of cargo flow for a few quarters in advance. In some cases like large MNCs, they can give plans for 3-5 years. Centralised billing, for e.g. using blockchain, can help the lines and clients to work in a more cost-efficient manner."
("Massive war chest of cash with billions of dollars of cash profit has to be utilised, and it will be counter-productive if deployed in the same business." - Naveen Prakash, Director, Global Logistics Solutions India Pvt Ltd)
Vincent Clerc, CEO, Ocean and Logistics, Maersk, said recently in a video interview: "If you look at the global supply chain today, it is actually not a global supply chain. It is a collection of supply chains developed by customers based on the view that he has for his own needs. This is good in a way because it means that every customer or every company has been able to to structure their supply chain the way that they see fit but it also has a lot of impediments in a sense that the service providers that they depend on are really hamstrung by having to cope with a lot of different standards, a lot of different models even though the need of the customer, by and large, aggregate into similar things. The cloud moment is really turning the paradigm and enabling improvement and leveraging capabilities of technology and scale by having actually the logistics provider take the initiatives to develop something that is better, that is scalable. That's what I refer to as a cloud moment. .it's this change of paradigm where suddenly we can leverage scale at a completely different level than what we've been able to do so far."

Vertical integration playing out
With the expansion of Star Air/CMA CGM Air Cargo, is vertical integration the new focus of the carriers? "For us, freight forwarders have been, are and continue to be one of the biggest customer groups we have, and this acquisition does not mean that we want to exclude them," Agarwal said. "Air freight is a crucial enabler of flexibility and agility in global supply chains as it allows companies to tackle time-critical supply chain challenges and provides transport mode options for high value cargo. To better cater to customers´ needs, Maersk is aiming to increase its presence in the global air cargo industry leading to the said acquisition."
Logistics and warehousing are a focus area for all of them these days, Sand added.
How much percentage of freight would be carried in-house by Maersk in the coming years? Maersk's ambition is to have approximately one-third of its annual air tonnage carried within its own controlled freight network, according to Agarwal. "This will be achieved through a combination of owned and leased aircraft, replicating the structure that the company has within its ocean fleet. The remaining capacity will be provided by strategic commercial carriers and charter flight operators."
Ocean carriers, undoubtedly, also want to become air carriers, Prakash of Global Logistics said. "While 95 percent of contracts between shipper/consignee is ocean freight, air freight is a back-up option. Having said that, carriers are already in touch with BCOs so they can give air options to the clients as a back-up. Air freight handling will get much easier with the presence of artificial intelligence tools like Cargo-eye, online booking & blockchain."
Maersk and German container carrier Hamburg Sud have announced that they will cease to provide services to certain freight forwarders from January 1, 2022 through named account contracts (meaning valuable customer/prospect), according to the European Association for Forwarding, Transport, Logistics and Customs Services (CLECAT).
"This refusal to deal with a part of their customer base will apply to logistics service providers in order to increase the carriers' direct business with shippers who would otherwise prefer to use freight forwarders to take care of their logistics supply chain needs."
With shipping lines trying to become the integrator of container logistics, CLECAT has warned against the consequences of a market where a few players manage complete supply chains, CLECAT said. This should be a warning signal to the European Commission who so far have only facilitated the strategic choices of carriers towards vertical integration and carriers' joint coordination, it added.
"We are reviewing whether this discriminatory initiative is compliant with EU competition law," said Nicolette van der Jagt, Director General, CLECAT recently. "Carriers and forwarders are not operating on a level playing field, not the least within the framework of the Consortia Block Exemption Regulation (CBER) which provides carriers, which are part of a vessel sharing agreement, with the possibility to share a broad scope of information, some of this being commercial sensitive information. We have already called for the urgent need of replacement of the CBER by more modern tools to address competition issues. The Commission has so far failed to take the level of digitalisation of carriers into account, including the information exchange between carriers and within vertically integrated shipping companies. The ever-increasing use of logistics solutions offered by carriers who have access to digital information tools and platforms makes current concepts used by the European competition authorities obsolete."
A global ports player PSA International signed an agreement to acquire 100 percent of privately-held BDP International – a leading provider of global integrated supply chain, transportation and logistics solutions – from New York-based private equity firm Greenbriar Equity Group.
Tan Chong Meng, group CEO, PSA International, said: "This is an exciting time for us as BDP will be PSA's first major acquisition of this nature - a global integrated supply chain and transportation solutions provider with end-to-end logistics capabilities. Its strengths will complement and extend PSA's capabilities to provide agile, resilient and innovative cargo solutions. Customers will be able to benefit from the extensive capabilities of both BDP and PSA, while accelerating their shift towards sustainable supply chains. We see this as a significant and strategic step forward in our vision to co-create an Internet of Logistics and we look forward to welcoming BDP into the PSA family."
Earlier in the year, Switzerland-based Kuehne+Nagel acquired Asian logistics provider Apex International. "With approximately 1,600 employees, Apex generates yearly turnover in excess of CHF 2.1 billion. In 2020, the company handled a total air freight volume of approximately 750,000 tonnes and sea freight volume of 190,000 TEU," K+N said in the statement.
"The combination of Apex and Kuehne+Nagel provides us with an opportunity to offer our customers a compelling proposition in the competitive Asian logistics industry, especially in e-commerce fulfilment, hi-tech and e-mobility," said Dr. Detlef Trefzger, CEO ,Kuehne + Nagel International AG. "We are looking forward to welcoming the Apex colleagues to the Kuehne+Nagel family."
German carrier Hapag-Lloyd had acquired Dutch container shipping company Nile Dutch Investments B.V. (NileDutch) in July 2021. "NileDutch is one of the leading shipping companies along the West African coast. Headquartered in Rotterdam, NileDutch is present across 85 global locations. The company brings with it seven liner services, around 35,000 TEUs of transport capacity, and a container fleet with a capacity of around 80,000 TEUs."
What are the other integration plans for Maersk? "Our sector, overall, is seen as a legacy industry not recognised as highly innovative or leading in digital transformation and trends," Agarwal said. "We at Maersk have established a strong position as a world business leader but still quite far from the dynamics of digital frontrunners. We have an ambitious goal to elevate Maersk further up the digital value chain towards our ambition to offer "powered by" capacities and open new opportunities for our customers.
"In other words, our vision for the final step in the value chain is to be able to cater for customers who want to buy software as a service from Maersk. Therefore, we are heavily looking at strengthening our digital attractiveness and credibility to set the foundation for our future positions, recruitment and eventually business models outside our normal sphere of business. It is crucial that our customers trust us to drive the digital transformation of global logistics forward in a way which creates business value for them."
Integration/consolidation moves & impact on freight rates
"Currently we see the development of an 'extra market', in addition to the traditional – at least when it comes to tendering of ocean freight," Sand said. "This extra market, where carriers are offering extended services commitment from the shipper against a lower ocean freight rate is very clear right now. More so than in the previous years. It's too early for the vertical integration moves to shake the freight rates. If carriers can successfully convince some shippers to the full package, luring them away from FFs, it's gloves off for the relationship between FFs and carriers that have been fairly fixed in the past if they now start to fight for customers on the same turf."
Freight outlook is looking very positive, Prakash added. "Cash infusion by most of the governments caused the surge in demand. The idea of having lesser dependence on China means cargo flows will have new geographies and this will lead to better yields as all eggs will not be in the same basket. Regional players will have a Phoenix moment."
The cloud moment in the global supply chain is to take out a huge amount of current inefficiencies and increase the quality of outcomes, the speed of the global supply chain, Clerc of Maersk said. "And that requires a lot of humbleness, humbleness in the fact that there are a lot of questions we don't have the answers to. There are a lot of capabilities we don't necessarily have in-house today. That really was the mindset we started the transformation. We have in-sourced capabilities from the tech perspective both through hiring and through buying startups. We've been on the same journey from a capability perspective on the logistics side also to give ourselves some of the sharpest minds or to bring some of the sharpest minds on the team to help us think about how do we break down each of the products that we have or the services that we have into the smallest possible instance, take it together and then bring it back in a scalable model. That's what we're doing right now. It creates a different company - a company that is much more empowered, much more innovative and much more agile. The culture is evolving, the values are remaining."
Eytan Buchman, CMO, Freightos, wrote in November 2021: "The stakes are enormous. Maersk is at a unique crossroad where it can bring existing technical networks, user bases of well over 100,000 customers, and a forward-thinking digital mindset to all focus on a fully integrated approach. Customer service, outstanding digital experiences, and improved industry collaboration are going to be where the battle for the shipper will play out."
The battle lines are drawn - who wins, who gets hurt/acquired? The story will be known by the end of 2022.