GEODIS buys Keppel Logistics for $80 million
Acquisition to mark key milestone in GEODIS' Asia-Pacific ambitions: CEO Marie-Christine Lombard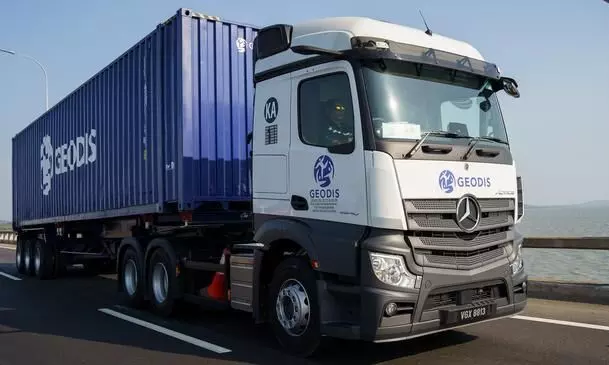 French logistics major GEODIS has signed a binding agreement with Singapore-based Keppel Telecommunications & Transportation Limited (Keppel T&T) to acquire 100 percent stake in its subsidiary Keppel Logistics for approximately $80 million, valuing Keppel Logistics at an enterprise value of $150 million on a cash-free, debt-free basis.
The deal will significantly increase GEODIS' contract logistics footprint and e-commerce fulfilment services in Singapore and Southeast Asia, an official statement said.
"Approximately $70 million of the consideration will be payable in cash on completion, and $10 million will be placed in an escrow account to be released to Keppel T&T upon the fulfilment of certain performance targets in 2022 and 2023," according to a statement from Keppel Logistics.
Keppel Logistics has also signed a non-binding term sheet to divest its 51 percent interest in Indo-Trans Keppel Logistics (ITKL) in Vietnam to In Do Trans Logistics Corporation, which is Keppel Logistics' existing joint venture partner in Vietnam, the statement added.
"For FY2021, Keppel Logistics entities being divested to GEODIS registered a net loss after tax of $5.2 million. The proposed divestment of Keppel Logistics to GEODIS is not expected to have any material impact on the net tangible assets or earnings per share of Keppel Corporation, the parent company of Keppel T&T, for the current financial year."
The acquisition of Keppel Logistics will mark a key milestone in GEODIS' Asia-Pacific ambitions, says Marie-Christine Lombard, Chief Executive Officer, GEODIS. "Keppel Logistics is a well-established regional player, with a strong focus on innovation. Through this acquisition, which will combine GEODIS' worldwide leadership with Keppel Logistics' robust local footprint, we believe we can create great value for our customers, facilitating their growth, particularly in the eCommerce Asian market."
With close to 500 employees and active throughout Southeast Asia, Keppel Logistics (ranked in the top 5 contract logistics players in Singapore) owns over 200,000 square metre warehouse space in Singapore, Malaysia and Australia. The company offers end-to-end B2B and B2C logistics solutions from warehousing to last mile delivery with strong skills in e-commerce omnichannel service offerings with its fast-growing UrbanFox platform.
"As one of the leading logistics providers, we are continuously looking for ways to evolve the region's supply chain and our clients' e-commerce ecosystem," says Onno Boots, President and CEO, GEODIS Asia-Pacific. "The acquisition will strengthen our contract logistics and digital omnichannel capabilities, elevate our end-to-end logistics solutions and bring greater value to customers across the region. By enhancing our e-commerce services, we will provide brands with the ability to scale their online presence seamlessly and effectively navigate supply chain challenges to accelerate their growth in this region."
The deal is likely to be completed by the end of Q22022.
GEODIS handled 346,667 tonnes of air freight in 2021 and 900,866 TEUs ocean freight in 2021.With 78.6 million square feet of warehousing space, 100 million parcels were handled in 2021 by over 46,000 employees for 165,000 clients. The group generated more than €10.9 billion (over $12 billion) revenue in 2021.