Cargo drones and regulations: Giving wings to future of logistics
Learn about the industry's perspectives on cargo drone regulations & what the market will look like in the next 5 years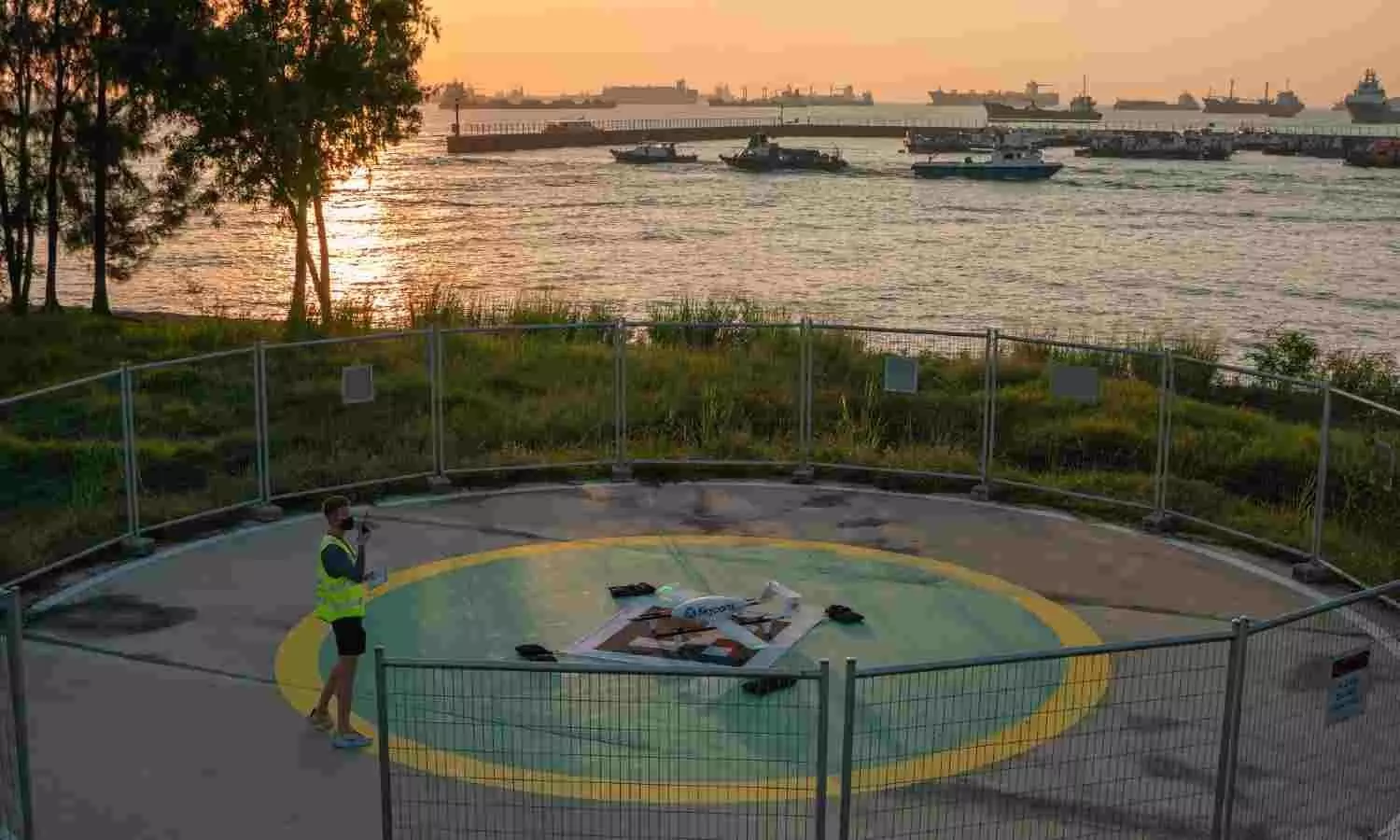 Ever imagined your favourite Starbucks coffee or a burrito flying through the air and landing on your doorstep? Someone, however, dreamed it, invented it, and made it a reality. Today, the industry is continuously working to achieve something even better every day.
When cargo drones were first introduced to the market, it was critical for makers and operators to guarantee that the technology met legal requirements.
Commercial Unmanned aircraft (UA) operations provide a variety of public benefits and services including the transportation of critical supplies, life-saving medications, and commercial commodities. By analysing vital infrastructure on a wide scale, enhancing access to important commodities and services, connecting communities, and supporting first responders, UA is also helping to improve safety and efficiency.
Members of the Unmanned Aircraft System (UAS), Beyond Visual Line of Sight (BVLOS), and Aviation Rulemaking Committee (ARC) issued the final report, which was aimed to enhance the regulatory path toward autonomous, safe, and frequent BVLOS drone flights.
As per the report, the current constraints imposed by the FAA hinder the domestic UA BVLOS market from expanding and realising significant advantages. The present regulations also don't reflect the skills needed to properly operate highly automated UAS, restricting the opportunity to expand UAS BVLOS operations in order to benefit American people.
The most recent FAA report gives the best indications of how a future BVLOS regulatory system may look. The committee offered recommendations for pilot training requirements and limitations for third-party providers, such as commercial delivery companies.
Highlights of key elements of the ARC proposals include:
- The FAA should develop an universal acceptable level of risk (ALR) for all types of UA operations. This method will allow the FAA to establish a single set of regulations and guidelines, allowing operators to fulfil the ALR using a qualitative, quantitative, or hybrid approach.

- The ARC recommends a series of amendments to right-of-way laws in Low Altitude Shielded Areas (within 100' of a structure or important infrastructure) and Low Altitude Non-Shielded Areas (below 400') to support UA operations.
- Part 107, Remote Pilot Certificate with Small UAS Rating, should be expanded to include topics such as Extended Visual Line of Sight (EVLOS) and shielded UAS operations.
- According to the ARC, the FAA should adopt a new BVLOS Rule that includes a procedure for certifying UA and UAS for aircraft with kinetic energy of up to 800,000 ft-lb.
- Finally, the ARC recommends that the FAA establish a voluntary regulatory framework for third-party services used in support of UAS BVLOS operations.
Industry responds to working under regulations
With an increasing number of industries relying on drones for operations, enabling routine BVLOS operations is widely recognised as unlocking critical benefits for high-value uses such as infrastructure inspections, medical supply and package delivery and more.
According to the FAA's final report, operators must get waivers or exemptions to fly BVLOS today – a time-consuming and difficult process.
"Yes, operating under government rules is challenging," says Alex Brown, Head of Drones Services, Skyports. "The key question is - if I launch my drone 50 kilometres to the east of where I am, how do I know it will not collide with other airspace users? So, depending on the market, we adopt different techniques. So, in some markets, we identify them using technology on board, which allows us to view other airspace users. In some countries, we establish temporary hazard zones or transponder-required zones. But, by far, that is the most difficult challenge we have."
"According to our survey findings, more than 75% of respondents support the deployment of the service as a means of addressing a serious social issue such as the paucity of medical supplies in rural places, as well as as facilitators of local economic growth"

Svilen Rangelov, CEO, DRONAMICS
Natilus, a Californian firm producing seaplane unmanned aerial vehicles (UAVs) to transport air goods, made a contradictory comment about government laws. "The regulations were established in the United States from the beginning to enable activities outside visual line of sight," says Aleksey Matyushev, CEO and Founder, Nautilus. "The first document was published by the FAA in 2013. So it wasn't long before section 107 became a major topic of discussion, and everyone was concerned. They are still doing so because autonomous planes (like those by Nautilus) have already been made. And the only way to accomplish it properly is to deploy manned flights to certification bases with the proviso that the planes have redundant connectivity. As a consequence, we were anticipated to work outside of visual line of sight in the regulatory context, and we haven't run into any concerns with government rules."
Public acceptance of modern logistics technology
It is important to take into account what geographic regions drones operate in, what airspace, what times of day, the required flying conditions, all of the various types of rules and airspace requirements surrounding drone operation, and public acceptability; the more the public accepts drone deliveries, the faster it will scale up.
"We developed our digital twin and related noise, visual perception, and other factors through our work developing a drone-delivery network in Scotland, and we conducted a survey of the public's perception of the Black Swan's drone operations given its predicted noise and safety impact on citizens living near airports," says Svilen Rangelov, CEO, DRONAMICS. "According to the survey's findings, more than 75 percent of respondents support the deployment of the service as a means of addressing a serious social issue such as the paucity of medical supplies in rural places as well as as facilitators of local economic growth."
Brown from Skyports highlighted his experience of how the organisation took a step ahead to ensure that clients are ready for the technology, listened to their worries, and addressed them accordingly. "I think the best method is to put up a live operation and talk to people and get them down to the drone operation, ask them about it, and listen to them. We find that doing real things works a lot better than simply talking about what people think about it. Last year, we established a drone operation in Scotland, and 99 percent of the people appreciated it. They aren't bothered by the noise, and it doesn't upset them; it's just part of how logistics is done."

"Our drones do not have camera vision, which is normally captured. So we are not filming people's residences or going out of town on the spur of the moment. So, yes, we try to be extremely focused on that and engage with the local communities in which we operate," he added.
Cargo drones over next 5 years
"You'll witness the industry evolve from a cutting-edge, experimental concept to one of the primary modes of cargo transportation. And that's precisely what we need: a regular business-as-usual method of transporting freight. So, we're already conducting some type of long-term operations but in the next 20 to 24 months, you'll see a lot more long-term commercial activities that are completely integrated into supply chains pop up," Brown of Skyports added.
The drone logistics and transportation market is expected to be worth $11.20 billion in 2022 and $29.06 billion by 2027, growing at a CAGR of 21 percent over the forecast period.
"The global drone economy is still in its early days. Levitate Capital estimates that the still-nascent $15 billion global drone economy has the potential to more than double in the next five years and it is expected to further grow up to $90 billion by 2030. After 2025, drone logistics is expected to become the fastest-growing category with a market value of $47 billion by 2030,"Rangelov said.
"Yes, operating under government rules is challenging. The key question is, if I launch my drone 50 kilometres to the east of where I am, how do I know it will not collide with any other airspace users?"


Alex Brown, Head of Drones Services, Skyports
The Indian cargo drone sector has evolved from delivering vaccines and pharmaceuticals to hard-to-reach areas to now moving into food deliveries. Swiggy, an online food ordering and delivery business, will soon offer drone services to transport food to communities while also ensuring that its InstaMart food store does not keep clients waiting for items. Swiggy is looking for drone manufacturers to express interest and collaborate on their new project.
"Swiggy is a big company, and its entry into drone logistics is inspiring many Indian businesses. We are willing to work with Swiggy so that other logistics and e-commerce companies from across the world can come forward and give an attempt to drone deliveries in India," said Prem Kumar Vislawath, Founder & CEO, Marut Drones.
Customer satisfying service
Service disruptions, especially when stranded at an airport, and flights getting cancelled, delays are some of the things that make air travel very uncomfortable. We asked the industry experts how they plan to avoid such situations with their drone services?
Natilus founder Matyushev said: "Obviously, the weather has no influence on anyone. But I believe with similar products, we aim for 99.99 percent uptime and readiness, which is pretty good, but there will always be failures and maintenance checks and stuff like that. But, yes, I believe we perform exactly as well as the industry. I don't believe there are many options available to you".
"Last year in Scotland, we operated in winter, and it is on the west coast, which is tremendously windy, wet, snowy, ice, some of the worst weather you can sort of encounter, and for that specific period of time, which is completely over winter, our uptime was approximately 70 percent. So we couldn't fly for 30 percent of the time. As a result, we need to make the drone technology we use more wind resistant and we have already brought in the next version of the drone, which is more wind resistant and will boost that uptime, since that project. And if we can't fulfil the uptime right now, we'll propose alternatives. So we'll give a backup, van service, and boat service on a budget," said Brown, Skyports, head of drone services.

"We are subject to the same weather constraints as the rest of aviation, and we are susceptible to the same interruptions. However, because our pilots do not travel with the aircraft, there is a lot more flexibility in our scenario, as weather or technical delays or interruptions will not result in problematic circumstances for crew shifts, accommodation," Rangelov concluded.
The cargo drone market is a stepping stone for the future of aviation and a string of upcoming markets like Urban Air Mobility. Drones that carry items right to your door have been a long time coming. Every day, thousands of items such as ecommerce and pharmaceuticals are delivered. The industry is working to overcome the issue of regulatory compliance and safety in order to maintain smooth and healthy operations.