Onboard Couriers: When every mission demands out of the box solution
The OBC business is not the same as before because the world is not the same place anymore.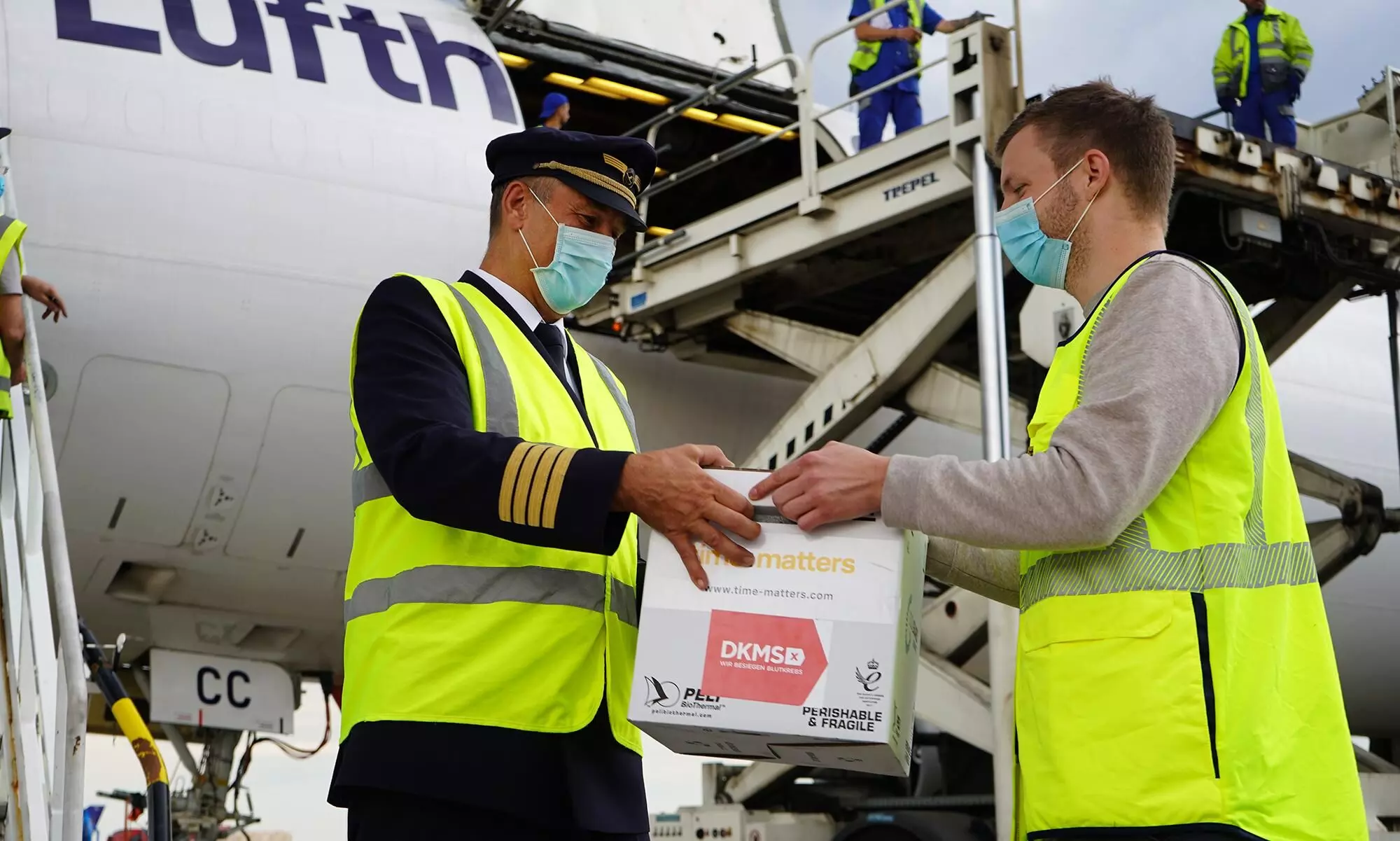 The urgent transport company time:matters conducts several thousand HPC (stem cell transplant) transport missions per year. This is served by a dedicated team and a pool of 300 specially trained couriers, mainly pilots and flight attendants, who will accompany stem cell consignments. time:matters use couriers that are familiar with aviation and are able to cope with a high level of stress and to find solutions, in case of an interruption to get a shipment to the destination on time.

However, during the pandemic and the grounding of entire aircraft fleets they had to think out of the box to provide feasible logistics solutions for their customers – if it was via air, rail or road.
For instance, Alexander Kohnen, CEO, time:matters, said, "We successfully implemented a freighter solution for stem cell courier services. Normally those life-saving products will be transported on passenger airplanes accompanied by specially trained stem cell couriers. With the grounding of entire fleets, this transport process was not possible for a long time. Therefore, cargo pilots assume the role of couriers."
Onboard Courier (OBC) is the most human-intensive of all air cargo charter operations. They not only have to ensure the cargo is reaching its destination on time intact but also need a person to accompany the consignment which complicates the processes. The Covid-19 pandemic has further complicated the matter with different regulations and vaccine requirements governed in different places.
As Kohnen, puts it, "When machines fail, spare parts are missing, or live-saving stem cells need to be transported for a cancer patient the pressure is on to get things running smoothly again. While the disrupting effects of the virus variants vary from country to country, from continent to continent, all processes involving human collaboration might be affected."
Regarding the standard operating procedures followed in such a job, Andreas Spies, director – time critical operations, Air Charter Service, said, "It starts with origin and arrival airport which are most likely in different parts of the world. If it is not a common route we are serving on a regular basis, the first step involves checking what requirements our couriers must comply with. Can our couriers fly into the required country, is transit allowed in a certain country if the flight itinerary involves a transit, is a visa required and what Covid-19 measurements are necessary?"
Onboard couriers have to be flexible, reliable and communicative which are the most important characteristics for such a demanding job. And with these characteristics, they get the chance to see the whole world.
Spies noted that their operational team is mostly staffed with ex-couriers who have travelled the world in the past. "They know how to set up a job as they did the onboard courier work already in different countries all over the world. They have travelled a lot and know how to deal with customs at certain destination airports. On the courier side, we have people involved who love to travel the world and experience new cities and cultures."
Meanwhile, Kohnen noted that their global network consists of flight couriers who undergo a rigorous suitability test in advance. "They are carefully prepared by us for the job. All emergency couriers have the necessary entry permits, sound language skills and many years of travel experience."
Unlike many other jobs, an onboard courier requires a high level of customisation, innovation and flexibility. To move these urgent cargoes, overcoming security, safety, temperature and regulatory challenges, they require human interventions at every point of transport.
When machines fail, spare parts are missing, or live-saving stem cells need to be transported for a cancer patient the pressure is on to get things running smoothly again.
Alexander Kohnen, time:matters
For example, in January 2022, the Cologne team of Chapman Freeborn OBC was contacted with an urgent request to move two small boxes with spare parts for a vessel from Munich, Germany to Bilbao, Spain as quickly as possible at 14:10 local time.
"Just 7 minutes later the brokers gave a quotation with two different options. Due to the urgency of the shipment, one of the transport options included a flight to Bilbao with a departure in less than 3 hours, at 17:10," reads the Chapman Freeborn note.
The customer confirmed the transport at 15:15, less than two hours before departure. Immediately, the fully vaccinated courier set off to pick up the shipment near Munich Airport. The hand-carry shipment was collected at 16:13, with the courier already having checked in online for his flight.
Due to his frequent flyer status, he was able to take both boxes on board as hand luggage. He passed security without any problems and was on board the flight to Bilbao at 16:50.
"At the airport in Bilbao, the courier handed over the delivery to the client at 19:50. From order confirmation to delivery in Bilbao, it took less than 5 hours to deliver the spare parts," the note further reads.
Clients spend more money for OBC flights as the normal airfreight is just not reliable anymore due to players have gotten so big that they also have gotten so slow.
Andreas Spies, Air Charter Service
Covid-19 pandemic was a difficult time for onboard couriers due to the changes in demand and supply, uncertainties and new regulations. These companies can no longer maintain proper SOPs as there are too many factors involved and they can change within a few hours.
Spies of Air Charter Service said, "We now have to deal with a lot of entry requirements for the countries. Our couriers were in need to get a so-called NIE – National Interest Exception to be able to go to the US. At some airports, there are no rapid PCR tests available which are needed to enter a certain country."
He also noted that their business was automotive driven before Covid-19, now they are also flying a lot of healthcare stuff and Covid tests, mainly for big sports events."
Kohnen said, "The network is now far better than it was in 2020 but even today, especially in Europe, we are still lacking around 40 percent of flights, which means a lot of connectivity is missing and it is still hard to reach some destinations."
Being vaccinated with one type of vaccine may not allow a courier to enter another country. They have to find a courier with the right vaccination in accordance with the respective country's regulations.
time:matters informed that for their classical OBC transports customers receive via online platform an individual quote in less than a minute.

Kohnen said, "This can then be booked with just a few clicks, saving time. Immediately after the booking, we will take care of the planning and identify suitable flight couriers. Information such as the current geo-position, existing visas and language skills of the emergency couriers are taken into account. With the help of our specially developed app, we are constantly in touch with our couriers during the shipping process and keep the customer informed."
However, Spies had a different take on how much technology can replace the human touch in OBC. "A lot of other providers go the technical route, have apps, have website prices, in theory, this is great to give the client a peace of mind what he has to spend. But 98 percent of the prices given online are not real and the actual calculation is to be done by a person – there are so many things that need a personal touch, regulations, exemptions etc. Technology will better the market but will never fully take over the business," he said.
Meanwhile, Spies identified a trend in the willingness of clients to spend more money on onboard couriers due to big airlines being slow. "Clients spend more money for charters or heady OBC flights as the normal airfreight is just not reliable anymore due to players like Lufthansa, British, United, etc. have gotten so big that they also have gotten so slow," he said.
If you are somebody who is creative, love to innovate, is curious and love new challenges every day, then an onboard courier is the right place to go. Or if you have an urgent cargo with which somebody has to accompany, again OBC is the place you should go to.
This article was originally published in the March 2022 issue of The STAT Trade Times.