Mark Sutch's turbulent flight with CMA CGM Air Cargo
Sutch quit his CCO job at CMA CGM Air Cargo in less than 3 months and on the same day Sutch put in his resignation, the COO Hughes Marchessaux also resigned.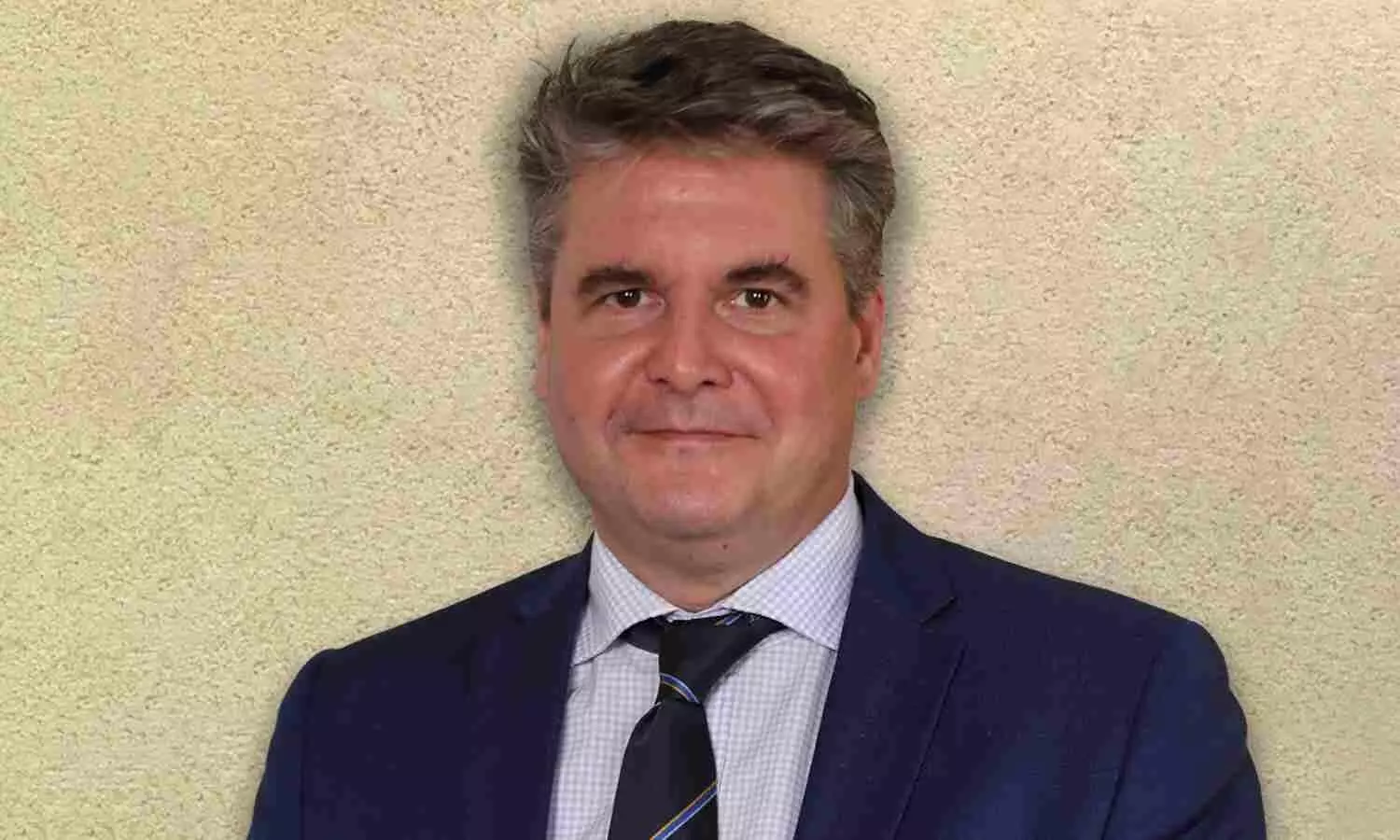 It was in late January this year that Mark Sutch announced his decision to leave Cathay Pacific after heading various responsibilities at the Hong Kong-headquartered carrier in different cities for close to 20 years. But it was only a month later, towards the end of February, that he revealed his next job. He was to join CMA CGM Air Cargo, the brand new all-cargo airline of CMA CGM, the French shipping group, as its new chief commercial officer, to be based at the group headquarters in Marseille, the port city in southern France.
Sutch, based in Mumbai, was the regional general manager South Asia, Middle East & Africa for Cathay. Before he left Mumbai in mid-March for a short holiday with his family in London and later to Marseille, where he was to officially join CMA CGM Air Cargo on April 11, I joined him on a private flight from Juhu Aerodrome. Sutch is a trained pilot and holds a private pilot license. But he was flying an Indian registered aircraft for the first time. It was the Diamond DA42, a twin engine, four seat, propeller-driven airplane. He was flying south out of Mumbai and had the extra ordinary challenge of navigating his flight coordinating three radio frequencies.
When I met Sutch at Juhu Aerodrome, he told me again how excited he was to join the CMA CGM Air Cargo. He called it a "start-up cargo airline". "I am looking forward to the challenges of building an all-cargo airline and the time is just right for having such an experience," he told me before he took seat on the DA42 to fly over the city of Mumbai.
CMA CGM Air Cargo was already a year old when Sutch accepted the offer to join. It had a fleet of four Airbus A330-200 freighters, being operated by Air Belgium from Liege in Belgium with scheduled flights to Chicago and Atlanta. But what got Sutch excited to pick up the job was the shipping company's decision to apply for its own Air Operators Certificate (AOC) with the French Civil Aviation Authority and have its dedicated cargo hub in Paris Charles de Gaulle Airport. Besides, it had placed orders with Boeing for two brand new B777 freighters that were expected to be delivered before June 2022. The French cargo carrier in the making had also placed its bet on the new generation Airbus freighter, the A350F, and ordered four of them.
Big ambitions and Sutch was certainly hopeful of building a successful global cargo carrier and an exciting career from Marseille.
Sutch was reporting to Olivier Casanova, the chief executive of CMA CGM Air Cargo and former CFO of CEVA logistics. Casanova, under the guidance of Chairman Rodolphe Saade, recruited well for CMA CGM Air Cargo bringing in a range of experience to join the small team already in place.
"I think the work is going to be full on! Lots of pressure. The strategy needs sorting. Big challenge," wrote Sutch in one of his social media posts just as the airline was waiting for the AOC and the arrival of the two brand new production freighters from the Boeing facility in Everett, Washington.
As could be expected in a shipping company new to aviation, there were many challenges for Sutch and the wider airline team to contend with. Shipping and airlines have very different challenges. This was confirmed by a number of delegates I met at the air cargo India exhibition in Mumbai who expressed concerns that the CMA CGM Air Cargo management would not be given the free reign to dictate strategy and showed concerns that the nuances of air cargo and specifically full air cargo airlines were not understood at the highest level.
Despite the challenges, Sutch was already into a month in the job and he was out meeting customers in France and overseas. For any cargo airline to be successful, relationship with freight forwarders are very important. Soon Sutch was made aware of how important it was to have a dedicated French cargo airline by some big forwarders. They were looking for an alternative to what has been offered to them by legacy carriers who saw the cargo business as ancillary or non-core – even if they had freighters. Sutch saw a huge opportunity for CMA CGM Air Cargo and addressed that market – promising to build an agile and reactive airline that would really help the forwarders with the solutions they needed.
However, there was something in the making that Sutch was quite unaware of till a day before the final announcement on May 18 by CMA CGM Group.
The announcement was about a long-term strategic partnership with Air France-KLM in the air cargo market. The partnership was to "combine their complementary cargo networks, full freighter capacity and dedicated services in order to build an even more competitive offer thanks to the unrivalled know-how and global footprint of Air France-KLM and CMA CGM".
The partnership also included CMA CGM's commitment to take up to nine percent stake in Air France-KLM. The agreement is for 10 years and the partners will join together to operate the full-freighter aircraft capacity of the respective airlines consisting initially of a fleet of 10 full-freighter aircraft, and an additional combined 12 aircraft on order. Since the announcement, CMA CGM has taken delivery of two B777 freighters. The new commercial partnership also covers Air France-KLM's belly aircraft capacity, including over 160 long-haul aircraft. It will leverage both partners' respective global sales teams, presenting one voice to the customer.
The May 18 announcement made Sutch's role effectively redundant.
"Looks like my job changed. I came here to build an airline and now it's being merged into a JV. Let us see," he wrote in a message a few hours after the announcement.
The partnership brings CMA CGM Air Cargo capacity into the wider joint venture but somewhat under the already established Air France-KLM brand. It certainly has ambushed the plans of building a new stand-alone cargo airline.
It is reasonably fair to assume that the CMA CGM and Air France-KLM deal was in the making even as Sutch was hired into the role. Deals like this are not decided and agreed upon so quickly. They take time to be fully shaped before being made public. It is likely that certain non-disclosure agreements prevented CMA CGM to let Sutch know about it while being hired or even before he joined.
Also Read: QR Cargo may extend ACMI contract to operate 2 CMA CGM B777Fs beyond 2 months
Sutch submitted his resignation on 29 June, less than three months after he joined. He agreed to stay for a week to provide a constructive handover. Interestingly, on the same day, Hugues Marchessaux, the chief operating officer (COO) of CMA CGM Air Cargo also resigned. Marchessaux joined in April 2021, a month after the cargo airline was launched. Marchessaux moved from ASL Airlines, where he was flight operations director. In the past he worked with Air France, Corsair International and Bollore Transport & Logistics. He was widely seen as the driving force for CMA CGM Air Cargo to successfully attain the AOC from the French authorities in such a short period of time. Having completed more than a year with CMA CGM Marchessaux is currently serving his notice period. Sutch has confirmed to me that the departure of himself and Marchessaux was in no way related. "I know it looks strange," he said. "But the reality is very different."
"Hugues [Marchessaux] and I worked really closely on many issues in the build-up of getting the French AOC and often discussed how we might move the airline forward. He is an exceptional professional I enjoyed working with – in fact I would love to work with him again and the industry is small so let's see. I guess he has other plans but it wasn't something we discussed. He has built an amazing ops, engineering and pilot group. I've seen good in the past and this is really up there," said Sutch.

According to Sutch even though the departure was disappointing because he had joined with a different purpose, the meetings with the CEO and the group chairman before he left on July 5 were very constructive.
"Rodolphe and Olivier understood the reasons why I was leaving and I very much understand the strategic direction of the JV considering the investment in the AF-KLM Group and I wish the airline all the best as they commercialise their capacity together. The small commercial team at CMA CGM Air Cargo is extremely talented and they will, along with many positive facets of Rodolphe's team at the CMA GMG Group, bring great benefit to the JV and the AF-KLM Group. It was a short stint at CMA that changed as a result of a strategic shift but it was satisfying to build some capability in the small airline team. I have to say I also really appreciated the wider shipping team at CMA from a professional point of view – it's an amazing company and to experience Marseille as a place to work was also great. "
Sutch is enjoying the summer in London now and travelling through Europe. Cargo is Sutch's passion and he is not a person to pass a good opportunity.
Air cargo market is still buzzing and who knows there could be an opportunity to start something new again.