Indian cargo market touches 2.2mn tonnes: Trade And Transport Group
Cargo handled is likely to increase to 2.4-2.5 million tonnes in 2023 even as passenger/belly capacity comes back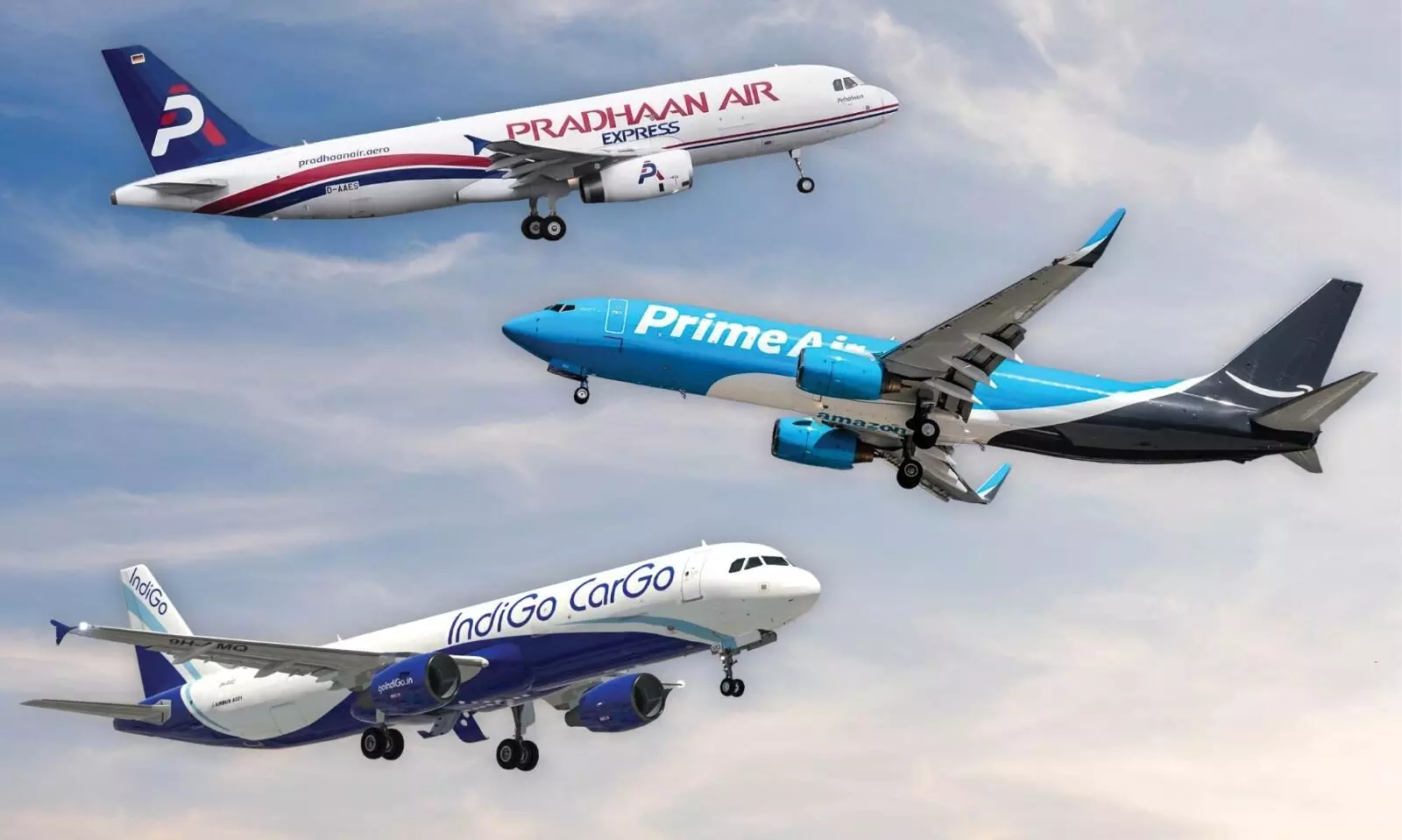 The Indian air cargo market generated 2.2 million tonnes of traffic - 1/5th the size of China's and about 1/10th the size of the U.S. air cargo market - with about 30 percent of the traffic generated on the domestic and the remainder on the international sectors.
"Around 90 percent of international traffic is carried by non-Indian carriers with Gulf-based carriers as well as Aerologic (operating for Lufthansa Cargo and DHL), Cathay and Turkish being the most important," says a report India Air Cargo Outlook 2023 by Trade And Transport Group.
Cargo handled across Indian airports may touch 2.4-2.5 million tonnes in 2023 even as passenger/belly capacity comes back, says Frederic Horst, Managing Director, Trade and Transport Group. "With 5-6 Indian conglomerates investing abroad, the India link is always going to be strong. So, India is in a good position as far as trade is concerned."
International cargo traffic has not yet recovered to pre-pandemic levels but domestic traffic has, driven by express, e-commerce as well as general freight traffic, the report said.
Five Indian carriers now operate freighters. "Three of these - IndiGo, Quikjet and Pradhaan Air Express - commenced operations in the last 12 months using narrow body freighters."
Five carriers are in various stages of start-up "but the Indian air cargo landscape is littered with just as many failed airlines."
The largest carrier in the Indian market is currently Aerologic (14 percent) followed by Qatar Airways (12 percent), Emirates (12 percent), Air India/Air India Express (8 percent) and Cathay Pacific (7 percent). Turkish Airlines has increased its share to about 5 percent of the market.
(In the case of Aerologic, there has been a degree of substitution between traffic carried by Lufthansa Group airlines and Aerologic. Aerologic is a 50:50 joint venture between DHL and Lufthansa with Lufthansa marketing five out of 21 aircraft operated by the carrier.)
"Air India and Air India Express account for 2/3rd of traffic carried by Indian carriers with IndiGo, Vistara and SpiceJet accounting for the balance."

Economic rationale for growth
"With economic and trade growth expected to outperform in the near term, there are opportunities for growth – driven by imports and exports of intermediate and manufactured goods as well as e-commerce traffic. India could also benefit from a U.S. and European pivot away from China but that depends on how manufacturing capacity develops, particularly across consumer goods and high tech sectors."
India's trade in manufactured goods is higher than prior to the pandemic, and exports increased by almost 10 percent and imports by 17 percent in 2022.
"We expect exports in a number of sectors including industrial equipment and parts, automotive, pharmaceuticals and some high tech sectors to do well. Apparel and footwear and household goods less so.
"On the import side, we expect industrial equipment and parts, semiconductors and equipment and automotive sectors to grow."
Market dynamics
2022 traffic performance was generally positive with the overall market growing by 8.4 percent.
*IndiGo grew by 14.5 percent.
*Blue Dart grew by 2.5 percent.
*SpiceJet traffic declined by almost 30 percent, primarily due to the removal of two out of five freighter aircraft out of its fleet.
*Air India traffic declined by 2 percent; and
*Go Air, Air Asia and Vistara all grew by approximately 30 percent.
"Due to an abundance of high frequency belly capacity, freighter operations have traditionally struggled in the Indian domestic market. Around 80 percent of cargo traffic is carried on passenger aircraft. The average length of haul in the Indian domestic cargo market is approximately 1,200km."
All-cargo operations
India currently has 17 scheduled and 103 non-scheduled aircraft operators. Of these, five operate cargo aircraft. "Indian carriers operate exclusively narrowbody freighter aircraft."
The five existing freighter operators include Blue Dart Aviation, SpiceJet, IndiGo, Quikjet and Pradhaan Air Express.
"India has seen growth in freighter activity but Indian carriers have not participated in this growth. We see an opportunity for widebody freighter fleet growth. Scheduled international freighter flights on widebody freighter aircraft increased from around 5,300 flights in 2015 to 6,900 flights in 2019 – a 30% increase entirely as a result of non-India domiciled carriers increasing services. However, this figure dropped to 6,000 flights in 2020, 5,300 in 2021 to 5,000 in 2022."
Yields/policy changes
SpiceJet generated approximately 4 percent of total revenue from cargo prior to 2019. In the year ended March 2022, the cargo share of revenue was 24 percent, and in the following year this increased further to 27 percent. "The biggest bump was a consequence of yields that were three times as high as pre-pandemic levels."
Changes in policy, implemented around 2020, limits non-scheduled and ad-hoc cargo flights by foreign carriers to six main airports - Bengaluru, Chennai, Delhi, Kolkata, Hyderabad and Mumbai.
Outlook
"Opportunities do exist in domestic markets for further growth, particularly with regard to e-commerce contract operations. Opportunities exist for further freighter fleet growth to support international services, particularly in the widebody space," says Horst.