Cargo Handling - A sector that's "Happening"
Air cargo handling certainly looks appealing in the current high demand scenario: Wilson Kwong, Chief Executive, Hactl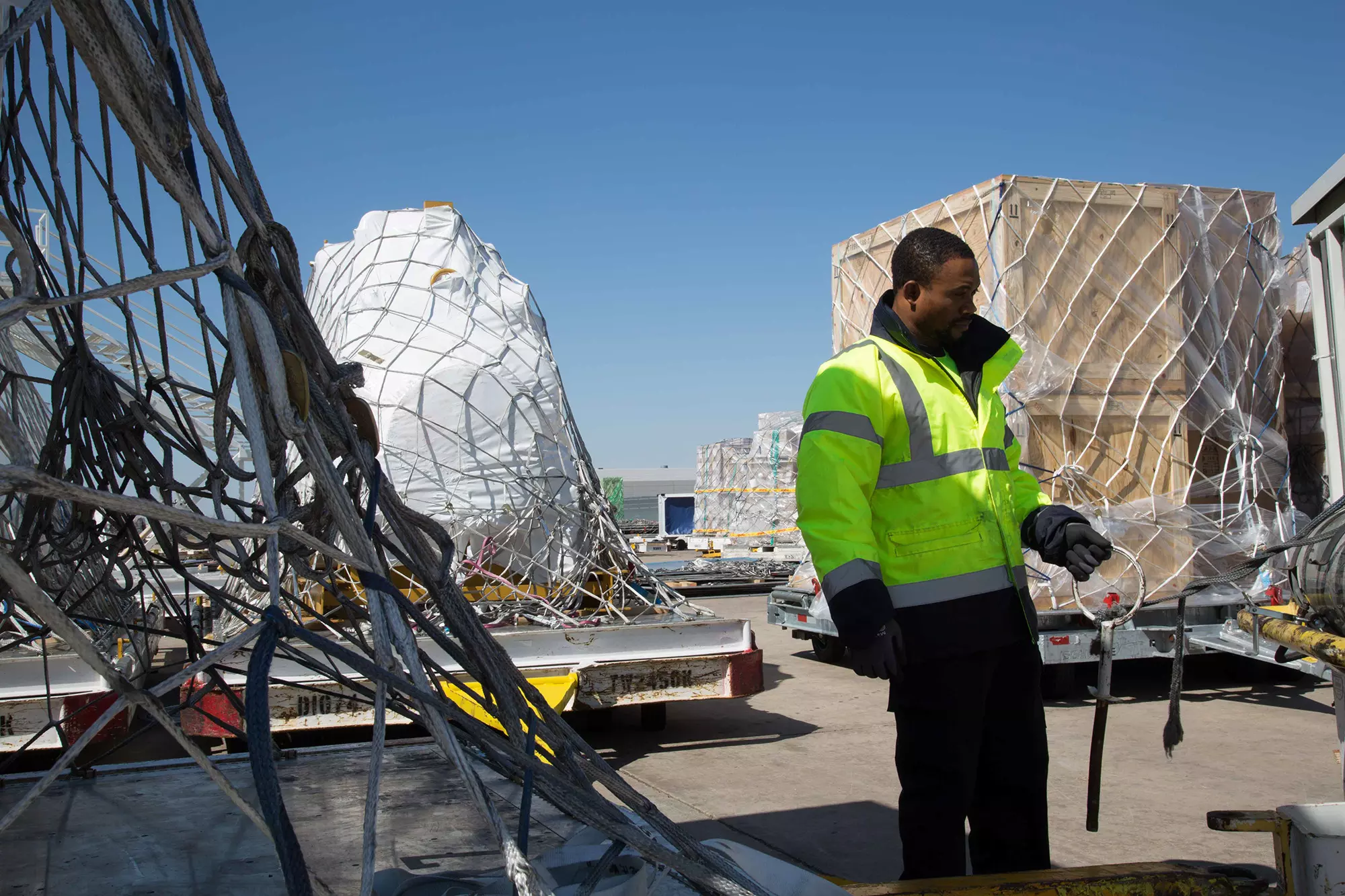 Cargo handling is RED HOT these days. Kuwait-based National Aviation Services (NAS), a subsidiary of Agility Public Warehousing Corporation, has offered to buy the entire shareholding of Scotland- based cargo handling company Menzies plc at 608 pence ((£6.08) per share. The deal values Menzies at approximately £557 million ($757 million).

NAS had earlier offered to buy all shares of Menzies at 510 pence (£5.10) per share, valuing the company at nearly £469 million ($636 million). NAS had claimed the companies share complementary geographical footprints and product portfolios with minimal overlap.
"The acquisition of this significant stake demonstrates our seriousness and belief that a combination of Menzies and NAS offers a compelling opportunity to all stakeholders," Hassan El-Houry, Chief Executive Officer, NAS had said after it bought about 13 percent stake in Menzies. "Once again we urge the Menzies board to engage with us so that we can put our compelling and deliverable offer to shareholders and secure Menzies' future in a highly uncertain environment."
The board of directors of Menzies vehemently opposed multiple offers, "and unanimously rejected it, having concluded that the proposal is entirely opportunistic, conditional and the terms fundamentally undervalued Menzies and its future prospects."
The battle is over, for the moment, with the Menzies board of directors deciding to recommend the final offer from NAS to its shareholders.
Tough times for the world, happy times for cargo
Demand for air cargo increased 6.9 percent in 2021 compared to 2019 (pre-Covid levels) and 18.7 percent compared to 2020, according to data from the International Air Transport Association (IATA). This was the second biggest improvement in year-on-year demand since IATA started to monitor cargo performance in 1990 (behind 2010's 20.6 percent gain), outpacing the 9.8 percent rise in global goods trade by 8.9 percentage points.
Capacity, measured in available cargo tonne-kilometres (ACTKs), was 10.9 percent below 2019 (12.8 percent for international operations). The lack of available capacity contributed to increased yields and revenues, providing support to airlines and some long-haul passenger services in the face of collapsed passenger revenues.
"Air cargo had a stellar year in 2021," says Willie Walsh, director-general, IATA. "For many airlines, it provided a vital source of revenue as passenger demand remained in the doldrums due to Covid-19 travel restrictions. Growth opportunities, however, were lost due to the pressures of labour shortages and constraints across the logistics system. Overall, economic conditions do point towards a strong 2022."
This growth, however, did not really help cargo handling companies earn bumper profits or record-high earnings.
"As Hactl's main business is freighter handling, the recent resurgence of freighter operations has given our normal business a strong boost," says Wilson Kwong, Chief Executive, Hong Kong Air Cargo Terminals Limited (Hactl). "But it also created some operational challenges (such as the pressures of cargo-in-cabin operations) that substantially increased our costs. Our main satisfaction from the past two years is that we successfully coped with every challenge that came our way, and played our key part in maintaining global trade and vital supply lines."

Hactl is the largest independent air cargo handler in Hong Kong. The air cargo hub serves over 100 airlines - over 40 of which are freighter operators - and over 1,000 freight forwarders. Hactl's base is the SuperTerminal 1: a highly-automated, multi-level facility with an annual capacity of 3.5 million tonnes.
While carriers were increasing rates based on demand and airports were hiking charges, weren't cargo handling companies stuck with long-term contracts. Did any renegiotions happen? "It must be remembered that while most carriers have benefited from increased freight rates and revenues, they also lost much of the larger revenue from passenger traffic," Kwong said. "We chose to play our part in helping them survive this terrible period by not taking advantage of the situation to increase our charges. If we have helped our airline customers to remain viable, that is reward enough."
Swissport International AG's cargo segment, for example, handled 5.1 million metric tonnes of cargo in 2021 compared to 4.6 million tonnes in 2019.
"While the Covid-19 pandemic has heavily impacted so much of the aviation industry, cargo has continued to fly – and in volumes even greater than before," says Hendrik Leyssens, Vice President, Global Operations, Cargo, Swissport. "The Covid pandemic has, however, brought many challenges to air freight shipping generally, and cargo handling specifically. Keeping our staff healthy, reacting with great flexibility to changing circumstances and managing growing volumes has been the name of the game.Swissport, for example, handled 5.1 million tonnes of cargo last year, up nearly 10 percent on 2019 and a hugely impressive 24.9 percent on last year."

In line with the global industry, our operations were significantly affected by the impact of the pandemic, says David Barker, Divisional Senior Vice President, Airport Operations, dnata. "Our teams around the world had to rapidly adjust their processes to cope with the new operating environment. This included passenger aircraft being used for cargo-only loads both in the belly and the passenger cabin. At the same time, we adapted quickly to safeguard our workforce with the provision of personal protection equipment (PPE), training, and revised operating procedures to reflect social distancing.
"We also pressed ahead with key strategic investment to strengthen the business for future growth and continued to drive efficiencies across our operations. This included the opening of new, state-of-the-art cargo facilities in Manchester (U.K.) and Lahore (Pakistan), and additional cargo capacity and infrastructure in Sydney (Australia), Brussels (Belgium) and Toronto (Canada). In addition, we broke ground on the second phase of the dnata City East project at London Heathrow (U.K).

"Most recently, we've announced a massive, long-term investment in a state-of-the-art cargo centre in Amsterdam. As one of the largest and most advanced facilities of its kind, dnata Cargo City Amsterdam will significantly enhance cargo capacity in The Netherlands. It will be a game changer in the regional cargo industry, delivering significant commercial benefits for our partners, their customers and the local economy.
"Simply put we would not let the Covid crisis define us, we were going to define our future through the crisis by investing in the future."
dnata is a leading global air and travel services provider with presence in 129 airports globally across 36 countries, serving over 320 airline customers with over 34,000 employees. For financial year 2020-21, dnata reported a 62 percent annual decline in revenue to AED 5.5 billion ($1.5 billion) and a loss of AED 1.8 billion ($486 million) compared to a profit of AED 681 million ($183 million) in the previous year.
"Our rates were always fixed by the government as we are covered under the Airport Economic Regulatory Authority (AERA)," says Tushar Jani, Chairman, Cargo Service Center (CSC). "Of course, we didn't get the opportunity to increase our rates. We did see some high costs because of Covid - bringing people from home, making people stay with us, increasing our medical incidents. We didn't get all that. So, that added into your cost. There was no compensatory increase in revenue for the company."

CSC operates cargo handling terminals in five Indian airports, and the cargo terminal operated by CSC in Mumbai is one of the best cargo handling centres in the world for temperature-controlled life sciences and perishable products
Cargo-only passenger planes, now called the preighters, to freighters to cargo charters- how did all this impact cargo handling? "I would have never ever thought cargo would be on the seats, I never thought cargo would be up in the cabin but it worked," Jani told The STAT Trade Times in an interview late last year.
"The early days of the pandemic created a perfect storm of unpredicted and unprecedented demand, simultaneous with the almost total cessation of passenger flights – removing almost half of the industry's capacity overnight," Kwong said. "For Hactl, this meant a dramatic increase in scheduled and charter freighters, the operation of passenger aircraft as freighters using only their bellies, the commencement of cargo-in-cabin operations which meant we had to present cargo for loading up to six hours earlier than normal, and the arrival of exotic aircraft such as Hercules and Boeing's Dreamlifter, pressed into service to carry critically urgent PPE and medical supplies.
"E-commerce began to boom as consumers in lockdown switched from high street shopping to online buying. And we were forced to switch to home working for all our office staff, necessitating big investments in notebooks and networking infrastructure. Ever-changing and generally increasing anti-pandemic regulation also meant manpower levels were disrupted. Today, some belly capacity has returned, but freighter operations remain at elevated levels. Cargo-in-cabin operations have subsided but quarantine regulations continue to impact us and our airline customers. And the e-commerce boom continues."
Highly-automated operation enabled Hactl to cope very well with the sudden increase in demand, and recent investments in new technology really paid dividends by reducing the need for staff to work from offices, and dispensing with the need for physical meetings, Kwong added.
"The crisis brought to the fore our resilience and true spirit. We remained undeterred in our focus on quality, safety, people and customers," says Barker of dnata. "Having invested significantly in our cold chain and pharma-handling capabilities in recent years, we are well positioned to move every pharma and vaccine shipment safely and efficiently, in compliance with the highest international standards. Our certified warehouses are capable of handling large volumes."
2020 was probably, like most organisations, one of our most challenging years, Robert Fordree, Executive Vice President, Global Cargo Services, Menzies Aviation, told The STAT Trade Times in an interview last year. "From a cargo perspective, we obviously benefited. We had a lot more cargo to handle and a lot less aircraft to handle. We are now at a stage where we are handling something in the region of about 1.6 million tonnes of cargo a year across our global network."
(Menzies Aviation declined to speak to The STAT Times for this story citing quiet period for the 2021 annual results and "the process that we are currently in.")
Menzies now operates at 54 cargo locations around the world, Fordree said. "And certainly some of the markets we are looking at in a lot of detail are North and South America. Miami was the start of us opening some new locations in the U.S.We already have quite a lot of coverage in Canada. We have a very standardised approach, we want to give the same service like Starbucks or McDonald's all around the world for cargo handling.
"And doing that means we must have the same training principles in every location, the same processes, procedures, operating system, and the same management philosophy."
Very little of the cargo created by the pandemic required special handling, Kwong said "The real challenges were the increased volumes and urgency, the lack of capacity at times, and the unpredictable nature of ad-hoc freighter operations. We took these all in our stride, thanks to the total commitment and hard work of our team, who really stepped up and willingly worked longer hours when necessary."
Tech challenges for cargo handling
Hactl has always been a highly-automated and tech-focused business. Kwong added. "That reduces our scope to implement further automation and technology. That said, we have invested in a new iHCC (integrated Hactl Control Centre) to provide us with unprecedented, live information on all our business operations, enabling us to better utilise resources and respond more effectively to any future crisis."
We know that excellence means constantly challenging ourselves to do better, says Barker of dnata. "Over the past year, we have significantly invested in cutting-edge technologies to deliver the best possible services for our customers. Our recent investments include hi-tech cool dollies in Australia, the implementation of our advanced 'OneCargo' system in our operations as well as the network-wide rollout of a turnaround tool and IATA's innovative Dangerous Goods AutoCheck (DG Autocheck) solution.

"In addition, we launched autonomous drones in our warehouses at Dallas Fort Worth International Airport (DFW) in the USA, to digitise acceptance and warehouse inventory processes by monitoring shipments with 99.8 percent accuracy. Our partner's innovative software enables the drones to map the environment, collect inventory data, count cases, measure temperature, and read barcodes using only their cameras, without the need for any additional active infrastructure. The drones are paired to a tablet device providing live inventory data. The collected data can be viewed directly on the tablet or the web, via a user-friendly application. The drones can operate at temperatures as low as -10 Celsius degrees, enabling dnata to take advantage of the technology in its state-of-the-art cool chain facilities, too. We plan to gradually roll out the drones across our global cargo network in the next few years."
The pandemic has made the need for greater digitisation more apparent in achieving the goals of greater transparency and efficiency of cargo operations, Leyssens of Swissport added. "Even before Covid, this has been one of Swissport's major selling points. We invested in self-service kiosks that can be used by our customers and partners such as truckers and forwarders to digitise the labour-intensive paper-based processes while limiting hand-to-hand interaction. We introduced Bluetooth ULD tracking and launched a new generation of mobile devices and an Android cargo app to monitor and direct in real time the movement of cargo through the shipping and warehousing chain. The app will be rolled out across Swissport's bigger stations this year – 76 stations are expected to be so equipped by the end of 2022.
"On top of these many digitisation initiatives, we have always been strong supporters of airport (cargo) communities, which bring real value to the supply chain. In the first half of this year, Swissport is going to trial a range of Singapore-based SPEEDCARGO's suite of products that are designed to help improve productivity and maximise logistics efficiency. CARGO EYE captures accurate dimensions and images of incoming cargo in real-time, and seamlessly integrates data into existing warehouse management systems, while CARGO MIND is an AI-supported software solution that plans for optimal cargo space utilisation in seconds while adhering to regulations and business constraints. These technologies will not only improve transparency and efficiency of cargo handling for Swissport but also for airline customers and right across the supply chain of which it is a part."
We certainly felt that, from a technology perspective, we needed to invest further in technology for cargo, Fodree had told The STAT Times. "I think most people familiar with cargo handling will realise that you can walk into a warehouse in any part of the world and it will look and feel like a warehouse that was handling cargo in maybe 1980..and in some cases, maybe 1970 and sometimes earlier than that... but what we are doing is putting into place a strategy around our technology solutions as well. Rory (Fidler) and I worked very closely together in Abu Dhabi with Etihad. I was delighted to be able to bring Rory into our management team. And his focus is on technology development."
Do we expect to see a cargo warehouse that will be completely different from what it used to be in the 1980s and 90s where you have complete automation and robotics working around? "I would like to say yes, and I wish I could say yes, but I think we need to be realistic," Fodree added. "Cargo we handle for multiple customers is different. We could have an operator with freighters that carry aircraft engines and livestock and lots of lots of different products. And we could also handle a customer that has a narrow body flight operation that is only a bulk load or small containers. And we need to be able to offer a handling solution for all of those different product types. So, if we move towards something that is very automated for certain products, it means that we can't handle the rest of the cargo properly our customers would expect us to handle. So I expect us to have a hybrid of automation that supports and improves our productivity. I certainly don't believe that we will be moving away anytime soon from trained, experienced, capable, knowledgeable cargo professionals able to do what is required for our customers in our facilities."
Are cargo handlers the new buyout targets?
Kwong had an interesting take on the RED HOT topic: "A viable business is always attractive to investors, nothing can be ruled out, and air cargo handling certainly looks more appealing in the current high demand scenario. Vertical integration is not always wise if it introduces potential conflicts of interest. One of Hactl's strengths has always been its commercial neutrality, which enables us to offer unbiased services to all customers. Would that remain the case, if we were owned by an airline?"
I do believe that rail/air and sea/air integrated, multimodal logistics will be an ever more common feature of global supply chains, Leyssens of Swissport added. "That is something that can be observed at a lot of airports. Air cargo has been going strong, which has led to increased attention from ocean carriers but whether or not that will lead to the acquisition of cargo handlers is another story. We have a unique place in the supply chain with the expertise we have and value we provide."
After selling their Global Logistics Business, Agility owners had cash, and they wanted to concentrate on ground handling and cargo handling, Jani of CSC added. "So, it is obvious they were looking for buys. Swissport changed hands, correct? Further concentration may happen, one or two other players will acquire or be acquired.
"The deal will have very little impact on India because Menzies has only one operation in Bengaluru, which is also coming to an end in June 2023. I believe NAS will have to, as far as India is concerned, consolidate its position."
Covid lessons learnt
Above all, to expect the unexpected, says Kwong. "At Hactl, we thought our crisis management strategy had already foreseen every possible eventuality but we were still surprised by the severity and length of impact created by the pandemic. Thanks to the experiences of the past two years, and the countermeasures we introduced, Hactl is now an even more resilient business with mechanisms in place to mitigate any foreseeable future crisis. But that is also the legacy of years of planning and foresight. We hope that others may see what we have done, and so short-circuit their own process of crisis proofing."
In these unprecedented times, your strategy defines you, says Barker. "We have held firm to our strategy that is based on a solid business model, a customer-centric approach and investments in safety, facilities and equipment with a strong focus on innovation and sustainability. Leaders find ways to navigate in uncharted waters and our teams have proven their ability to deliver consistently high quality and industry-leading solutions, day after day."

When the pandemic hit, Swissport moved quickly to protect its people, Leyssens said. "PPE was issued and rosters were changed to place handlers into smaller teams to ensure that any outbreak would have limited impact across any given station while different responses were quickly drawn up to meet locally pertinent mandated requirements or guidelines. We have also motivated our staff to protect themselves with the help of vaccines.
"Our customers are focusing more than ever on agility, consistency and a cost-effective operation. While taking decisive measures to cut costs, we have also needed to plan with great flexibility and in continuously changing circumstances. All the while, we were re-thinking our ways of working to minimise the risk of infection. Our organisation is highly agile, and we have shown that we are able to adapt to growing volumes with great flexibility. In order to continue to meet and exceed client expectations as the pandemic restrictions ease in many countries, we are now creating some 17,000 new jobs worldwide across the board. Swissport is ready for the future, we have successfully managed our business in the eye of a storm and came out stronger than before. Growth is very much the expectation and we have not stopped investing."
Perhaps that, according to Leyssens, is the most important lesson: the winners after significant crises are usually the ones that have invested smartly. Never stop investing - whether it's in people, technology or infrastructure.
So, here's more to cargo handlers…..
IATA norms for cargo handling
Airlines transport over 52 million metric tonnes of goods every year, representing more than 35 percent of global trade by value but less than 1 percent of world trade by volume, according to data from the International Air Transport Association (IATA). That is equivalent to $6.8 trillion worth of goods annually or $18.6 billion worth of goods every day.

"From the delivery at the airport of origin until it is ready for loading on the plane to the unloading at destination and handover to the consignee/freight forwarder, many steps are involved with cargo handling that must be closely followed to ensure shipments are delivered safely and securely. These steps are found in the cargo Master Operating Plan (MOP)," says IATA.
MOP describes the key processes and sub-processes involved in transporting air cargo from shipper to consignee in a systematic and harmonised manner. It provides the air cargo supply chain with the first, industry-endorsed, standard description of the end-to-end process for transporting cargo by air.
In the 2022 edition of the IATA Cargo Handling Manual (ICHM), updated annually, there are a number of notable changes including development of the cargo Operational Risk Assessment (ORA) based on the MOP.