Cargo charter biz coasts along in year of uncertainty
Has the cargo charter market demand experienced a softening compared to the peak of the Covid-19 pandemic and will 'market adjustments' follow? If so, how are chartering companies preparing for this as we dive into lessons past and from the vantage point of moving towards digitalisation and sustainability?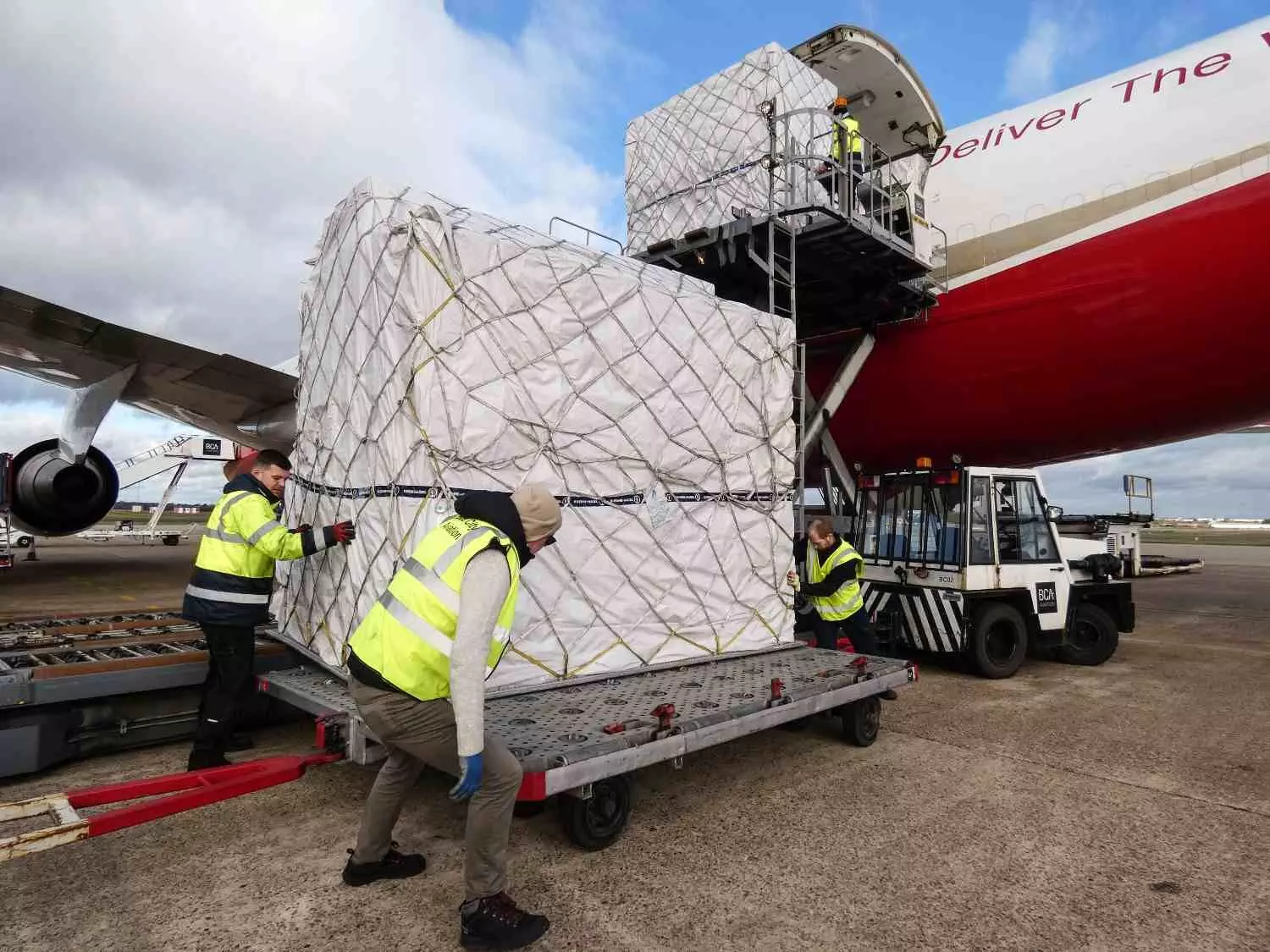 According to the latest Market Research Future (MRFR) report, the global air charter services market is slated to touch $53.65 billion at a 5.8% CAGR by 2032,(denoting global aircraft charter market including passenger and cargo).
Some of the significant growth drivers in the business of transporting cargo and passenger charters include the sharp rise in air travel globally, the increasing volume of charter services, and ongoing improvements in airport facilities and air charter services, particularly in developing nations.

Charters are mainly utilised for time-sensitive and high-value freight transportation such as specialised cargo, oversized shipments, or urgent deliveries that are required immediately and cannot be accommodated by regular cargo airlines or by scheduled air cargo services.

Charter capacity is also utilised when the demand for airfreight is high and the available capacity offered by commercial carriers is low and this situation particularly occurred during the Coronavirus pandemic.
Early trends
While the return of ocean freight and belly capacities may have some effect on the overall demand for cargo air chartering, verticals that have continually contributed to the growth of cargo air chartering include automotive, dangerous goods, mining/oil & gas, oversized cargo, pharma, and humanitarian sectors.
While many stakeholders believe sea freight return has had no impact on air cargo charter volumes, few believe that Q4 will give an actual indication of market conditions and that the industry will probably have to wait until 2024 for a sustained market improvement.
Demand for air cargo is impacted by multiple factors and ocean freight capacity and belly capacity certainly are also two key aspects.

Speaking on the same, Conor Brannigan, Magma Aviation CEO said "We have seen a consistent decline in air cargo market conditions since March 2022, which is perhaps not surprising given the fact most major global economies had ended all Covid measures, and we subsequently had to deal with the shock to the market due to the Russian invasion of Ukraine and increase in oil prices. Looking ahead, we do not see a significant recovery on the major trade lanes, unless perhaps for Q4, but we have every confidence the niche requests will continue to come through and this is where Magma Aviation offers a lot of value."
Simon Watson, Co-founder and Director, CharterSync told The STAT Trade Times, "Even with the "normalisation" of volumes in shipping and belly cargo, we have seen no impact on our air cargo charter volumes – in fact, we have witnessed a 350 percent growth year on year. We are confident that our business will continue to grow significantly in 2023, particularly thanks to the oil & gas and e-commerce markets which are looking buoyant. We expect to see growth in all markets, but it is particularly busy on the lanes from Asia to Europe."

Eric Philip, Director, Business Development, Avric Aviation, a global charter solution provider headquartered in Dubai; believes the current charter market demand has experienced a softening compared to the peak of the Covid-19 pandemic, influenced by various factors and that 'market adjustments' are likely.

He believes that given the prevailing market conditions, many customers are hesitant to enter into long-term charter contracts and that the demand for annual charter contracts is currently low due to the overcapacity in the market.

"The demand on key routes like China to the US and EU is projected to strengthen in late Q3/early Q4, although not as robustly as in previous years. It is worth noting that overcapacity in the market can have adverse effects, and a market correction to address the excess capacity may occur next year. Sustaining losses, in the long run, becomes challenging for many operators, prompting the need for market adjustments," Philip says.

Brian Davis, Commercial Director, NEO Air Charter, told the publication, "What we have noticed is the increase in charters for projects being booked much further in advance compared with pre-2020. A likely reason is that clients prefer to minimise the possibility of charter prices skyrocketing again, as they did in 2020-2022. Our clients naturally need this certainty in their budgeting for their own customers."

The Russia-Ukraine conflict that began last year has also removed a lot of freighter capacity from the market due to sanctions.
The softness of the scheduled market has had a 'knock-on' effect on charters, shares Davis as he adds, "While the B747Fs are not a great problem, the reduction in An124s and IL76s with their rough terrain and self-handling capabilities will eventually cause outsize, offline capacity shortages, and increased lead times. Charter looks set to become more competitive over the next year or two. The resurgence of travel has seen most of that capacity return to the market, so we have returned to our traditional mainstays of ad hoc, urgent, outsize, and offline operations."

Meanwhile, many airlines ordered new freighters or placed orders for converted P2F aircraft during Covid, and these continue to be delivered.

Cautioning about the issue of overcapacity, Davis added, "This will progressively increase capacity, and could lead to overcapacity in the foreseeable future. Unless there is another major event which requires these capacities, the airlines may struggle to fill their additional aircraft, which will have a significant impact on air freight rates and may also impact charter prices."
Catching up with digitalisation
Much like the rest of the industry, air charter ops are moving speedily into digitlisation of processes which provides the much-needed visibility and efficiency that this vertical needs. Stakeholders affirm that digitisation is 'crucial' to the future of air cargo chartering and many are in different phases of the digitalisation journey.
Magma Aviation, for instance, has been on a digital journey since early 2021, shared Brannigan. He said, "The digitalisation project incorporates all departments at Magma Aviation, and when complete, will mean that Magma Aviation is in line with our peers in the market. Some of the outcomes of the project are automated permit applications, scheduling tools, route costing and reconciliation, CRM, cargo reservations system, business intelligence, and track and trace."
Holger Ketz, Global Head of Air Logistics Network & Carrier Management, Kuehne+Nagel, said "We will continue to invest in highly automated shipment execution through our eTouch initiative. eTouch was already part of our transformation in the context of our strategy until 2022 and covers instant, accurate actions and information to empower our product delivery and to simplify the operational processing with our customers. Our ambition with eTouch is to run an intelligent and digital operation with real-time visibility throughout every action with fully automated shipments at its core."

Seamless real-time tracking of shipments, quotations, scheduling, payments, selection of carriers, costing, business intelligence, and contracts seem to be some of the processes that have gone the digital route in the air chartering business.
Speaking about CharterSync's fully integrated digital booking platform, Watson said, "From June 2023 we are rolling out a new end-to-end document management system to complement our platform, which was re-scoped from the ground up in 2022. We are focussing on how we can use new technology to centralise all of the traditional forms of communication in one place. This is where automation is replacing some time-consuming processes. For example, our enhanced system automates and expedites the contract phase of a charter booking, thanks to an integration with PandaDoc, an electronic signature software tool that populates a contract template with data and client information extracted during the booking process."
Davis said, "We are currently investing in digital tools that will optimise the internal processes at NEO, which in turn will improve our various offerings namely charter, onboard courier, and airfreight solutions to our forwarder clients. The next phase will be a digital interface that enables our forwarder clients to place requests online, should they prefer it."

Many of these technological upgrades have not only allowed air charter companies to provide faster and more tailored service to their customers, but also to scale operations.

Asok Kumar, EVP, Global Air Freight of DB Schenker told the publication, "We have completely digitised our charter operations workflow, starting by combining the personal touch of our customer service with an entirely digital quotation process. This goes down to digital operational, contractual, and payment checklists and ultimately API-driven real-time movement messages of our charter programme. We have included a lot of intelligence in this tool to enable an automated selection of carriers and aircraft, based on cargo dimensions. Also, our digital charter tool has allowed us to scale significantly during the pandemic with the advent of our flight operations programme while retaining our original team strength. We are now continuously enhancing this platform with our real-time tracking product AirTrack to enable our charter customers to experience a seamless tracking of various telemetric data along the charter journey."
Busy trade lanes, new routes
Watson of CharterSync told the publication, "During 2023, we have seen a major uptick in customers requesting global charter flights, specifically on key trade lanes with flights between China and Europe, and China and the US, as well as intercontinentally in Europe. Widebody flights originating outside of Europe now represent the major and growing percentage of our business which is currently 93 percent; which is a 480 percent increase from the previous year. We have recently seen particularly high growth in demand between Asia and Europe. The sectors where we have seen most growth include, entertainment and events, pharmaceuticals, and oil and gas."
Several charter firms have also entered into partnerships with airports and expanded their networks to best serve their customers. Kumar said, "Our service from alternate airports is performing extremely well, so we will continue this strategy. Secondary airports like Chicago-Rockford (RFD) help us to achieve short transit times and therefore overall time advantages for our customers."
Ketz of Kuehne+Nagel said, "This year we entered into a long-term partnership agreement with Birmingham-Shuttlesworth Airport (US) to better meet the cargo needs of our customers in the southeastern part of the US. We have now been serving this airport from Germany with 2x weekly scheduled connections since April. This expansion of our network has come about as a result of specific customer requirements that could not have been implemented using line capacities alone."
Kuehne+Nagel had entered into a long-term agreement with Atlas Air for two Boeing 747-8 freighters last year. It was a dedicated charter agreement for exclusive capacity on 'volatile trade lanes'.

Speaking about the same, Ketz added, "The two aircraft Inspire and Empower entered into service at the end of last year and have since been operating primarily between Asia and the US, and since April we have also added a North Atlantic route between Germany, and the US to our flight schedule. The respective lanes that are served have largely come about as a result of specific customer requirements serving all verticals, but primarily e-commerce, high tech, and automotive."

Kumar told the publication that the company's full charter network which was being operated by several carriers is primarily serviced by jets from type B777F and B747F.

"One of the trade lanes we opened in the first months of this year is our new multi-continent full charter rotation from China (Shanghai & Zhengzhou) via the Middle East (Doha) to Germany (Munich) and onwards to the US (Chicago). By expanding our flight network to these hubs, we provide new and reliable capacities for our customers. Currently, the new flights are specially booked by customers from the automotive industry," Kumar said.

Tristan Caldeira - Senior Consultant, Cargo Charters, Chapman Freeborn said, "In the past six months, we have identified several new air cargo charter routes in sub-Saharan and West Africa. These regions have experienced an increase in cargo movements, and our tailor-made solutions have played a crucial role in ensuring timely deliveries despite the lack of infrastructure in these areas. These routes allow us to offer significant capacity on key trade lanes, enabling our customers to overcome infrastructure challenges and ensure timely delivery of their cargo."

Expected peaks
Seasonal peaks and specific events can drive increased demand, and the impact of freighter overcapacity is being seen as both a boon and a challenge to navigate by the chartering companies.
However, most charter players believe that the verticals of automotive, dangerous goods, mining/oil & gas, oversized cargo, pharma, and humanitarian sectors will continue to contribute to the growth of cargo air chartering this year.

Recalling the end of November 2022, when the industry awaited a 'peak season' that never materialised, Brannigan said, "On the back of this, our strategy in 2023 was primarily to focus our attention on maintaining the network we had in place throughout 2022 and look to add and/or change this based on the needs of our customers. We have, in the past six months, operated various charters not only into new airports but also airports we have not visited in some time. The one major change to our network was the introduction of China (KHN – Nanchang) and our China operations commenced in April 2023."

"Traditionally, there are bottlenecks or peaks in Q3 / Q4 (especially in the high-tech sector) due to new product launches and generally increased demand. We assume that this will also be the case in 2023," avers Ketz.
While most air charter players are trying to offer reliable capacity at stable market rates, many continue to see strong sustained activity in the e-commerce space. "We anticipate busy trade lanes connecting major manufacturing hubs, resource-rich regions, and areas with high demand for perishable goods. Further, during holiday seasons or major sporting events, there is often a surge in demand for time-sensitive goods and equipment," said Caldeira.

In terms of expected peaks, Q4 ahead of the Christmas period is traditionally a particularly busy time in the air cargo charter market.
Watson said, "While we didn't see the usual spike in 2022, we expect the 2023 period to normalise. Freighter over-capacity is neither a boon nor a bane to use, as our customers are looking for flexibility and level of precision that passenger cargo freighters just cannot match."

Davis added, "The return of widebody and freighter aircraft availability, and greater route flexibility, have meant we can offer our clients more innovative and economical solutions to meet their needs. We foresee no peak in "normal" air cargo this year, and believe we will probably have to wait until 2024 for a sustained market improvement."

Strategy going ahead
From investing in a new fleet to opening new offices in new regions to embracing digitalisation and sustainability in their operations to seeking new trade routes, companies are pulling out all the stops to ensure that they stay on course for the myriad challenges that this year has to offer.
Brannigan said "We currently have five Boeing 747 freighters operating for Magma Aviation, two of which are 747-400Fs and three of which are converted freighters. In terms of additional aircraft, we are looking to bring in converted 777s, most likely in early to mid-2025. These aircraft will supplement the 747 fleets and may open up opportunities to expand into new markets."

Brannigan added that sustainability will also be a priority for the company going forward. "For Magma Aviation, sustainability is a top priority and we will have an Environmental and Sustainability Specialist join our team in July this year to spearhead our sustainability strategy. We will also open up new offices globally in the coming months. With that, we may have a need to deploy current or additional aircraft in these markets to support our growth strategy. As well as the office expansion, we will have a major focus on sustainability and enhancing our digital offering."

Founded in 2010, Magma Aviation became a Chapman Freeborn company in 2017. In 2019 Avia Solutions Group acquired Chapman Freeborn.
Kumar added "As sustainability keeps gaining relevance with many of our customers, we see more of them looking to embrace our CO2-neutral flight offers based on Sustainable Aviation Fuel (SAF). We want to continue to drive the air cargo industry's transition to carbon neutrality."