Amidst challenges, Euro airports chug on to recovery
Tracing the trajectory of the European air cargo market through some of the cargo airports in the continent, as they ride out the worst and best of times amidst global market volatility, muted air capacity, and capacity constraints. The market is estimated to grow at a CAGR of 8.1% from 2021 to 2028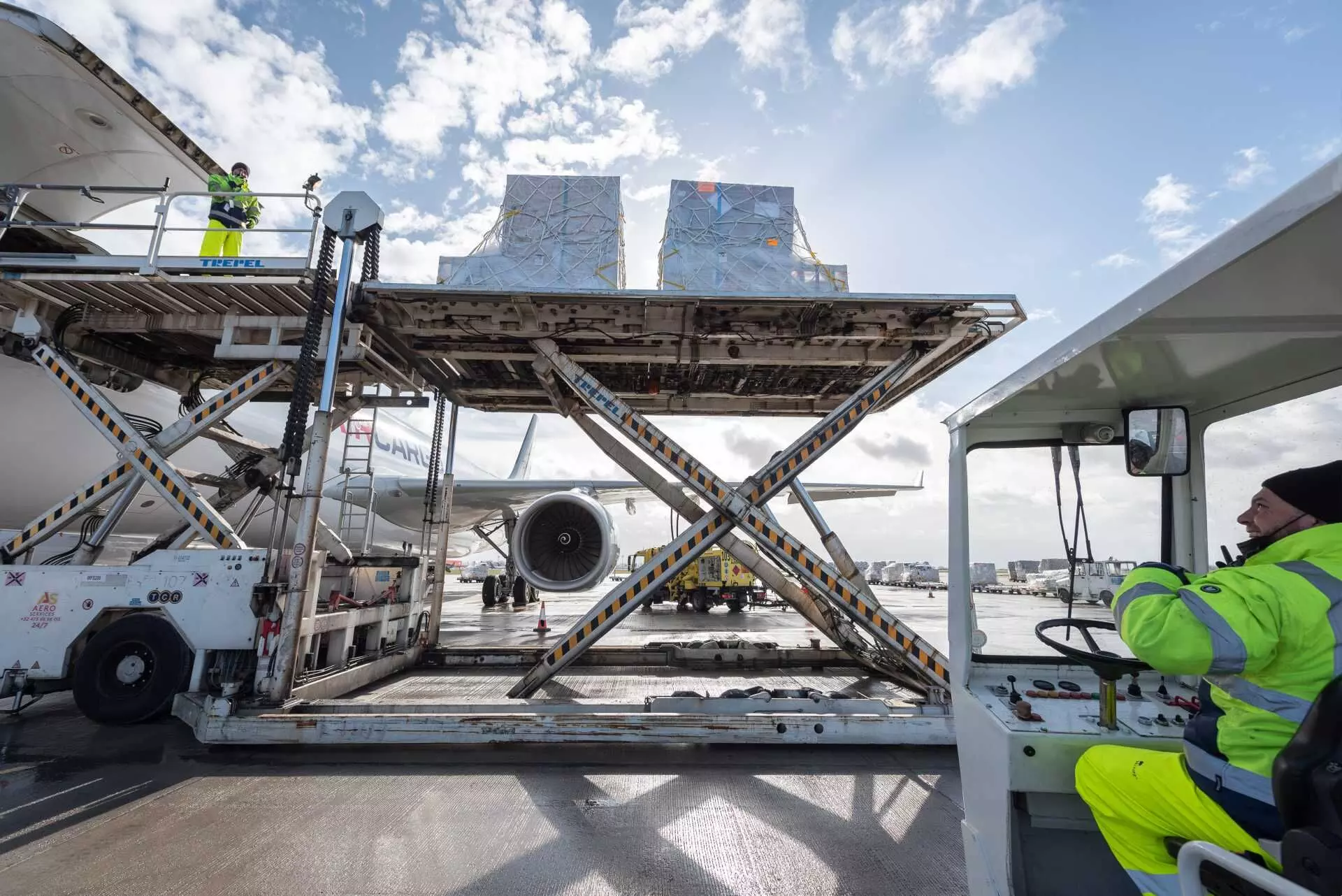 The air cargo business is an important backbone of Europe's prosperity as it enables global trade and is an economic driver of the continent. A nonprofit body 'The Airlines For Europe' which represents over 70 percent of European air traffic puts Europe at the intersection of global trade, with European air cargo accounting for nearly 30% of exports and 21% of imports in value.
According to a new market research study on "Europe Air Cargo Market to 2028 - Covid-19 Impact and Analysis and Forecast' done by Research and Markets, the sector is expected to reach $49.23 billion by 2028 from $28.60 billion in 2021. The market is estimated to grow at a CAGR of 8.1% from 2021 to 2028.
Being the second-largest regional market for air cargo, with a heavy presence in manufacturing - Germany, Italy, France, and the UK form some of the key contributors to this market. Automotive, manufacturing, electronics, pharmaceuticals, consumer electricals, e-commerce, temperature-sensitive products, and food, and beverages are some of the key contributors to its trade lanes. Germany in particular has trade ties owing to its automobile manufacturing sector with the rest of the world.
The air cargo market of Europe is split into airmail and air freight. Air freight is further split into express and regular, of which the regular services grew well in 2020, but the express segment grew the fastest owing to global demand for goods and pharmaceuticals post Covid-19.
Drop in demand, contraction in capacity, says IATA
As per April 2022 data for global air cargo markets released by The International Air Transport Association (IATA) recently, there is a drop in demand and a contraction in capacity. The effects of Omicron and subsequent lockdowns in Asia and the Russia–Ukraine war continue to create a challenging operating backdrop that is driving the decline.
Global demand, measured in cargo tonne-kilometers (CTKs), fell 11.2% compared to April 2021. Capacity was 2% below 2021 (+1.2% for international operations). Both global capacity and international capacity decreased slightly in April compared to March.
While Asia experienced the largest fall in capacity, the Russia-Ukraine war also resulted in a fall in cargo capacity used to serve Europe as several airlines based in Russia and Ukraine were key cargo players. The zero-Covid policy in China led to capacity challenges due to flight cancellations because of labour shortages.
European carriers saw a 14.4% decrease in cargo volumes in April 2022 compared to the same month in 2021. The 'Within Europe' market fell significantly, down 24.6% month on month owing to the Russia-Ukraine war. Labour shortages and lower manufacturing activity in Asia due to Omicron also affected volumes. Capacity fell 0.2% in April 2022 compared to April 2021.
Max Philipp Conrady, VP of Cargo Development at Fraport AG, a German transport company that operates Frankfurt Airport and holds interests in the operation of several other airports around the world told The STAT Trade Times, "Air cargo capacity will remain limited, especially on routes between Asia and Europe. In addition to the restrictive Coronavirus policy and further possible lockdowns in China, airspace closures due to the war in Ukraine are also contributing to limited capacity. For example, European, South Korean, and Japanese airlines have had to limit their payload on these routes due to the greater distance. In addition, sanctions on Russian airlines are also squeezing air cargo capacity. Staff shortages at airports can further reduce handling capacities for air cargo shipments, even though our tremendous efforts in recruiting showed up to be finally successful."
However, he believes that despite all these factors, demand is likely to remain at a high level due to the strained supply chains and the continuing problems in the ocean freight sector.
How have Euro airports fared in 2022?
Speaking about the first two quarters, Markus Heinelt, Director of Cargo Development at the Munich Airport (MUC) told the publication, "From January until May we experienced a much stronger improvement in cargo volumes at Munich Airport compared to the same period of the previous year than any other German airport. Cargo tonnage doubled at MUC thanks to the strong recovery of belly freight while cargo-only volumes also remained at the same high level as in 2021, whereas the total volume in Germany actually declined by - 2.5%."
Heinelt added, "On the whole, however, cargo is booming in Munich, especially freighter traffic. While integrators handled an additional 8 percent more cargo in Munich than three years ago, the volume of other cargo-only traffic has tripled. This is primarily a result of the limited belly capacity due to fewer passenger flights. This concerns in particular the Far East traffic. The suspension of flight connections via Russia and direct passenger traffic with China has brought e.g Air China Cargo flights to Munich."
He added that while direct traffic to Japan and India needed improvement from 2019 levels, the cargo volumes to and via Thailand increased by 55% compared to the same period in 2019. The volume generated on the Gulf routes also suffers from the shortfall of fewer flight numbers in the direction of the Far East. However, the airport is already seeing a positive turnaround with a 13 percent increase in the Qatar connection.
On the busiest trade lanes, Heinelt said, "We are very excited that the important US market is already 11% above the 2019 volume; reaching a volume of 3,464 metric tonnes. More flights with belly capacity are offered than before the pandemic and Qatar Airways' additional B777F connection to Chicago also contributes to this."
Meanwhile a significant business development namely the FedEx Express and European operator TNT Express's physical integration that led to FedEx moving forward with Paris CDG as its primary hub and Liege in Belgium as its secondary hub has affected the fortunes of Liege Airport.
Torsten Wefers, VP of Sales & Marketing, Liege Airport said, "Around 360,000 tonnes (were processed) in the fourth quarter of 2021, the decrease in volumes in 2022 is due to decreased FedEx traffic (moved to Paris CDG) and Covid-restrictions in China. The busiest trade lanes are China and the US."
Industry leaders agree that the development of Europe's air cargo market is currently highly volatile and dependent on the war in Ukraine, sanctions on Russia and Russian companies, Covid-lockdowns, especially in China, and the limited worldwide availability of cargo aircraft.
Speaking on the market segments that saw the most movement despite the geopolitical shocks and volatility, David van der Meer, Cargo Partnerships Director, Amsterdam Airport Schiphol told the publication, "In 2021,1.6 million tonnes of cargo were processed at Schiphol Airport and the 2022 figures look to be stable or slightly lower but not significantly. We are seeing very healthy market demand. The largest segments by volume coming through Schiphol are high-tech (from Asia), perishables and flowers (from Asia, South/Latin America), and automotive parts (from Europe/the US)."
Giving details of the air cargo segment at Frankfurt Airport, Philipp Conrady of Fraport AG said, "In the first quarter of 2022, the amount of cargo handled at Frankfurt Airport was down by 7.9% to about 520,700 tonnes. Compared to the pre-crisis year 2019, a loss of 1.2% was recorded. In the first five months of 2022, air cargo volumes decreased by 11.1% to around 863,700 tonnes. Compared to the pre-crisis year 2019, this results in a loss of 3.1%. For 2022, we expect cargo volumes to reach a maximum of the 2019 level. These figures put Frankfurt in line with the general trend, which saw declines in the order of 8-9%. However, demand here in Frankfurt remained continuously high."
In keeping with the general trend witnessed in European airports, there was a decline in cargo volumes to the Far East, the Middle East, and the transatlantic route while trade routes to Latin America and Africa bucked the trend.
Philipp Conrady emphasized that the busiest trade lanes where most cargo volumes were carried were on routes between Frankfurt and the USA, China, and South Korea. "This is similar to 2021, but the traffic development even among the various regions differed. While the Far East, as well as the Middle East, saw a larger decline of -13% to -14% compared to 2021, the transatlantic volumes went down only by 5%. Latin America and Africa resisted the general trend resulting in the growth of 3% up to 15% - even though on a smaller level volume-wise.
Market segments that did well
Air cargo recovered in the first half of the year and gained some lost momentum thanks to e-commerce, pharma, perishables, and live animals that remained high on the air cargo radar. Brussels Airport processed a total of 310,000 tonnes of flown cargo over the past two quarters, using the capacity of full freighters, integrator flights, and the belly capacity of the passenger flights.
Nathan De Valck, Head of Cargo Product & Network Development, Brussels Airport Company told the publication, "On a regional basis Asia was the largest region for both import and export, with China dominating our volumes in the region. Africa was the second-largest import region and third-largest export region. North America was the third-largest import region and second-largest export region. E-commerce remains a buoyant factor in cargo volumes, although the volume growth has softened in 2022. Also perishable shipments, predominantly flowers, are a key commodity being handled at Brussels Airport thanks to an efficient and quick handling process in place."
The Lufthansa Cargo Pharma Hub at Munich Airport flagged off in August 2020 has further boosted the cargo business, especially with temperature-sensitive pharmaceutical products. With the Aalsmeer-Schiphol region continuing to be the world's top flower-trading centre in the Netherlands, the Dutch airfreight flowers business continued to blossom and a reinforcement of the air bridge between Kenya and the Netherlands returned via Amsterdam Airport Schiphol.
Van der Meer added, "During Valentine's season this year, Amsterdam Airport Schiphol processed around 4,000 tonnes of fresh flowers – an increase of 15% from the same time last year because of the growth in freighter capacity at the airport. Schiphol also aims to re-evaluate our Pharma Gateway Amsterdam programme in the summer of 2022 in order to have it updated in Q3/Q4 of 2022."
Conrady of Fraport AG said that with some 2.32 million tonnes of cargo in 2021, Frankfurt Airport achieved a new all-time record for annual cargo tonnage thanks to airfreight which was the main driver behind this growth. Airmail continued to be affected by the lack of belly capacity on passenger aircraft.
He added, "In the German market the transport of live animals continued to develop above pre-crisis levels. This also applies to chemicals and consumer goods, among others. In particular, the increase in consumer goods shows the continued high importance of e-commerce. Overall, the general cargo segment remained the driver of the development at FRA."
Heinelt of Munich Airport added, "Currently, there are following regular freighter connections from and to Munich: DHL doubled flights into ten per week by adding EastMidlands operation, UPS and FedEx remain with 25 weekly freighter flights and Qatar Airways operates to Chicago and Doha twice a week. Turkish Cargo is offering a freighter connecting to Istanbul, Air China offers four weekly services to Beijing and Aero Trans Cargo (ATC) connects Hong Kong twice weekly."
Capacity augmentation
Even with the recent geopolitical challenges, Willie Walsh, IATA's Director General had recently sounded an optimistic note with the easing of China's lockdown restrictions and said that the supply/demand imbalance is keeping yields high. The Asia-Europe traffic has been amped up with capacity since the end of 2021
With more customers demanding air cargo solutions on the Asia-Europe route via Vienna or Chicago is a strategic starting point for distribution in the US Midwest.
Even with ocean diversions on both the US East and West coasts, vessel backlogs, plenty of ocean-to-air conversions as a result, and longer transit times between Asia and to North American East Coast, the transatlantic trade lanes in both directions saw a lot of movement and grew despite the capacity constraints compared to pre-pandemic levels. This was also due to the belly capacity owing to passenger travel returning to the skies between Europe and North America in March-April.
However, impediments in air cargo capacity began in March after hundreds of aircrafts were stuck in Russia after Russian forces confiscated foreign-owned aircrafts. Russian-owned AirBridgeCargo and CargoLogic were further banned from operating in Europe and the US after Russia's invasion of Ukraine began at the end of February. Trans-Atlantic capacity was slated to have made a return to normal pre-pandemic levels owing to stringent Covid-19-led lockdown restrictions in China and the closure of the Russian air space.
Technological disruptions like automation and machine learning are also slated to fuel the air cargo market and thereby change the supply chains significantly.
Heinelt of Munich Airport says, "By growing continuously we can now count on the belly capacity of approximately 270 weekly long-haul passenger flights. As mentioned earlier we are very content with the recovery of the US traffic and the fact that we offer more flights from and to the US than we did before the pandemic. Asian traffic is coming back slowly. Nevertheless, we expect also one new top Asian airline by November. And, we expect China traffic to normalize with the beginning of the summer flight schedule 2023."
Liege airport continues to be an Ethiopian Airlines Cargo hub serving as a freighter gateway between Africa and Europe and now also encompasses the Americas and Asia. Liege airport's Torsten Wefers said, "Ethiopian was and is a very important strategic partner for Liege Airport and will be even more important in the future. ET Cargo is steadily growing its Africa-EU freighter programme but even more significantly its programs to/from the Americas and Asia."
The number of freighter movements at Brussels airport has also reportedly declined compared to last year, especially due to a decrease in the number of passenger freighters.
"This type of cargo capacity using passenger planes is expected to further decrease until the end of July due to the recent EASA safety regulations. We also saw a small decrease in the integrator flights during the first half of 2022. We expect the freighter flights to increase again in the next quarters, partially driven by additional freighter capacity being deployed by Air Belgium," added De Valck of Brussels Airport Company.
Euro airports boost infrastructure for cargo biz
Even as air freight is straining under the twin pressures of high demand and disruption from lower capacity and labour shortages, airports are busy building infrastructure and implementing cargo plans to plan for capacity augmentation.
Heinelt of Munich Airport said, "We are in the process of a short, medium, and long-term cargo planning. An important new infrastructure project is the construction of the 8,000 sqm DHL Gateway in an area of approx 19,000 sqm. Construction work will begin next month. The opening is planned for 2023 and will give another strong boost to our cargo business then."
Schiphol Airport restructured its cargo department last year, and an overall cargo strategy has been devised for 2022. Van der Meer revealed that Schiphol has set out to achieve more alignment between the former 'marketing & account management' department and airport operations and continues to strengthen its Smart Cargo Mainport Programme.
Even before the pandemic, space constraints at the airport had been affecting freighter operations due to flight slot limitations and had dragged down Schiphol's annual volumes in January 2020.
However, cargo volumes at Dutch hub Schiphol had climbed during the first six months of the year as freighter volumes rapidly increased. The airport saw cargo volumes reach 837,671 tonnes in the first six months of the year, which is an increase of 27.7% from last year and 9.1% in the pre-pandemic year of 2019.
Addressing the issues of slot limitations on freighters and Emirati airport services provider dnata's plans, he added, "dnata is planning to deliver a state-of-the-art cargo handling facility in 2025, expanding to 61,000 square meters of handling facilities, investing 200 million euros and aiming to process over 850,000 tonnes of cargo. As we see the percentage per belly freight drop owing to flights being canceled as a result of labour shortages in passenger processing, we will do our utmost to keep slots available for full freight flights."
Meanwhile, Liege Airport is also in the process of developing and upgrading both its airside and landside infrastructure. Wefers told the publication, "Based on its master plan in the next coming years' additional aircraft stands, taxiways, first-line warehouses, and a widebody MRO facility will be developed. Recently a new ring road around the airport has been completed. With its local partners, Liege Airport will also significantly develop second-line warehouse space dedicated to the further growth of the forwarder activities/community in LGG."
In Europe, Frankfurt Airport ranks first in terms of cargo tonnage and was the fourth-busiest gateway for passenger traffic in 2019. Philipp Conrady of Fraport AG said, "Digitisation resulted in an enhanced resilience of the cargo-hub in total. With regards to landside traffic, slot booking or registration for entering the CargoCity is possible without personal contact with the help of a digital solution. Both solutions are also working together, so while booking a slot at a cargo handling facility the registration to enter the airport premises is already completed as well."
He added, "Another digital development at Frankfurt Airport is the launch of the "FRA-OS Import" data exchange platform for inbound processes. We will continuously expand this tool during 2022 and onwards to enable its use for other processes beyond the import of goods."
Brussels Airport will reportedly invest 70 million euros over the next three years to redevelop a large area located in the heart of the cargo activities. The redevelopment of the central area of the cargo zone and the development of new cargo buildings and offices on the airport site is expected to allow the airport to welcome new partners and offer them warehouses and offices that are larger, more efficient, more modern, and more sustainable.
"After the development of Brucargo West, the new Animal Care and Inspection Centre, and the new Swissport Cargo building in the past two years, the development of the cargo area is thus continued in order to meet the growing demand for capacity. We continue to see strong growth in demand for warehouse space to handle e-commerce, perishables, and pharmaceutical shipments. We will also be expanding our landside warehouse capacity by 25% in the coming years," said Nathan De Valck of Brussels Airport Company.