Amazon Air - Getting Bigger, Bigger & Better
Amazon Air is expanding overseas, adding capacity in cargo airlines and flying more planes in the U.S.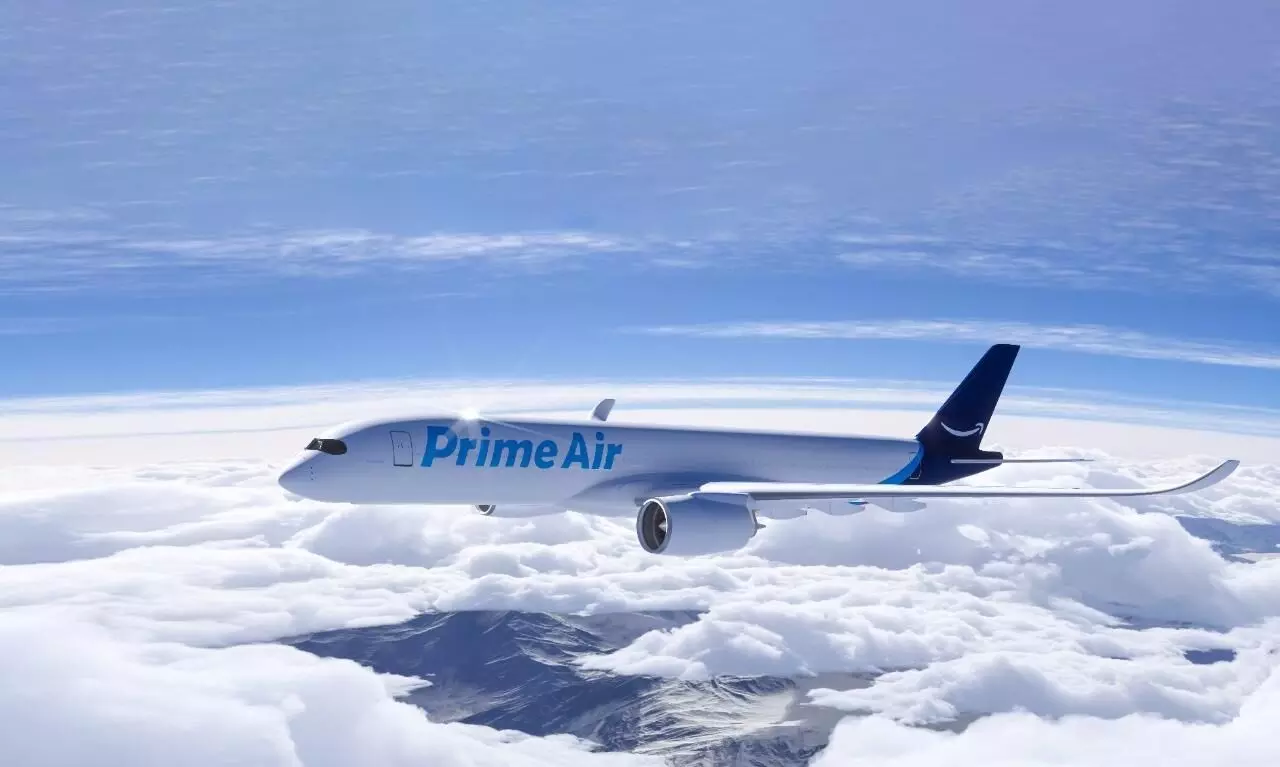 E-commerce behemoth Amazon may soon be ruling the cargo skies with its Prime Air criss-crossing the globe, outpacing giants like Fedex and UPS.
Amazon Air's fleet, now reportedly 88 planes, could surpass 100 by the end of 2022, "a notable achievement considering the modest slowdown in economic growth underway and dramatic increases in jet fuel costs," says Chaddick Amazon Air Brief No. 6, an independently produced review of Amazon Air's initiatives by the Chaddick Institute for Metropolitan Development at Depaul University.
The brief, authored by Joseph P. Schwieterman, Borja González Morgado and Abby Mader, says: "Although our prediction roughly 20 months ago that Amazon Air would have 200 planes by 2028 was speculative, it remains in our view reasonable. In fact, it may be conservative, considering that Amazon Air is now acquiring turboprops and that, when the partner network is included, it may already account for 110+ planes regularly in service."
Other predictions for 2022 include:
*Addition of 4–5 more cities, supported by the delivery of at least one more ATR -72.
*Strategic shift in flying due to the acquisition of Boeing 777 freighters for transoceanic missions.
*More expansion at its largest hubs Cincinnati, Fort Worth, Riverside, San Bernardino, and Wilmington.
*Amazon intended to rapidly pivot toward a more centralised flight network akin to that of FedEx and UPS, it would have already made a move to do so at Cincinnati/Northern Kentucky International Airport (CVG).
* Announcements that the company will deepen its foray into the third-party logistics business.
How Amazon Air is different from FedEx, UPS
Amazon Air relies on contractors to do all its freighter flying, an approach differing from FedEx and UPS. Although 85+ planes are registered to Amazon Air and bear the retailer's familiar "smile" logo, Amazon Air does not have an airline operating certificate (AOC). Its contractors, in turn, provide flight crews and maintenance as well as most of the loading/unloading of planes.
The analysis by Joseph P. Schwieterman and others indicate that Amazon Air is primarily designed to support inventory movements between warehouses and fulfilment centres. The analysis suggests that the airline's role in handling packages on their way to customers' doorsteps (which is mostly handled by truck and van) and third party shipping (i.e., shipping for customers not part of the Amazon supply chain) has been limited.
Even so, speculation is growing that this will change, and that Amazon will more aggressively enter the third-party shipping business in direct competition to FedEx and UPS. Amazon's contractors include Air Transport Services Group (ATSG), Atlas Air, ASL Irish Airlines, Sun Country and Silver Airlines. Amazon has bought a minority equity stake in ATGS and Atlas Air, deepening its air-cargo roots.
Comparison: FedEx had 680 aircraft and UPS had 595 aircraft as per the latest figures available on the company websites.
With 2021 revenue of $497 billion and logistics spends of over $150 billion, Amazon, very nearly, has no comparison in any logistics space - air, sea or land.
"Amazon's logistics costs have skyrocketed over the past decade with shipping and fulfilment costs growing almost 40-fold between 2009 and 2021, according to this report from Statista.
"Last year alone, the company's shipping costs, which include sortation and delivery centres and transportation costs, amounted to $76.7 billion with fulfilment costs (e.g. costs of operating and staffing fulfilment centres) adding another $75.1 billion to a hefty logistics bill. While Amazon's revenue also grew more than 20-fold since 2009, that wasn't enough to offset the surge in logistics costs. In 2009, shipping and fulfilment costs amounted to 15.6 percent of net sales. By 2021, that share had risen to 32.9 percent."
No wonder, Amazon Air, formerly known as Amazon Prime Air, is back in focus after starting operations in 2016.
Amazon Air, a cargo airline operating exclusively to transport Amazon packages, changed its name from Amazon Prime Air in 2017 to differentiate from its autonomous drone delivery service. The Prime Air logo, however, remains on the aircraft.
U.S. hubs and gateway facilities
In February 2022, Amazon Air launched its gateway operations in Nebraska "to serve customers in Omaha, Iowa and throughout the broader region," wrote Sarah Rhoads, Vice President, Amazon Global Air, in her LinkedIn post.
In 2021, Amazon Air officially began operations at the Cincinnati Northern Kentucky International Airport site "and welcomed the first of over 2,000 dedicated Amazonians who will bring this $1.5 billion investment in the Northern Kentucky region to life."

The facility, which spans over 600 acres, was to operate dozens of flights per day and process millions of packages every week, Rhoads had added.
Also Read: Sun Country makes its first cargo flight for Amazon Air
"The Amazon Air Hub is unlike any other site in our network, equipped with innovative uses of robotics technology to transport and sort packages. The hub features mobile drive units that move packages quickly across the floor, ergonomic workstations that support a comfortable work environment for employees, and our Robin robotic arms that inject packages onto robotic drives. We also designed this facility from the ground up with sustainability in mind, with a solar rooftop panel installation scheduled to take place over the next year. This will be the only installation of its type in our network that will feed all power generated directly into the electrical grid of the local community."
The facility, Rhoads said, will serve as the hub of operations for an interconnected network of more than 40 sites where Amazon Air exists. "It also helps to facilitate the rapid transport of customer packages throughout the U.S., including this area and the surrounding regions. We are devoted to supporting our customers and are humbly proud that this facility will be a reflection of our operational excellence to best serve our customers' needs."
Amazon Air steps up Europe focus
Amazon Air has increased flight activity by another 14 percent, not including added lift by partners, and invested heavily within Europe with Irish partner ASL expanding flights to more than 38 daily, the Chaddick brief said. It has emphasised scheduling in narrow time intervals at its Cincinnati (CVG) and Wilmington, OH hubs. It has also expanded its network to be within 100 miles of 73 percent of the U.S population; and began using turboprops, giving it greater capability for third-party shipping.
"The owned subsidiary of retail giant Amazon made notable moves during autumn 2021 and early 2022 that gave it a stronger presence in Europe, and put it in a position to challenge FedEx and UPS for certain kinds of business," says the Chaddick Amazon Air Brief.
"Amazon Air's intra-Europe operations grew from eight to 18 daily flights from August 2021 to March 2022 even while a much larger network of partner flights involving planes that are not registered to Amazon Air emerged. These complementary networks appear to now encompass around 38 daily flights serving eight cities. Many partner flights operate with Boeing 737s that its contractor, ASL Airlines, acquired during an autumn growth spurt."
Amazon Air flight activity increased 14%
The analysis found that Amazon Air increased daily flights from 164 in August 2021 to 187 flights this month, a 14.3 percent increase "based on our review of five representative days of operations."
"At the Cincinnati CVG hub, which formally opened in August, Amazon Air grew steadily but not dramatically. To our surprise, the airline has not yet made a major move there since its opening. The super hub is not, at least for the moment, dramatically altering the airline's geographic orientation. Amazon has noted that CVG could see 100 planes daily, but it currently sees only a small fraction of that number."
(Credit: Chaddick Amazon Air Brief)
Nearly three-quarters of the U.S. population is now within 100 miles of an airport served by Amazon Air, up from about 60 percent a year ago. "Newly acquired ATR-72 turboprops and flights to smaller cities – together with Amazon's deepening relationships with other cargo airlines."

Overseas flying - coming within 2 years
The analysis pointed that "significant transoceanic flying is coming due to the mounting supply chain problems facing nearly all retailers and the sheer scale of Amazon's logistical needs. Bringing more transoceanic shipping "in-house" will give it heightened control over its supply chain. The deal announced in September to extend Amazon's business relationship with Atlas Air Worldwide another 20 years is an example of how it seeks such heightened control. This deal provides Amazon warrants to acquire up to 20 percent of Atlas's stock and mirrors a move it made in early 2021 to acquire a minority stake in ATSG, another of its major air-cargo contractors.
"Reports emerged in October that Amazon is considering acquiring Boeing's 777-300ERs and Airbus's A330-300s (after their conversion to freighters) for transpacific use, including flights from China. Both models have considerably more payload capacity than Amazon Air's current planes, suggesting that a strategic pivot may be in the offing. As noted above, however, changes to its supply chain will be gradual and likely take the form of experiments to help Amazon assess the benefits and costs. We believe the airline will move slowly into transoceanic flying over the next two years, likely with a dozen or fewer planes, but the longer term could bring a much more robust expansion."