Sun Country makes its first cargo flight for Amazon Air
Sun Country Airlines flies its first cargo flight for Amazon Air using a Boeing converted 737-800 freighter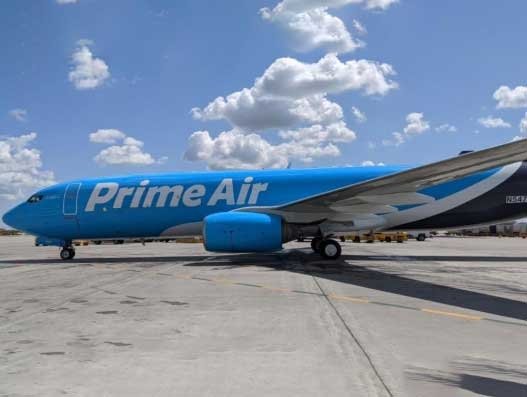 In less than five months after Sun Country Airlines entered into an agreement with Amazon Air to fly cargo boxes for the eCommerce giant in the US, the first of its ten Boeing 737-800 converted freighters conducted its first flight on Thursday (May 7) from Florida to Cincinnati-Northern Kentucky International Airport (KCVG), the home of Amazon Air Hub that will open in 2021.
The latest cargo plane joins the Amazon Air fleet that will total 70 aircraft by 2021, operating over 25 air gateways and regional air hubs nationwide, all helping Amazon to deliver orders to its customers in communities across the country as fast as possible. This is part of Amazon's aggressive investment strategy to provide fast and free shipping for customers. Over the next few months, nine more Boeing 737-800 converted freighter aircraft will become part of the Amazon Air fleet to be operated by Sun Country.

Impression of the Amazon Air Hub that will open in 2021
at Cincinnati-Northern Kentucky International Airport
Amazon will sublease the ten aircraft to Sun Country, increasing the airline's Boeing 737-800 fleet to 39 aircraft. Sun Country will operate the aircraft on behalf of Amazon under its FAA air carrier certificate.
At the International Paris Air Show last year, Amazon Air announced a partnership with GE Capital Aviation Services (GECAS) to lease an additional fifteen Boeing 737-800 cargo aircraft. These fifteen aircraft will be in addition to the five Boeing 737-800s already leased from GECAS and announced earlier in 2019.
The partnership with Sun Country Airlines was announced in December 2019, just a month before the novel coronavirus was widely known. As the demand for passenger flying sank and cargo flying grew, the decision by Jude Bricker, the chief executive of Sun Country Airlines, appeared to come at a perfect time and may prove to be the airline's saving grace.
Amazon Air's operation launched in 2016 supporting package delivery to the rapidly growing number of customers who love fast delivery, affordable prices and vast selection. With advanced algorithms and software used for capacity and route planning, the Amazon Air operation can transport hundreds of thousands of packages per day.
Amazon does not directly operate its fleet of cargo planes under its Amazon Air brand, instead it partners with others like Atlas Air, Southern Air, ATSG and now Sun Country.
Amazon recently opened new air facilities at Fort Worth Alliance Airport, Wilmington Air Park, and Chicago Rockford International Airport.
The Sun Country partnership is a first-of-its kind for a scheduled service passenger airline.