Women in cargo make the right move amid pandemic
Amid coronavirus, when the air cargo industry witnessed busiest hours, female leaders kept the business moving and invite more participation from women into the world of cargo.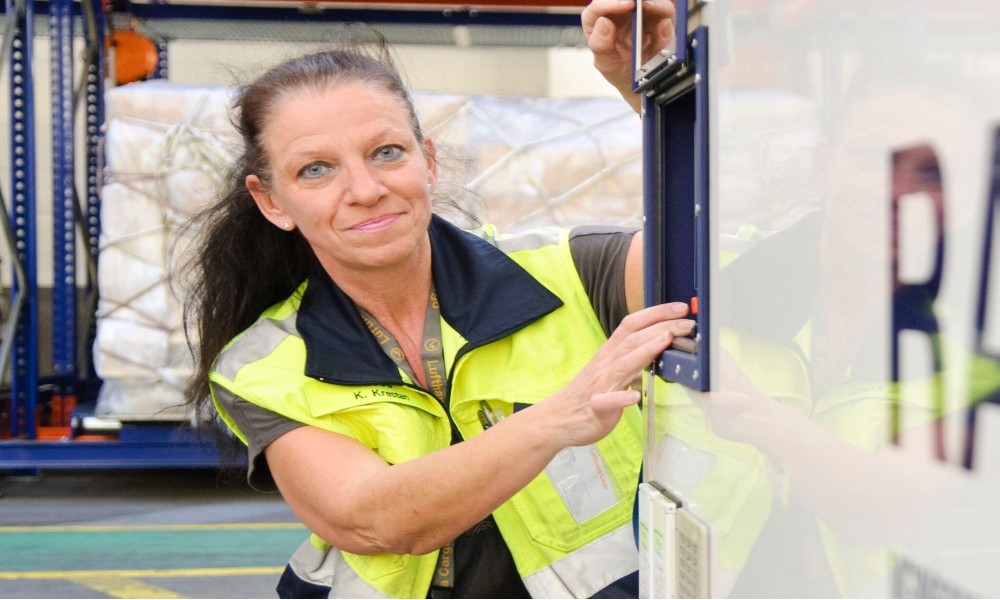 Though the women representation in the aviation industry has seen a steady increase, still there is a certain gap existing to be filled in the leadership positions. Amid coronavirus, when the air cargo industry witnessed busiest hours, female leaders kept the business moving and invite more participation from women into the world of cargo.
'Women in leadership: Achieving an equal future in a Covid-19 world', the theme announced by the United Nations for International Women's Day (IWD) this year turns out to be appropriate for the women in air cargo who tried/tries to manage work from home, a culture adopted globally since March 2020.
Vivien Lau, executive director of Hong Kong Air Cargo Terminals (Hactl), says, "One benefit of the lockdown period is that there is less business travel, i.e., more time is spent at home with families. I believe strong teamwork is very important. I am very grateful to my team who provide excellent support even when we have to work remotely. It was the case when I was away on frequent business trips and is just as evident now that we are working from home."
In times of crisis, it is essential to assist the industry with any support and information available to address the challenges identified. IATA cargo team engaged with several international organisations as well as authorities to ensure information was shared in a collaborative way to allow for the right planning across the temperature-controlled supply chain.
Andrea Gruber, head, special cargo at the International Air Transport Association (IATA) notes, "Working from home was a challenge for everyone, male or female. The most important thing was to find the right balance between providing the necessary support to the industry and one's well-being."
As vice president of aviation at DHL Express Asia Pacific, Dr Ingrid Raj leads a high-performing team of aviation professionals, where she manages and drives network performance to ensure it achieves industry-leading transit times, strengthening partner relations with third party carriers and vendors, and optimising hub and gateway facilities.
"The Covid-19 crisis shoved work and home lives under the same roof for many families like ours, and while we cannot control the external environment, we can control how we respond to it. When I realised there was no alternative to working from home, the first thing I focused on was creating an environment at home, where all family members can thrive so we can all be at our best," Raj observes.
Nallian works together with various universities and colleges to inspire young people, regardless of their gender, about the world of logistics. The company always hire based on competence and attitude, not on gender. As a result, the team consists of various women serving different positions, from C-level management to IT and operations.
Sara Van Gelder, cargo community solution manager, Nallian, observes, "If we wish to empower women, I think we should let go of the stereotypes of women running the household."
Supporting Van Gelder's opinion on breaking the stereotypes in managing households, Lyndee du Toit, CEO, Air Charter Service (ACS) South Africa, says, "Once I had adapted to the initial change of working from home, it became a normal routine. I was lucky enough to have a great support structure at home and we each did our bit to ensure the household ran smoothly while our business carried on. You have to be able to balance personal and business life on a good day. It was just about adapting and making the necessary changes to continue a routine which just became the new normal."
As the quote from Winston Churchill says, "Never let a good crisis go to waste." Through everything that has happened around the world and in the industry during the last year, American Airlines Cargo tried to apply that saying by looking for positive lessons to learn through the challenges.
Angela Hudson, head of transformation, American Airlines Cargo, says, "Working from home takes good organisation, time management and dedication. Finding my own office space at home was the first challenge. Balancing shared workspaces with people at home came with its unique distractions, but I was, fortunately, able to carve out a space for conference calls and work. I look forward to being back in the office on a more normal schedule."
Commenting on choosing the cargo industry as a career, Hudson states, "Yes, the cargo industry was a choice for me. There is never a dull moment in the cargo world, which is motivating. Every day offers new and different opportunities to challenge ourselves. We have an industry ripe for innovation and creativity, and I'm excited to be a part of it."
Lau originally joined the parent company, Jardine Matheson Group and was later shifted to Hactl. "Since I started to work with Hactl and its subsidiary Hacis in 2012, I quickly found that the air cargo industry is like a magnet and can no longer pull myself away! I like the people in this air cargo community. It is not about gender, but the desire everyone has to make this industry better."
Raj has accumulated over three decades of experience in the management of aviation and network operations across more than 40 countries and territories in the Asia Pacific. Before joining DHL Express in 2007, Ingrid honed her craft for nearly 14 years at Lufthansa Cargo. She was appointed to the board of Tasman Cargo Airlines in July 2019.
She says, "I had certainly received a few strange looks early in my career but had never let it bother me. Always fascinated by the world of aviation, I started on the passenger side of the business and moved to cargo in 1991 when I had the opportunity to work on a project in the Middle East that involved establishing a cargo hub in Sharjah. This experience re-established my deep-rooted passion for aviation while opening me up to a whole new world of logistics and airfreight. The rest as they say is history."
After obtaining a Master of Science in International Relations, Gruber applied for a position at the International Road Transport Union (IRU) where she started her career in the claims department. Her skills and competencies were recognised, thus she led as the head of a division implementing at the customs and business level, tools to assist the application of risk management.
"After 11 years in the transport industry, I joined the IATA cargo division. I5 have never found that being female has been an issue to progress and develop within the organisation. On the contrary, I managed to establish an excellent reputation in the industry for leadership, knowledge, passion and dedication to the special cargo activities," she mentions.
Being responsible for the IATA Regulations related to the transport of pharmaceutical, healthcare and life-science products, including vaccines, by air, the organisation did not doubt as to who should be taking the lead on this area of activity and provided Gruber with full support. One of her most significant accomplishments was the development of Guidance for Vaccine and Pharmaceutical Logistics and Distribution. This document provides a set of considerations and awareness on the large scale handling, transport and distribution of vaccines and pharmaceuticals and how the airfreight industry, government and authorities prepare themselves for the logistic challenges.
At ACS, regular communications with both customers and suppliers helped the group to procure accurate information in an ever-changing environment.
Du Toit, says, "I was initially working with passenger charters. My company at that time started to do a few cargo charters and I enjoyed this avenue more than the passenger work, so I took every opportunity to work on these flights. I would volunteer to travel to any place to see off a flight or project. I was determined to learn as much as I could and to get my foot in the door. I was always determined to succeed and never allowed the fact that it was a heavily dominated male industry to deter me."
Van Gelder developed an interest in logistics and supply chain during her studies, which also impacted the choice of her Masters. She comments, "When I graduated, I started looking for jobs in logistics. Since my hometown where I grew up is closely located to the airport and my father was already working at BRUcargo, it came more as a natural step to join BRucargo as my second job when an opportunity opened up there. To be honest, the idea not to start working at BRUcargo or in the air cargo industry, because it was more 'masculine' never even crossed my mind. I always had the chance to work together with people who would rather judge me on my capacities than on my age or gender."
On September 26, 2019, IATA launched the 25by2025 global initiative to change the gender balance within the aviation industry. It is a voluntary campaign for IATA member airlines to improve female representation in the industry by 25 percent, or up to a minimum of 25 percent by 2025.
Gruber states, "There is more to be done to encourage women into the sector. The pandemic has led many events to be more accessible in a virtual environment. Everyone is attending online webinars in the past 10 months, how many women are members of the panel? The percentage is still quite low and companies should take the opportunity to allow greater visibility to their industry experts not only women but young professionals as well. Also, the air cargo industry has several women leaders, and research has shown that women are better leaders during a crisis, which is an interesting lesson learned and to be considered in shaping our industry differently."
Hactl has always practised female empowerment and equality. It has an active recruitment and management trainee programme that focuses strongly on roles and opportunities for females as well as males, and this has already resulted in 15 percent female uptake. Hactl senior management is 40 percent female, while overall female employment is currently at 13 percent.
"There are many women leaders in this industry now, holding key positions in airlines, integrators, LSPs, industry associations and handling companies like Hactl. More female role models may help to attract more female personnel, who can then introduce greater insight and empathy on issues such as working mothers, family matters and achieving a satisfactory work-life balance," Lau says.
Together with the Asia Pacific aviation team, DHL Express spearheaded network contingencies like doubling daily intra-Asia rotations, quick-turnaround of flights to mitigate the impact of authority restrictions, creating a new network for Australia / New Zealand, implementing charters with new partners where commercial flights no longer exist (e.g. Mongolia, Bhutan, Laos, Cambodia, Myanmar, etc.), as well as continue to find effective ways to cope with stricter crew testing measures.
"While the air cargo industry is still somewhat perceived as a male-dominated industry, I believe it is a shared responsibility for both men and women to continue to raise the ceiling for gender fairness while creating platforms and opportunities to encourage gender diversity. For me, diversity is not just about the inclusion of women in the workplace, but about creating a workplace that is not biased e.g. against age, disability, ethnic, religion, nationality, sexual orientation, race or gender, and rates every employee by merit, contribution and experience," Raj comments.
Nallian did see that digitisation came higher on the agenda for most air cargo stakeholders. It created some positive side effects; a digitalised and paperless process just makes social distancing easier. The collaborations with its international customers have changed a bit since all workshop, brainstorms and training to get applications launched had to happen online over different time zones.
Van Gelder, says, "I truly believe that diversity would positively impact our industry, and its ability to innovate, digitalise and be agile and ready for the future. Gender diversity is only one of the aspects. It should be a strategic choice of all actors active in our industry to put diversity high on the agenda. Programmes to stimulate that diversity are great, but I have the feeling that quotas should only be used to give a push in the right direction and never should be a structural approach. A long way to go, but also extra opportunities should be provided for women to help them to make a difference in our industry. And always 'ring the alarm' when you are judged based on gender, race, cultural background rather than on your capacities."
Du Toit firmly believes that there are a lot more women now than it was when she started. Speaking on the initiatives to encourage women to join this industry, she says, "I have always taken the time to speak to any woman and give her encouragement to persevere in this industry. I am still involved in some passenger events and have managed to get a number of these companies to deal with us for their cargo requirements. The passenger market in South Africa is quite dominated by ladies. It is amazing how many of them have since booked with us or just changed their perception of what cargo means."
American Airlines has some incredible women-led organisations. These groups foster and support issues that are specific to women in the workplace and provide a path for women to connect and encourage each other. Hudson notes, "We have amazing senior leaders at American who are paving the way through mentoring programmes and other initiatives to allow us to be more intentional about building diverse teams across our company."
At DHL, an initiative DHL4Her is aimed at grooming female talent and augmenting gender diversity in the workplace. Raj says while successful women leaders need to inspire and lift one another, the diversity in the workplace should not be limited to individual success stories.
She concludes, "Inspire our female leaders by being a role model and increasing the visibility of female talent within DHL Express and beyond, and to help encourage and empower the next generation of female leaders. Connect as many of our female leaders regionally and globally, and drive the recruitment of female talent. Develop and create opportunities for women to reach their full potential, and nurture their development through mentorship and one-on-one coaching. We need to take charge of our career and not remain the best-kept secret of our organisation."
As the 2021 theme of IWD is #ChooseToChallenge, its website states, "A challenged world is an alert world. Individually, we're all responsible for our thoughts and actions – all day, every day. We can all choose to challenge and call out gender bias and inequality. Collectively, we can all help create an inclusive world."