Wing to conduct drone delivery tests in US with FedEx and Walgreens
Sep 19, 2019: 'Drone deliveries coming soon' says FedEx, as it announced about collaboration with google sister company Wing and drugstore chain Walgreens, to introduce drone deliveries in the US. FedEx Express, in the official release said: "Drone delivery in the United States has historically been limited to small-scale demonstrations on designated test sites, or […]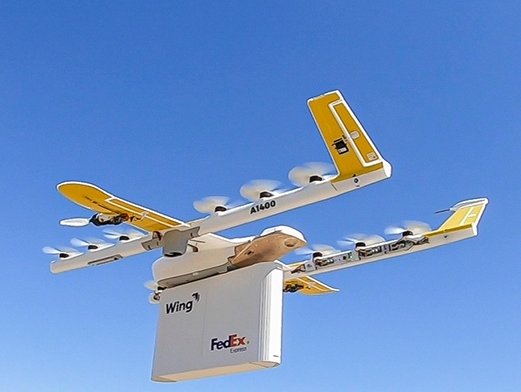 Sep 19, 2019: 'Drone deliveries coming soon' says FedEx, as it announced about collaboration with google sister company Wing and drugstore chain Walgreens, to introduce drone deliveries in the US.
FedEx Express, in the official release said: "Drone delivery in the United States has historically been limited to small-scale demonstrations on designated test sites, or extremely short flights along pre-planned, fixed routes – all within the visual line of sight of the drone operator."
The pilot tests will be conducted in Christiansburg, Virginia next month. Christiansburg was selected as the pilot location because Wing has been closely partnered with neighboring Virginia Tech's Mid-Atlantic Aviation Partnership (MAAP) for the past several years.
Earlier this year, Wing became the first drone operator to be certified as an air carrier by the Federal Aviation Administration, allowing it to deliver commercial goods to recipients that may be miles away.
The pilot programme will be used to deliver food, beverage, over-the-counter medicines, informed the Memphis-based logistics giant through its official release.
FedEx customers who live within designated delivery zones in Christiansburg, Virginia, and who opt in to the Wing delivery service, will be able to receive their packages via drone during the trial, provided certain operating conditions are met.
Wing's pilot programme in Virginia will be conducted as part of the US Department of Transportation's Unmanned Aircraft System Integration Pilot Programme (IPP).
Hello Christiansburg, Virginia! This Fall, we're collaborating with @FedEx and @Walgreens to launch a drone delivery pilot program to transport goods to residents of Christiansburg. Read more at https://t.co/BtqGe0LJFl pic.twitter.com/MqguRCYzPM

— Wing (@Wing) September 19, 2019
"Wing has spent the last seven years developing a delivery drone and navigation system for this purpose," said Wing CEO James Ryan Burgess.
Also as part of the trial, Wing is working with beloved local Southwest Virginia retailer, Sugar Magnolia, to make a range of sweet and savory treats, gifts, stationery, and paper goods available for local residents to order by drone.
"FedEx is constantly innovating and testing solutions to meet growing customer needs, and we are excited to add this pilot to our portfolio of first in-kind innovation," said Don Colleran, president and CEO, FedEx Express.
Vish Sankaran, chief innovation officer, Walgreens Boots Alliance, Inc said: "With this pilot, Walgreens will be in a unique position to capitalize on the convenience of drone delivery if and when it should expand, with approximately 78 percent of the US population living within five miles of a Walgreens store."
This new offering comes as many others companies like DHL, UPS have decided to enhance delivery capabilities with introduction of drone deliveries.
UPS and its partner, Matternet, currently operate special drone healthcare deliveries of medical samples under FAA Part 107 rules at WakeMed hospitals in Raleigh, N.C.
DHL launched fully-automated urban drone delivery service in South China, earlier this year, to tackle the last-mile delivery challenges. For this, it partnered with autonomous aerial vehicle company EHang.