Volga-Dnepr takes delivery of its first Boeing 777 freighter
Russian all cargo carrier Volga-Dnepr group has taken delivery of its first Boeing 777 freighter painted in the colours of AirBridgeCargo Airline, a group company.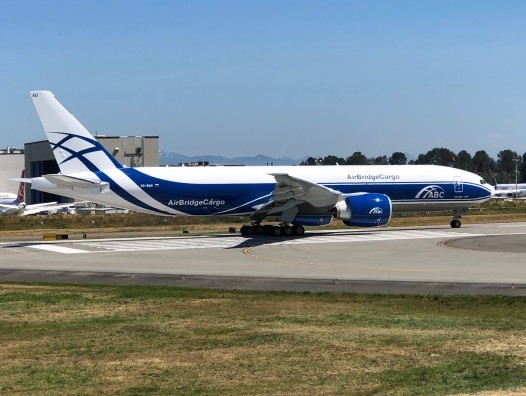 The acquisition is being undertaken in partnership with Dubai Aerospace Enterprise (DAE), the Middle East's largest aircraft lessor. The latest addition to the fleet, according to a statement from Volga-Dnepr, is part of the 'Cargo Supermarket' strategy for the development of its unique cargo fleet.
Volga-Dnepr said that it is grateful to DAE for the support under conditions of an extremely difficult year for the entire world aviation (both airlines and leasing companies). "DAE allowed us to find solutions for the purchase and delivery of aircraft to our fleet," Volga-Dnepr said in the statement.
"Volga-Dnepr is dedicated to the development and optimal composition of the fleet, and believes that the 777F will allow it to take the next step in providing a more sustainable and efficient service to its customers," the statement said.
Volga-Dnepr Group, an international group of three all-cargo carriers (Volga-Dnepr Airlines, AirBridgeCargo Airlines, ATRAN Airlines), operates both charter and scheduled freighter flights to guarantee fast and seamless industry logistics solutions for its customers across the globe, using the unique fleet of An-124-100/150, Il-76TD-90VD, Boeing B747-8F, B747-400ERF, B737-800BCF and B737-400SF aircraft.
It was at the Farnborough International Airshow in 2018 that Volga-Dnepr announced its biggest order for the world's most efficient twin-engine production freighter from Boeing. In fact, Volga-Dnepr and its sister company CargoLogicHolding, which runs United Kingdom's only main-deck carrier CargoLogicAir, then signed a letter of intent to buy 29 Boeing 777 freighters. This was in addition to Volga-Dnepr's firm order for five B747-8 freighters at the airshow.
"While the group and its partners have largely built its business on very large four-engine freighters, it now plans to expand its future fleet options with a commitment for the twin-engine 777 freighter," said an official statement released then.
However, since the 2018 summer, when the orders were placed, the global air freight industry experienced declining demand quarter after quarter finally culminating in 2019 as the worst year of performance since the global financial crisis in 2009. To make things even more worse, 2020 opened with the Coronavirus scare which, seven months into the year, has now become a global pandemic bringing passenger aviation into almost a complete halt thereby wiping out the belly cargo capacities of long-haul wide-body aircraft.
Adverse market conditions earlier this year on account of China closing factories and borders on account of Coronavirus, which had its origin in Wuhan, forced CargoLogicAir to suspend its scheduled operations in February and park its fleet of two B747s. In late last year the UK all cargo carrier had already reduced its fleet from four aircraft to just two.
However, the demand for air freight surged sharply since March this year as demand for Covid-19 related healthcare products and personal protective equipment rose dramatically all around the world and they because the top priority for cargo carriers. CargoLogicAir was quick to seize the opportunity and got its operations back in April. Since then the carrier has made a significant turnaround.
With Boeing confirming its decision to end production of the four-engine jets in just few years, for Volga-Dnepr this could be the beginning of its fleet revamp. The B 777F offers a capacity of approximately 102 tonnes compared to the 747F's 138 tonnes, but the B777F can fly further and it is the most fuel efficient freighter.
Industry forecasts suggest that the air freight demand will continue to grow as the return of long haul wide body passenger traffic is going to be extremely slow and distant. The freight rates will fluctuate, but the yield is expected to be strong. All cargo carriers see these factors extremely favourable to them in the mid to long terms.
Cargo carriers are also looking at new markets to expand, particularly markets like India and Africa that have seen huge erosion of belly capacity on the intercontinental flights. AirBridgeCargo had plans to launch scheduled commercial services to India but the Covid-19 pandemic delayed the original plan.
However, in a recent interview to Bloomberg, Alexey Isaykin, president of the Volga-Dnepr Group of Companies, said that the "geography of the shipments is expanding, following the spread of coronavirus. "We just started shipping Chinese medical goods to Africa and are getting first inquiries from Latin America. I think India will be next," he was quoted in the above report.
AirBridgeCargo made its first commercial flight to India on July 24 when it flew into Mumbai to lift 80 tonnes of pharmaceutical cargo destined for O'Hare International Airport in Chicago via its hub in Sheremetyevo International Airport (SVO), Moscow. This was followed by the second commercial flight on July 29 carrying cargo destined for Russia, Europe and the US.