Virgin Atlantic Cargo awarded Cargo iQ certificate
July 19, 2019: Virgin Atlantic Cargo, a leader in cargo transportation to and from the UK, has been certified for its quality management system from Cargo iQ, the IATA interest group creating and implementing quality standards for the worldwide air cargo industry. The audit was conducted by SGS Societe Generale de Surveillance SA. Virgin Atlantic's […]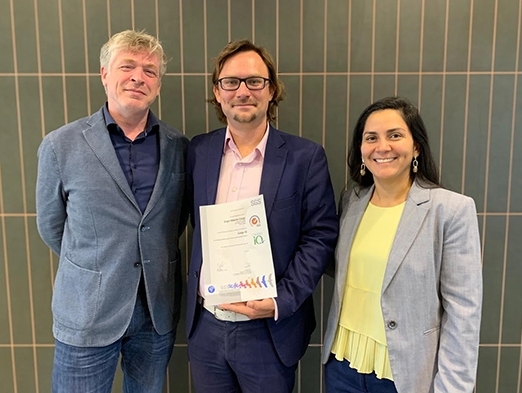 July 19, 2019: Virgin Atlantic Cargo, a leader in cargo transportation to and from the UK, has been certified for its quality management system from Cargo iQ, the IATA interest group creating and implementing quality standards for the worldwide air cargo industry.
The audit was conducted by SGS Societe Generale de Surveillance SA. Virgin Atlantic's certification follows a two-day on-site visit by SGS auditors, who looked at internal processes, including measures taken to minimise or eliminate shipment errors and provide customers with more visibility of shipment status. The airline demonstrated that its processes and services are compliant with Cargo iQ's quality standards.
Cargo iQ – which has more than 80 airline, freight forwarder, ground handling, road feeder service and IT provider members – is a system of shipment planning and performance monitoring for air cargo based on common business processes and milestones. Its Master Operating Plan (MOP) describes the standard end-to-end process of transporting air cargo and gives users a path to enhanced process control, quality monitoring and service improvement.
The audit of the airline's Quality Management System measured Virgin Atlantic's performance using the Cargo iQ metrics to track the achievement of shipment milestones and deliveries in accordance with the commitment created at the time of each customers' booking.
Dominic Kennedy, managing director, Cargo at Virgin Atlantic said: "Cargo iQ is important to us because it is an independent measurement of our performance against quality standards which have been created by the industry, including many of our biggest customers."
Ariaen Zimmerman, executive director, Cargo iQ commented: "Every time another Cargo iQ member becomes accredited, we are one step closer to ensuring the air cargo supply chain is transparent and efficient for all stakeholders involved."
"Our quality management system has undergone a vigorous audit and our subsequent certification reflects our commitment to putting our customers at the heart of everything we do. Cargo iQ provides us with a wealth of data to help analyse and streamline our operations, which will be key as we enter the next exciting phase of Virgin Atlantic's growth strategy," said Alex Papworth, manager, Business Assurance, Virgin Atlantic Cargo.