Qatar supports UNICEF by delivering medical supplies to Iran
Qatar Airways Cargo recently supported UNICEF with air freight to transport 36 tonnes of freight from Shanghai, China to Tehran, Iran.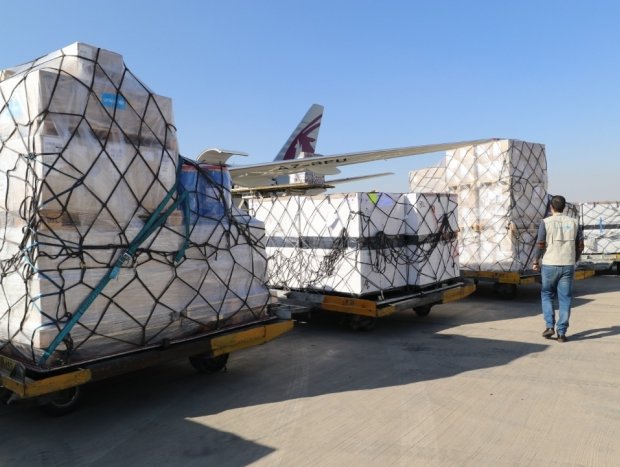 Qatar Airways Cargo recently supported UNICEF by transporting 36 tonnes of cargo consisting medical supplies and personal protective equipment such as face masks, N95 masks, gowns and coveralls from Shanghai, China to Tehran, Iran. The cargo was transported over several scheduled flights last week.
UNICEF in Iran will deliver these items to the Ministry of Health, Treatment and Medical Education for distribution among Iran's brave health personnel in hospitals under universities of medical sciences admitting COVID-19 patients. In total, UNICEF has provided 63 metric tonnes of personal protective equipment (PPE) items, part of which have been distributed among health personnel in hospitals under medical universities in different provinces including Gilan, Isfahan, Khouzestan, North Khorasan, Sistan and Balouchistan, East Azerbaijan, West Azerbaijan, Qom, Tehran and Alborz.
Qatar Airways' chief officer cargo Guillaume Halleux said: "We are proud to be part of this initiative supporting UNICEF and Iran in their fight against the COVID-19 pandemic. These are difficult and trying times for the entire world, fighting the pandemic is a global concern and we see it as our shared responsibility to support frontline healthcare workers and impacted regions around the world."
"Collaboration with private sector, governments and partners is critical to overcome the unprecedented logistical challenges posed by COVID-19" said Etleva Kadilli, director of UNICEF's Supply Division. "UNICEF is grateful to Qatar Airways for the generous donation and to the Government of the Islamic Republic of Iran for facilitating the shipment of these vital supplies, in support of Iran's frontline healthcare workers, children and communities."
Qatar Airways' group chief executive Akbar Al Baker announced earlier in March that Qatar Airways would support the Iranian people and do its part by providing aircraft to transport donated medical supplies from around the world to Iran. Since then, Qatar Airways Cargo has transported close to 60 tonnes of cargo to Iran, in addition to the recent UNICEF shipments.
The carrier has also shipped over 80 tonnes of medical supplies donated by Qatar Fund for Development to Rwanda, Lebanon, Tunisia, Algeria, Nepal, Albania, Angola, and Congo (DRC). During this time of crisis, Qatar Airways Cargo has significantly increased operations to support global trade and the transport of essential supplies and relief goods to impacted regions. In addition to operating scheduled freighters and belly-hold passenger flights, the cargo carrier is also utilising passenger aircraft to carry freight only and is also operating special freight charters to maintain vital global supply chains.
The airline introduced additional cargo capacity to several cities such as Shanghai, Guangzhou, Paris, Amsterdam, Muscat, Kuwait, Delhi, Beijing and Melbourne among others. The airline continues to operate a significant cargo schedule with approximately 175 cargo flights per day. During the past months, the cargo operator has worked closely with governments and NGOs to transport over 175,000 tonnes of medical and aid supplies to impacted regions around the world on both scheduled and charter services, the equivalent of roughly 1,750 fully loaded Boeing 777 freighters. Freight charters are being operated to multiple countries including China, India, Iran, Kuwait, Lebanon, France, Spain, Italy, Belgium, Germany, Poland, United Kingdom, the United States and Australia.