Qatar Airways' inaugural flight to Rabat touches down at Rabat–Sale Airport
May 31, 2019: Doha's leading airline Qatar Airways has reported that its first flight to Rabat landed at the Rabat–Sale Airport on Wednesday (May 29). This is the airline's third gateway to Morocco. The services to Rabat will be operated three times a week with a Boeing 787 aircraft, featuring 22 seats in Business Class […]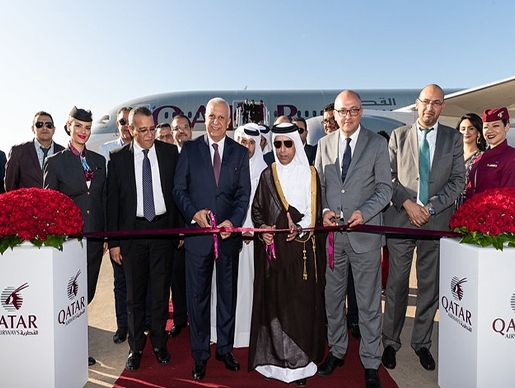 May 31, 2019: Doha's leading airline Qatar Airways has reported that its first flight to Rabat landed at the Rabat–Sale Airport on Wednesday (May 29).
This is the airline's third gateway to Morocco.
The services to Rabat will be operated three times a week with a Boeing 787 aircraft, featuring 22 seats in Business Class and 232 seats in Economy Class.
Qatar Airways also operates daily flights to Casablanca on a Boeing 777. Additionally, the carrier's joint business agreement partner, Royal Air Maroc, provides five weekly flights from Casablanca to Doha. Services to Rabat are operated three times weekly via Marrakech.
Akbar Al Baker, Group chief executive, Qatar Airways said: "This new gateway to Morocco will strengthen Qatar Airways' already robust presence in the Moroccan market, while providing our passengers travelling from Morocco enhanced connectivity to our extensive global route map of more than 160 destinations. Rabat, the country's capital, is also a major commercial and administrative centre, making it a key destination for business travellers, both from the region and internationally."
Visitors to Rabat can enjoy a wide variety of activities, including shopping for textiles, jewellery and crafts in the many traditional souqs in the city's Old Medina.
Tourists can also visit the Andalusian Gardens, a tranquil oasis where visitors can wander and admire the many traditional Andalusian flowers and shrubs, including orange, lemon and banana trees.