Qatar Airways, China Southern Airlines sign codeshare agreement
Sep 20, 2019: Middle East airline Qatar Airways strengthens cooperation with China Southern Airlines, with a codeshare deal, effective January 2020. Qatar Airways acquired 5 percent of China Southern Airlines in December 2018. With this agreement, China Southern Airlines' passengers will be to book travel on Qatar Airways' flights between Guangzhou and Doha and Beijing […]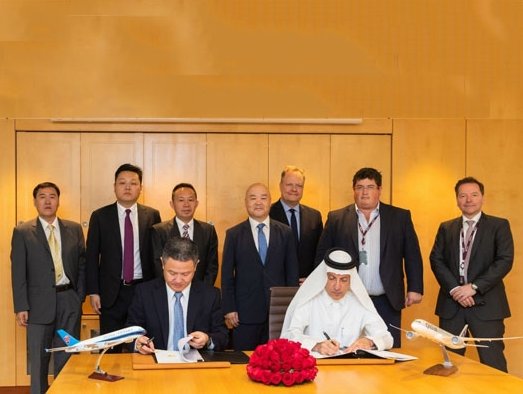 Sep 20, 2019: Middle East airline Qatar Airways strengthens cooperation with China Southern Airlines, with a codeshare deal, effective January 2020.
Qatar Airways acquired 5 percent of China Southern Airlines in December 2018.
With this agreement, China Southern Airlines' passengers will be to book travel on Qatar Airways' flights between Guangzhou and Doha and Beijing and Doha allowing one stop connections to more than 80 destinations in the Middle East, Europe and Africa.
Qatar Airways acquires 5 percent stake in China Southern Airlines
Qatar Airways first began flying to China in 2003 with a service from Doha to Shanghai.
Qatar Airways currently operates 45 weekly flights to seven Greater China gateways: Shanghai, Beijing, Guangzhou, Hangzhou, Chongqing, Chengdu and Hong Kong.
The Doha-based airline informed: "In May 2018, Qatar Airways' Qsuite Business Class experience debuted in China on the Shanghai route with Beijing receiving Qsuite in December 2018."
Akbar Al Baker, chief executive, Qatar Airways Group said: "This codeshare agreement is the natural first step in us working together and leveraging our complementary strengths and resources to bring benefits to customers of both our airlines."
Wu Guoxiang, senior vice president of International and Corporate Relations, China Southern Airlines said: "Through the efficient Hamad International Airport, with its first rate service, passengers of China Southern Airlines will be able to enjoy the pleasant service to Doha."