Polar sees very healthy demand amid Covid-19 pandemic
All-cargo carriers are rapidly stepping up their operations and closely working with customers to make their freighters available to lift the vital healthcare supplies and ease the bottlenecks in global supply chain arising out of the Covid-19 pandemic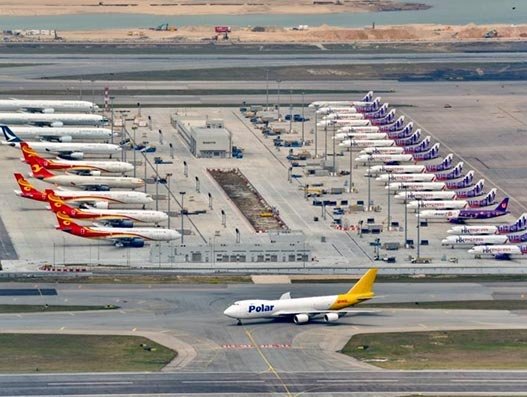 All-cargo carriers are rapidly stepping up their operations and closely working with customers to make their freighters available to lift the vital healthcare supplies and ease the bottlenecks in global supply chain arising out of the Covid-19 pandemic. Polar Air Cargo, a joint venture of Atlas Air Worldwide Holdings (51 percent) and DHL Express (49 percent) and a key all-cargo player in the world, is seeing high utilisation of its freighter fleet. Reji John speaks to Lars Winkelbauer, Executive Vice President and Chief Operating Officer, Polar Air Cargo, to understand how the all-cargo carrier is working to ensure essential equipment and supplies reach their destination amidst an extremely challenging environment.
What is your assessment of the current impact of Covid-19 on air cargo industry?
Not surprisingly, Covid-19 has severely disrupted the airline industry as most countries have travel advisories or outright bans in place to delay the spread of the virus, resulting in passenger airlines pulling down capacity in response to the severe decline in air travel. Cargo slowed significantly as well when factories in China did not reopen after Lunar New Year due to Covid-19. However, manufacturing in China has begun again and demand for air cargo has rebounded. Throughout the crisis, governments have encouraged the continued flow of goods and trade, especially by airfreight. Reflecting this, and reflecting the restart of manufacturing in China, we are seeing a very healthy demand as customers are eager to restart and replenish the global supply chain again.

Lars Winkelbauer, EVP and COO, Polar Air Cargo
What do you think is the long term impact?
While no one can accurately predict the future, estimates for the outbreak would suggest there may be an extended impact on global business and industry conditions in the coming months. I would expect such an impact to ease over time as conditions normalise and confidence returns, which should drive a period of inventory restocking and supply chain replenishment. This notion is underpinned by the experience seen in China, where infections have started to level off, factories are reopening and people are returning to a "normal" life again. I am confident the same will be true for other countries in time, concerted efforts to slow infection will take hold, which will ease fears and start a return to confidence. The airfreight industry has been resilient through other crises before, and has always found solutions to remain relevant. Further, a key fact remains. The world will continue to heavily rely on eCommerce and ever faster delivery times, all of which require airfreight, therefore, in the long term; I am still bullish on prospects for our industry.
How significantly has this pandemic affected the operations of Polar?
Among the most challenging are the operational effects. The ever-changing environment of travel restrictions and government orders have posed significant challenges for the movement of crew and to the operation itself. Clearly now, the complexity of staying on top of the changes and navigating them has only increased. We will continue to remain flexible as the situations are fluid.
Additionally, the safety of our team on the ground is paramount and to that end we have evaluated and adjusted processes including: how vendors and employees approach the aircraft to mitigate any exposure to the extent possible; supplying masks and hand sanitizers to crew; introducing heightened aircraft cleaning protocols; putting safeguards in place for our warehouse employees and vendors; and of course keeping abreast of World Health Organization (WHO) and the US Centers for Disease Control (CDC) and local guidelines and recommendations. Our goal is to always run a safe and compliant operation, while ensuring the safety and well-being of all of our employees.
A large contingent of our workforce is in Asia, especially in Hong Kong. Very early on in the crisis we started to engage with our teams on the ground to find out what they needed in order to keep the operation going while keeping them and their families safe. Our ability to deliver on that that has been an immense source of pride for all of us.
Since Polar is a pure play freighter operator, have you seen a spike in demand?
There has been a significant increase in industry demand for freighter aircraft, partially driven by the reopening of manufacturing after the prolonged closures following Lunar New Year as well as the extensive reduction of passenger belly capacity on the Trans Pacific as well as Intra Asia, which are our main routes. In percentage terms, both Intra Asia and Trans Pacific has see 80 percent plus reduction in passenger belly capacity ex China, and key cities such as Hong Kong (HKG), Shanghai (PVG) and Beijing (PEK) where hit the hardest.
What is your freighter utilisation now?
We don't disclose specific numbers, however, suffice to say is that we are seeing utilization that is at peak-season levels.
Have you either increased frequencies to any destination (if not do you intend to increase?) or added new destinations?
Due to the increased demand we have operated extra sections and charters, all in our existing Asia Pacific network. While we have not added new destinations, we are always working with our customers to meet their demand for airfreight and that includes considering new destinations.
Is there anything else that you would like to add relating to the Covid-19 pandemic and it impact on global trade and commerce.
What I am most proud of is that everyone at Polar are able to rise above the challenges to keep the operation going, and do their small but very important part in saving people's lives by delivering medical supplies and daily necessities to the epicentre of the outbreak in China during in the early days of the crisis, and again in support of the USA. At Polar we always say 'Never forget the people,' and we mean it.