North Carolina Ports moved record refrigerated container volume
The North Carolina State Ports Authority moved 1,459 refrigerated containers – 2,918 TEUs (twenty-foot equivalent units) – through the Port of Wilmington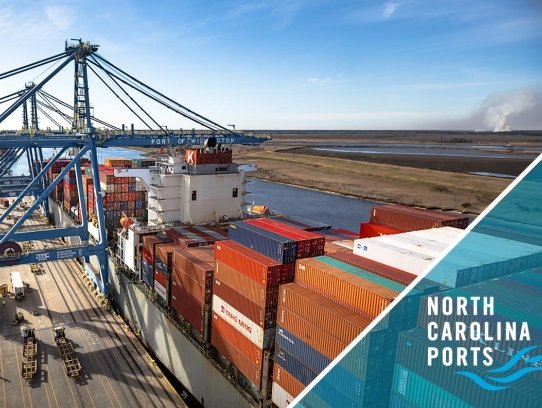 The North Carolina State Ports Authority moved 1,459 refrigerated containers – 2,918 TEUs (twenty-foot equivalent units) – through the Port of Wilmington during the month of April, setting a new record for refrigerated container volume.
"It has long been North Carolina Ports' goal to become one of the premier cold ports for shippers and these numbers are evidence of that mission," said Paul J. Cozza, executive director, North Carolina Ports. "Additionally, our record-setting April highlights our expanding perishables portfolio as we have quadrupled refrigerated container volume over the last five years."
NC Ports continues to experience a healthy flow of refrigerated cargoes to global markets despite the recent volatility due to the coronavirus pandemic. FY20 year-to-date (July-April) volumes are up 20 percent over FY19. Annual growth from FY14 to FY19 is up more than 225 percent. Pork and poultry products continue to be the leading export while bananas are the largest refrigerated import cargo.
"While there is still much uncertainty surrounding COVID-19, we continue to see growth in both import and export demand through the Port of Wilmington," added Hans C.E. Bean, North Carolina Ports chief commercial officer. "To support this growth, we are making the necessary investments to improve and expand our capabilities which in turn will benefit the North Carolina agriculture industry, the state's grocery sector and additional cold chain users. As we continue to make progress in optimising complementary export and import flows, there is a great opportunity to deliver more value for stakeholders across the entire supply chain."
This latest accomplishment comes on the heels of the opening of a new refrigerated container yard last month. The $14 million project increased the number of on-terminal refrigerated container plugs from 235 to 775 with the ability to expand to more than 1,000 plugs through Phase 2 of the project.