New posts for ACL Airshop's Jos Jacobsen, Wes Tucker, Mattijs Farber, Harold Elfring
Dec 12, 2019: Jos Jacobsen, Wes Tucker, Mattijs Farber and Harold Elfring of ACL Airshop have been appointed to new positions in the company. Jacobsen will take over as managing director and chief operating officer for Eastern Hemisphere operations and global leasing. He has over 17 years with the company, is known industry-wide as an […]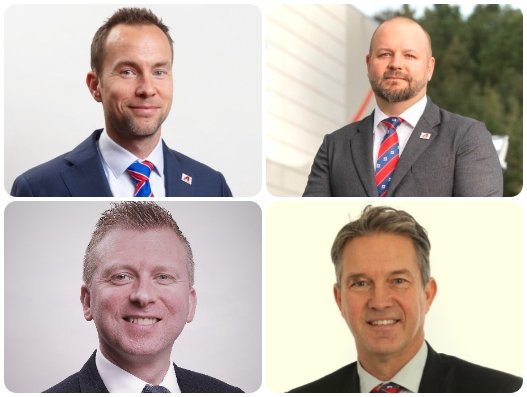 Dec 12, 2019: Jos Jacobsen, Wes Tucker, Mattijs Farber and Harold Elfring of ACL Airshop have been appointed to new positions in the company.
Jacobsen will take over as managing director and chief operating officer for Eastern Hemisphere operations and global leasing. He has over 17 years with the company, is known industry-wide as an air cargo expert, and is also a board member of the industry association ULD Care.
Tucker has been promoted to the position of executive vice president and chief operating officer for Western Hemisphere operations and manufacturing. Tucker has over 16 years with the company, and recently oversaw the construction of ACL Airshop's ultra-modern new cargo products factory in South Carolina.
Farber will take on the role of group controller. He has over 10 years with the company, and has risen in the global finance organisation with progressive levels of responsibility, most recently as International Controller. The company's financial network worldwide will now report through Farber for all accounting and finance activities, reports, audits.
Elfring has been apppointed director of technology & IT systems. Elfring has been working with the company for 14 years in a consulting role, leading new innovations such as proprietary ULD Control logistics programs, the new FindMyULD App, and Bluetooth tracking & tracing. He holds a Ph.D. in computer sciences.
FROM MAGAZINE: Boarding ULDs digitally

Steve Townes, chairman & CEO of ACL Airshop and founder of Ranger Aerospace, said, "These well-earned and richly deserved promotions from within our ranks reflect the High Performance Culture of ACL Airshop. Our vibrant, entrepreneurial organization is well known for its speed of service and exceptionally high professionalism. These four exemplary leaders personify what we mean when we say our people truly have The Right Stuff."