FROM MAGAZINE: Boarding ULDs digitally
Evolving from the traditional aluminium walls to lightweight ULDs, and then later on to economical and eco-friendly device-today, everybody is discussing automisation and modern ways of track and trace. Airlines need efficient ULD management in order to maintain their business. In addition, many customer focused initiatives can be furthered by transforming the way in which […]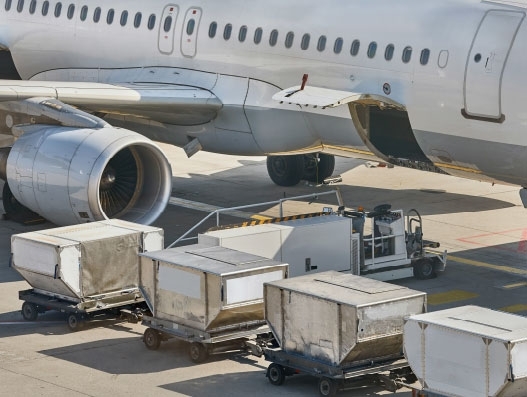 Evolving from the traditional aluminium walls to lightweight ULDs, and then later on to economical and eco-friendly device-today, everybody is discussing automisation and modern ways of track and trace. Airlines need efficient ULD management in order to maintain their business. In addition, many customer focused initiatives can be furthered by transforming the way in which the industry sees and treats ULDs.
Revolutionising the old way of doing business with big data solutions is what the world is excited about. Passenger segment in the aviation industry has been experiencing advancements on the technological front in baggage transfer, paperless boarding, drop & fly technology and much more. But the air cargo sector has recently started to embrace technology and regulatory changes to boost its profitability and compete more effectively with other shipping options.
The International Air Transport Association (IATA) reports, with around one million aircraft unit load devices (ULDs) in service representing a replacement value of over $1 billion, ULDs are expensive assets that require proper handling. Still, people in the industry are not aware that ULDs are aircraft parts and directly contribute to flight safety.
Evolving from the traditional aluminium walls to lightweight ULDs, and then later on to economical and eco-friendly device - today, all businesses are discussing automisation and modern ways of track and trace, without any human interference. So if a bluetooth tracker is installed on the ULD, then it can update its whereabouts automatically.
In July 2019, Hong Kong-based Cathay Pacific became the first airline to introduce blockchain technology to manage its ULDs in real time via a mobile app. This will ultimately eliminate paper receipts. The initial focus on ULD transactions will be in Hong Kong and selected locations in the US before being rolled out across the entire Cathay Pacific network. Cathay Pacific e-cargo and digital enablement manager Calvin Hui, said in company statement, "Using blockchain to establish a trustworthy ULD database across the network will not only assist with ULD management, but also improve the service quality and experience for our customers. The most obvious benefit we expect to see is having sufficient ULD stocks for our customers during peak cargo periods, because we will know where exactly to find our ULDs."
While Cathay Pacific is two steps ahead, Jettainer is fiddling with Bluetooth technology for ULD management. "At Jettainer, the Bluetooth technology we use can also be used by the customer to track. Here, the customer can decide what to do with the data that comes out of the Bluetooth technology. If the customer has got Bluetooth-operated warehousing gates, he can view to which freight forwarder it was handed over or parked in which area of the warehouse. He can easily find and optimise ground procedures. One of the innovations is the ULD black box. Together with IT experts from Lufthansa Industry Solutions, we have revised the original device, which focuses on geo-location, and equipped it with new functions. The focus is now on determining damage incidents, as the advantages are greater than with the first development of the device," informed Martin Kraemer, head of marketing & PR, Jettainer.
With 20 sensors fixed into it, ULD black box records different incidents like shaking, humidity, temperature, noise, drop-off, and any other acceleration.
At Air Cargo Europe 2019 in Munich, ACL Airshop launched a mobile app called FindMyULD, specifically designed to enhance data requirement in air cargo transactions. Jos Jacobsen, chief technology officer, ACL Airshop says, "Now the time has come with all the mobile possibilities like Bluetooth, GPS (global positioning system), RFID (radio-frequency identification) where ULDs cannot stay behind. It is an integral part of the whole cargo chain. We tried to develop a web application into a sort of mobile application that did not really work. So we created a unique standalone mobile application 'FindMyULD' which will incorporate all the technology in one single application. Through this, we are not only focusing on airlines, but also the handling agents."
There is a general trend in air cargo towards digitisation and given the ubiquitous nature of ULDs to the industry, it is clear that they go hand-in-hand. Airlines need efficient ULD management in order to maintain their business. In addition, many customer focused initiatives can be furthered by transforming the way in which the industry sees and treats ULDs.
Zhi Yong Liao, cargo manager business process and standards, IATA states, "We believe smart ULD helps facilitate the transformation in air cargo and there are several IATA initiatives and projects that interact with these ULDs - cargo piece level tracking[possibility to track pieces by tracking the ULD]; interactive cargo [attaching wireless device to the ULD to monitor the internal/external conditions]; and ONE record [include ULD tracking in the ONE record process to enable more participants without depending on cargo EDI messaging]."
ULD CARE, an independent company uses the standards IATA develops as the basis for their own work. The standards when implemented by the industry transform ULD operations and help safe and efficient cargo movement. Following IATA standards will help on multiple fronts - the ability to efficiently transfer ULDs between parties through the electronic ULD control receipt; visibility on ULD movement; and safe operations in implementing the ULD Regulations (ULDR) and safety campaign.
Despite the slowdown in air cargo movement this year, Unilode Aviation Solutions' Q1 revenue grew around 9 to 12 percent. The company added new customers and some customers have launched new routes.
Speaking about digitisation, Benoit Dumont, chief executive officer says, "Cargo moves from a lot of places between agents, freight forwarders, ground handlers, and airlines across the globe. So the advantage to track these things is immense, especially if you compare that with integrators like DHL, FedEx, they have everything in-house. So they know where the cargo is, they have people everywhere, they own hubs – they will have less of a challenge like rest of the industry. We could serve our customers a lot better if we have digital information. A lot of Unilode's stock across the globe is taken manually. So we have people in all different airports measuring the stocks of all the different ULDs on a 24X7 basis. So if we digitise it, it will be a lot better because we have instant information of the stock. We want to roll out technology across our entire fleet. Another advantage is that when you make those tags, you make the ULD talk to you."
Innovations in the management software, as well as in the container itself have led to significant increase in efficiency and contributed to aircraft being more fuel-efficient and climate-friendly.
Jettainer has independently taken over the platform skypooling. Skypooling is a free tool that helps participating airlines in managing their containers more efficiently. Users of the platform provide information about ULD understocks or overstocks. This allows airlines to help each other balance container inventories to ensure benefits and savings for all participants. Skypooling, thus, becomes a one-stop shop marketplace for containers and pallets. The complete coordination of ULD rental takes place via the platform: from automated processes, direct booking confirmation and communication to all parties involved to recording the issue and return of ULDs.
The challenge is to get all the airlines to approve the technology, what to do with the data, how to share it and how to protect privacy.
"At the moment we are trying to resolve the airlines' concern on data utilisation. The first thing a customer wants to know is where the ULD is, what is happening with the cargo in the ULD, and monitor it during flight. So, information will be used to know if the ULD is loaded at the right place on the aircraft for load balancing as it is very important for safety. If the temperature increases during flight in any ULD, the pilot should be alerted. We are very much in an exploratory phase to see what the technology can do and firming up the used cases with some customers which we can actually standardise as part of our offering," offers Dumont.
In April this year, Unilode teamed up with container manufacturer Nordisk Aviation Products to develop an integrated pallet edge rail solution for digital tags. The partnership will see existing Nordisk pallets, including heavy duty pallets, retrofitted with BLE 5 (Bluetooth low energy) digital tags, enabling ULD tracking and measurement of temperature and shock.
Jettainer recently signed a long-term partnership for continuing to manage and maintain Canada's second largest airline WestJet's ULD fleet over the next five years. The number of containers and pallets to be controlled has increased from around 350 to 2,000 units currently. In addition, Jettainer has entered into a strategic partnership with CORE Transport Technologies (Core-TT).
The COREInsight tracking solution, which is based on Bluetooth technology, in future, will be used in the containers and pallets of the service partners for outsourced ULD management. BLE technology for ULDs helps to significantly increase process efficiency and facilitates the integration of ground handling into a digital logistics chain. Jettainer and American Airlines are in the midst of a BLE proof of concept test and will equip 2,000 of these ULDs with Core-TT BLE tags. With this test American Airlines will be able to identify the benefits of having BLE tagged ULDs.
Unilode has successfully completed 95 percent of all the signatures of customers' authorisation of the technology on plane. "Obviously, to be successful in the market, we need to be able to set some kind of standards and we have over 135,000 units, which is a big portion of the air cargo industry," states Dumont.
Jettainer has an application for smartphones called as 'JettApp', which enables airlines to record ULD data promptly and accurately. All parties involved in the process chain – Jettainer, ground handling companies, repair shops as well as the airline, therefore, benefit from excellent data quality. The application incorporates artificial intelligence and functions as the mobile arm of Jettainer's system JettWare, which is used in order to professionally steer fleets of loading devices.
The combination of internet of things (IoT) and Blockchain technologies will pave the way for smarter ULDs in the future. While ULD lessors or manufacturers are actively digitising ULD management, air cargo terminals, airports and airlines are also striving to improve transparency in the air cargo supply chain. The benefits of smarter ULDs will be reaped by every stakeholder.
This story was originally published in STAT Trade Times' August 2019 issue.