Mumbai Airport sees surge in general cargo movements
India's Chhatrapati Shivaji Maharaj International Airport (CSMIA) has witnessed movement of 72000 tonnes of general cargo in the April-August period.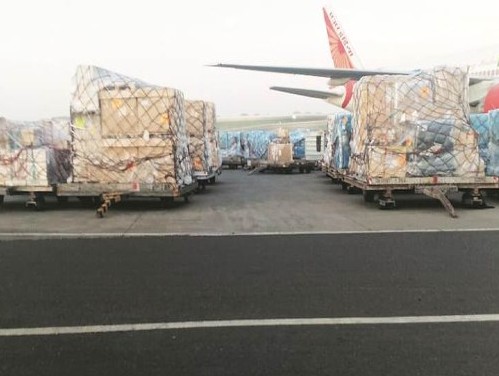 India's Chhatrapati Shivaji Maharaj International Airport (CSMIA) or Mumbai Airport has witnessed movement of 72000 tonnes of general cargo in the April-August period, resulting in 278 percent by the end of August 2020 as compared to April 2020 on the total volumes of general cargo. These include products such as engineering goods and machinery, electricals and electronics, chemicals, dangerous goods, garments and textiles.
Overall, CSMIA's air cargo has catered to a total of over 1,69,000 tonnes of cargo during April–August 2020, consisting of approximately 1,35,000 of international and 34,000 tonnes of domestic cargo. The airport registered a total of 18,820 cargo air traffic movements during the same period and witnessed an air freight growth of a whopping 166 percent in August 2020 as compared to April 2020. Airlines like Qatar Airways, Cathay Pacific, Emirates and Turkish Airlines catered to the highest tonnage of general freight. Germany, United States of America and China emerged as the most frequent destinations in terms of cargo interactions with CSMIA. Furthermore, domestic e-commerce volumes in August 2020 have picked up by 1236 percent as over the volumes in June 2020 due to festive season. The import of flowers has also seen a growth of 6000 percent in the month of August 2020 in comparison to June 2020.
Connecting to over 500 cargo destinations during pre-Covid-19, CSMIA's cargo facility is a gateway for pharmaceuticals, perishables, and engineering goods to India. CSMIA's air cargo connected to over 400 international destinations with additional new destinations such as Ras Al-Khaimah International Airport (RKT), Bolling Airport (BOF), Rickenbacker International Airport (LCK), Maastricht Aachen Airport (MST), Navoi International Airport (NVI), Koolatah Airport (KOH) and Greensboro Airport (GSO)) during this unprecedented time. International Airlines such as Emirates, Qatar Airways, Turkish Airlines, Ethiopian, Etihad, FedEx, and Cathay Pacific along with domestic carriers such as IndiGo and SpiceJet were some of the major airlines that catered in processing cargo. Also, airlines such as Alitalia, South African Airways and Philippine Airways operated ad-hoc freighter flights for the first time from CSMIA.
CSMIA introduced digitization processes like India's first air cargo community portal 'GMAX' and the air cargo mobile application which have resulted in the reduction of cost and time for the stakeholders, as well as boosted the efficiency and agility in cargo operations at the airport. Furthermore, CSMIA's GMAX is now compatible for integration with global supply chain digital systems providing stakeholders with a single digital point of access to ensure data accuracy and provide real-time cargo status and updates amongst other benefits. The ease of integration between the platforms allows for a more highly transparent, agile and effective supply chain.