LATAM Cargo offers stable capacity between South America, US, Mexico
LATAM Cargo has consolidated its service, after incorporating Los Angeles (United States) and Mexico City (Mexico) to its cargo network in order to mitigate the impacts of belly capacity restrictions in April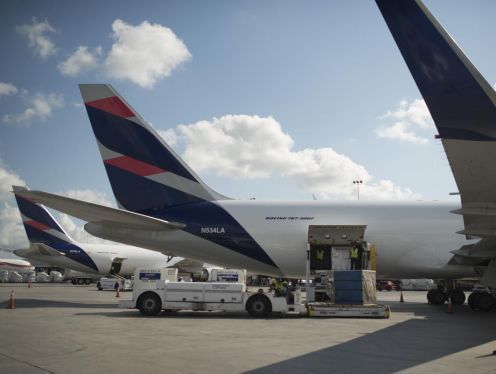 LATAM Cargo has consolidated its service, after incorporating Los Angeles (United States) and Mexico City (Mexico) to its cargo network in order to mitigate the impacts of belly capacity restrictions in April, and has become a key player in permanently connecting South America to and from Western North America.
In addition, LATAM Cargo's network is one of the most relevant aspects of its service in these locations, as it is the only one that offers direct routes to connect Chile to Los Angeles and Mexico City, and Peru to Mexico City. Likewise, the company offers direct connection from Los Angeles and Mexico to Chile and Peru. Furthermore, LATAM Cargo provides coverage extension opportunities, connecting Western North America to Brazil and Argentina via Santiago, Chile.
In terms of Northbound flows, these routes facilitate South American exports, including Chilean salmon, Peruvian perishables and textiles and general cargo from Brazil. The route to Los Angeles becomes especially relevant for perishable exports, as this is a connection point towards Asia. In all, the company offers 350 tonnes of capacity each week from South America to Western North America.
Moreover, by offering connectivity from Los Angeles and Mexico City, LATAM Cargo contributes to supplying South America. The transported products mainly include fruits and vegetables, medicines and electronic devices, in addition to airplane, automobile and mining spare parts, among other goods. The company offers a total capacity of 190 tonnes each week from Los Angeles and Mexico City to South America.
"The incorporation of Los Angeles and Mexico City to our cargo network is part of our strategy, focused on providing a robust connectivity service within America through a reliable and permanent solution for our clients. These measures are complemented by the increase in frequencies between South America and North America, which was implemented when the pandemic began. Through this, we have consolidated our position in the region", stated Kamal Hadad, LATAM Cargo's Alliances and network director.