Is India building a great wall to stop China?
The India-China standoff has caused several supply chain disruptions, but the biggest disturbances are yet to come which will completely change how other countries do business with these two.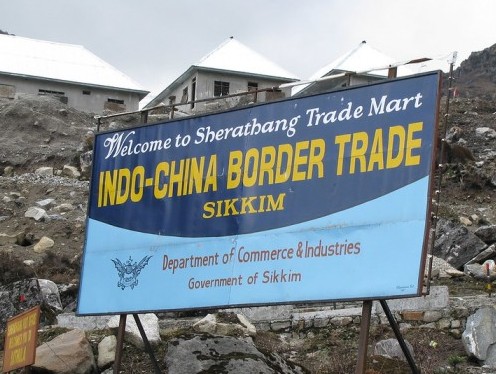 On June 15, 2020, a deadly skirmish between the troops of India and China at their Himalayan border killed and injured many soldiers on both sides thereby triggering a standoff in economic front as well and it tends to have a long term impact on global economy and supply chain.
Quickly, a wave of anti-China sentiment spread across India asking to boycott Chinese goods while Indian government took measures to deliberately delay imports from China by lagging customs clearance at air cargo terminals and seaports for shipments originating from China.
DHL Resilience 360 report noted in July, "Shippers with cargo destined for India, China, and Hong Kong in the coming weeks may experience shipment delays and port congestion due to the scrutiny of the country of origin. There is a potential for carriers to bypass ports, and as a result, manufacturers with suppliers based in India and China should plan inventories to ensure that production schedules can be met in case port congestions persist and further stringent customs regulations or tariffs on Chinese imports are imposed."
China's export to India from Jan to Jun 2020 has fallen 25 percent to $26.68 billion
The Chinese government retaliated by holding back Indian imports into the country in their airports and seaports pushing logistics players like DHL and FedEx on July 1 to temporarily shut down their operations between the two countries. They both resumed shipments on July 15 but only for selected items.
Indian plans
Under the Atmanirbhar Bharat Abhiyan (Self-reliant India Mission), the government asked industries to reduce their dependence on China and diversify supply chain by giving more importance to manufacturing goods India. India also implemented policies to block Chinese investments in the country and cancelled various projects led by Chinese firms.
Federation of Indian Export Organisations (FIEO) urged its members to shift their focus from China to countries with strong anti-China sentiment.
India also plans to impose tariff and strict quality measures on Chinese goods and made it compulsory to disclose the country of origin to stop Chinese companies from routing their products through other countries with little value addition. Though on the other side, multinational companies like Apple are shifting their production units from China to countries including India, economic analysts watch it with scepticism due to China's position as the factory of the world and its robust logistics system.
Companies moving from China to India
A recent Colliers International report noted, "We expect India, with its large labour force and domestic consumer market, to be in a good position to increase its global supply chain market share in the next 3-5 years. Our interaction with key developers in the industry suggests that automotive and electronics and are expressing interest in setting up facilities in Bengaluru and Coimbatore and that some of these companies may shift some manufacturing from China to India over the next two years."
Apple is looking to shift nearly one-fifth of its contract manufacturing to India in anticipation of producing Rs 3.0 trillion ($40 billion) worth of smartphones in the next five years. Also, Foxconn plans to invest up to Rs 75 billion ($1.0 billion) to expand a factory in southern India where the Taiwanese contract manufacturer assembles Apple iPhones. Further, a German footwear brand VonWellx plans to shift its entire production from China to India, bringing an initial investment of Rs 1.1 billion ($15 million).
India China trade
China is still India's largest trading partner with annual bilateral trade worth $92 billion (EUR 81 billion) and accounts for 14.4 percent of India's imports as a major supplier for products such as smartphones, telecommunications equipment, plastics, metals, chemicals, and active pharmaceutical ingredients (APIs).
According to the latest customs data released by China, its export to India from January to June 2020 has fallen 25 percent to $26.68 billion compared to that of last year, while Indian export to China decreased by 3 percent to $8.67 billion.
Several Indian industries depend heavily on Chinese goods and any change this equation will affect global supply chains including the air cargo. India imports 95 percent of its washing machine motors, 90 percent of Penicillin; Azithromycin, 80 percent of smartphones, 80 percent of air conditioners compressors, 45 percent of all electronics, 38 percent of smart televisions, 38 percent inorganic chemicals and a large chunk of machinery, fertilizers, automotive parts and telecom equipment from China.
Stuck in air cargo terminals
With an increase in trade, the share of air cargo between the two counties also increased in recent years. In fact, there was a huge demand from the traders' side to shift high-value goods to be moved through the air instead of ships.
Reports surfaced during the crisis in June noted that Chinese consignments worth Rs 200 crore was stuck at various Indian airports without any official order. The Indian pharmaceutical industry was the most concerned as 70 percent of the active pharmaceutical ingredients (APIs) that they need to formulate generic drugs come from China particularly through the air.
There was a situation when ingredients used in the manufacturing of drugs like Remedisivir and Favipiravir, which are used in the treatment Covid-19, held at air cargo terminals.
Earlier, customs used to examine only 30 percent of the imports, however, the crisis changed it to 100 percent for Chinese goods which in effect delayed the consignments. In its June advisory to a pharmaceutical customer, Mumbai International Airport informed that every Chinese consignment will be opened and checked.
Niki Frank, chief executive officer, DHL Global Forwarding India, noted in a recent blog, "We foresee Indian pharma players will steadily decrease their dependence on imports from China gradually and migrate up the value chain, focusing on value-added formulations with higher margins."
Future of India-China relations
The India-China standoff has already caused several supply chain disruptions, but if analysts are to be believed the biggest disturbances are yet to come which will completely change how other countries do business with these two. India may develop itself into a manufacturing hub by attracting more multinational companies but anybody with a good sense of economic history will be sceptical as the country has a long tradition welcoming investments with both hands while also creates policy barriers thereafter.
On the other hand, India is an important market for Chinese goods and investments. Long term interests of Chinese companies and government may stop both countries from decoupling from each other. For example, Indian pharmaceutical associations noted that it will take at least four to five years for India to be self-sufficient in terms of APIs, for which Indian pharma companies depend on China so much.
The outcomes from current circumstances are beyond any prediction as the relation between both countries continue to remain disturbed. If both countries can regain their trust factor, it will definitely help the world economy while a continued friction will result in parallel supply chains.