FROM MAGAZINE: India the new destination for air cargo
Indian air cargo segment is expected to register a growth of 14-15 percent in FY18 as against 12 percent last year. The sector is expected to grow in double digits over the next five years. Increasing volumes, enhanced connectivity, conducive policy and regulatory environment, with single window clearance clubbed with improved infrastructure makes India lucrative […]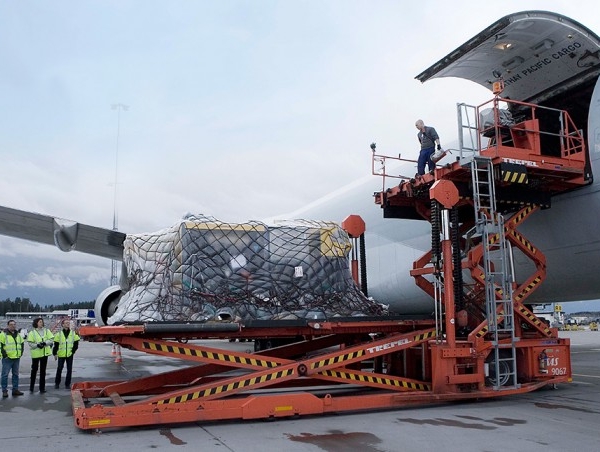 Indian air cargo segment is expected to register a growth of 14-15 percent in FY18 as against 12 percent last year. The sector is expected to grow in double digits over the next five years. Increasing volumes, enhanced connectivity, conducive policy and regulatory environment, with single window clearance clubbed with improved infrastructure makes India lucrative for the international cargo operators.
Renjini Liza Varghese
The Indian air cargo segment has been attracting more international cargo operators to country in terms of services, joint ventures, stake holdings etc. The growing cargo volumes, no Indian all cargo or freighter operator, conducive policy and lenient regulatory environment all put together makes it a lucrative market for the international players.
In the beginning of the year 2017, Indian Civil Aviation minister Ashok Gajapathi Raju in an interview to a news agency spoke in length about the tremendous growth potential of the country's air cargo segment. The government in its national civil aviation policy has offered major thrust with an aim to boost air cargo business, especially in the backdrop of rising e-commerce activities and exports.
The setting up of Air Cargo Logistics Promotion Board (ACLPB) by the ministry was a major step to ensure efficiency, reduced cost and improved inter-ministerial coordination to fuel growth.
Harish Shah, CEO of MNC Aviation, adding to the ministers point on the opportunities said, "Huge growth potential exists for the air cargo industry especially with the growing e-commerce traffic within India and across the globe as new market is opening up for the Indian exporters especially in Africa and South America. Existing markets viz Far East, Middle East, Europe and North America continue to grow. Pharmaceuticals, auto ancillaries and fashion products will continue to play major role in the growth of the air cargo industry. The registered double-digit growth in air cargo justifies the growing potential."
A significant achievement for India last year was the opening of the air cargo route between Afghanistan and India circumventing Pakistan. The first service between Kabul and New Delhi was inaugurated in June flowed by Mumbai service in December.
Double Digit Growth
The rating agency Crisil, has predicted a growth rate of 14-15 percent in FY18 (April 2017-March 2018) for the Indian air cargo segment against the 12 percent growth in FY17. It's for both domestic and international combined. Of the entire air cargo movement, international would account for 70 percent and domestic would be 30 percent. Within international if it is further split up between exports and imports, exports would be 60 percent and balance 40 percent would be by imports. According to Crisil, the exports have grown by around 15 percent and imports by about 20 percent.
Binaifer F Jehani, director, Crisil Research commented that the National Civil Aviation Policy 2016 paved the way for single window clearance and that step, Jehani feels, has taken in the right direction.
She said, "Clearly, the single window clearance means, it is all on one platform and that the dwell time for both imports and exports have to come down. What we understand now that the dwell time in practice has come down from 72 hrs to 48 hrs. In other words, it means that air cargo becomes much more competitive in comparison to other modes of transport."
These encouraging measures are the key points that are attracting more players into the country. While most of the international cargo operators are looking at increasing capacity, some major deals also took place. The latest is the enhanced co-operation agreement between the Indian carrier Jet Airways and Air France KLM. Apart from passenger growth, the European carrier and the Amsterdam Airport Schiphol thought this alliance can help them tap into the cargo potential of India.
Bart Pouwels, director, Business Development Cargo, Amsterdam Airport Schiphol (AMS), elaborated on the benefits of the tie up. He said, "With the expansion of the joint venture KL-9W we expect more direct flights between two nations. That gives us more cargo capacity. Recently 9W introduced a direct service between Bangalore and AMS. From AMS, this makes a weekly total of 14 flights to Delhi, 10 flights to Mumbai and 7 flights to Bangalore."
He added, "India is one of the main regions of pharma manufacturers for the EU and US markets. The network of KLM and Jet Airways is a perfect answer to the needs of the pharma industry to deliver a fast and reliable service with temperature controlled solutions."
Capacity
While new deals will explore newer markets, there are cargo services that cater to India's demand on a regular basis. According to the data available, more than 80 percent of the Indian cargo (both exports and imports) are served by the international carriers, such as Cathay Pacific, Qatar Airways, Saudia, Etihad Airways, Emirates and so on so forth.
Carriers like Cathay Pacific operates 25 dedicated freighters from six airports in India. Each of these freighters has the capacity to carry more than a hundred tonnes of freight. In addition to this, they operate 48 passenger flights every week from India to Hong Kong and beyond, thereby providing more opportunities to carry freight in the belly of passenger aircraft.
Another example is the Middle-eastern carrier, Emirates SkyCargo. It serves the Indian market with more than 170 flights through nine cities in India. They operate a fleet of over 260 all wide-body aircraft and hence are able to offer more cargo capacity to Indian exporters to move goods to over 155 destinations in 84 countries. In addition to the passenger belly capacity, it also operates dedicated freighter flights out of Indian cities. There are scheduled freighter services to Mumbai and Ahmedabad and ad-hoc freighter charters operating to a number of other cities.
Jassim Saif, Emirates vice president, Cargo Commercial - West Asia and South East Asia elaborated on the volume of cargo being lifted from India. He said, "Perishables such as fruits and vegetables, flowers, fish and meat constitute an important segment of the current air freight exports out of India exceeding on an average, 3000 tonnes a month. We see large volumes of fruits and vegetables in addition to meat and seafood flying out of Mumbai every month. In addition, Bangalore, Hyderabad, Chennai, Cochin and Trivandrum are also stations where we see a large volume of perishables flying out every month."
In addition to the existing capacity, majority of the airlines are enhancing capacity in anticipation to serve the growing demand. "Cargo frequencies do not depend on bilateral rights. Hence we are constantly studying the market and will increase frequencies or launch new destinations to meet the market demands," said Anand Yedery, regional cargo manager, Cathay Pacific - South Asia, Middle East & Africa.
Why no Indian freighters?
The volume, the growth rate and conducive environment and all favourable for freighter operations, then what is preventing the Indian carriers from full freighter operations? Recalling, the Indian national carrier Air India operated freighter service till 2012 and discontinued when the carrier plunged into severe financial issues.
Jet Airways, one of the leading private carriers of India had announced its plans to set up a cargo airline in 2015. Naresh Goyal-owned carrier has even obtained necessary in-principle approval from the authorities to lease freighters from its investment partner Etihad. The airline however shelved its plans.
All agree that there is an increase in demand for freighters in India. But can the Indian market afford the freighters still remains as a question mark.
Sam N Katgara, Partner at Jeena and Company, a leading Indian freight forwarder, spoke at length about reasons that are pulling the airlines away from full freighter operations. He said, "Because the yield out of India when compared to many countries like Taiwan is much lower. Every operator's focus is on higher yields. Today Bangladesh's yield is much higher than India, certain cases China is higher than India."
In an aim to promote the air cargo segment, the government set up the Air Cargo Logistics Promotion Board (ACLPB) in 2012. In August 2016, AAI Cargo Logistics and Allied Services Company Limited (AAICLAS) was incorporated as a wholly owned subsidiary of Airports Authority of India (AAI). AAICLAS plans to optimally utilise AAI's old redundant/un-utilised domestic passenger terminals by converting them into cargo facilities after carrying out the necessary modifications and utilising the space created for establishment of Common User Domestic Air Cargo Terminals with an objective to create the basic infrastructure at its airports which have a potential for air cargo growth.
While AAICLAS is currently expanding capacity at the ground level for cargo operations, it also holds the high possibility of starting an all freighter operation.
Keku Gazdar, chief executive officer of AAICLAS, said, "It is too early to say something on AAICLAS operating a freighter service to and from India in the immediate term, but possibilities are enormous for us to expand any direction in the industry."
He continued, "AAICLAS is examining various factors related to the establishment of dedicated cargo airports in the country by ensuring the commercial viability for airlines and availability of industrial and consumption clusters, besides, well-connected rail/road and airport network for multimodal transport connectivity. The company will focus on three verticals including air cargo handling and allied services, warehousing and contract logistics and air cargo road feeder and air freight stations."
Privatisation was seen as the best way to address inadequate infrastructure and most of the airports in Indian metros have been privatised in the last decade. On one hand while AAI has embarked on facility capacity addition, the private operators also continue to invest in facility enhancement drives.
Manoj Singh, senior vice president and head of Cargo at Mumbai International Airport Limited (MIAL) gave detailes of the airport's capacity enhancement plans. He said, "As part of the master plan, expanding the pharmaceutical terminal; building a new agro and mega cargo terminal; and relocating and constructing the Air India facility are few of the major projects that will be executed in the coming years. For these upcoming developments, identifying appropriate locations, obtaining necessary approvals and acquiring land have already been completed.
"The upcoming facility dedicated to pharmaceutical handling will accommodate more loose cargo along with an additional 150 built ULDs, taking the overall pharmaceutical handling capacity to 35,00,00 tonnes. The dedicated agro terminal has been planned to handle an annual capacity of 2,00,000 tonnes taking the overall export perishable cargo handling capacity to above 5,00,000 tonnes."
In 2017, India launched the UDAN scheme under the regional connectivity scheme (RCS). The cargo segment also had placed its bet on the RCS scheme expecting the cargo lifts through smaller airports to the larger ones. However, the cargo segment has not taken off as planned.
Jehani continued, "There are lots of interests being shown from the cargo operations under the RCS scheme. It has been backed out because there is some financial viability issue in it. That is the sense I get from the market."
Where do we head from here?
Stake holders of the air cargo value chain put the overall outlook of the Indian freight industry as very bright for the next five years. Being one of the largest consumer markets in the world, India's logistics sector is driven by industries such as automobile, pharmaceuticals, fast-moving consumer goods (FMCG) and retail. However, there are constraints to the growth of air cargo such as high operational costs, regulatory processes that are currently complex and substandard infrastructure etc.
Market players expect business to definitely grow and there will be no dearth in volume, but how to create efficiency is where the success is going to lie.
Crisil forecasts the cargo movement to grow between 9 to 10 percent over the next 5 years indicating a healthy growth. It means India definitely is going to be the hot destination.