India registers 19% growth in domestic air passenger traffic between FY 2014 and 2016-17
<p style="text-align: justify;">May 31, 2017: The civil aviation industry in India has emerged as one of the fastest growing industries in the country during the last three years, according to latest report from the Ministry of Civil Aviation.</p><p style="text-align: justify;">The report has revealed that Indian aviation is growing at a fast pace and it stands […]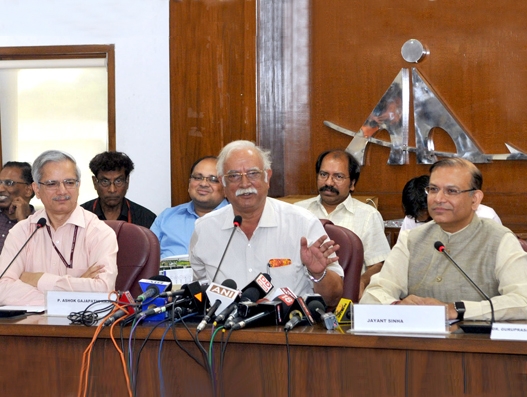 May 31, 2017: The civil aviation industry in India has emerged as one of the fastest growing industries in the country during the last three years, according to latest report from the Ministry of Civil Aviation.
The report has revealed that Indian aviation is growing at a fast pace and it stands at the third position in the global ranking. According to Ashok Gajapathy Raju, Union Minister for Civil Aviation, the industry has registered a 19 percent growth in domestic passenger traffic between the FY 2014 and 2016-17. In 2014 the passenger volume was about 6.1 crores which stood at 10 crores in 2016-17.
The minister while interacting with the media has mentioned the special provisions made for different segments of the aviation industry. He said, "Route Dispersal Guidelines have been rationalised, multiple provisions have been made for MRO service providers and a slew of initiatives like the AirSewa portal, enhanced compensation for cancellation and boarding denial have been taken for improving passenger convenience."
Minister also added, "The average or median airfares fell by 18 percent during 2016-17, making flying more affordable for the common man. Scheduled domestic flight movements also rose from 7 lakh in 2014 to 8.2 lakh in 2016, with a CAGR of 8.2 percent. As against 395 aircrafts in the fleet of Indian carriers, there are 496 aircrafts in operation today, and another 654 are under purchase."
The ministry now expects that the Indian aviation industry will grow even further considering the prevailing positive signals. What is most impressive about this growth is its inclusive nature defined by the Regional Connectivity Scheme –UDAN that has made air travel possible for even the common man in remote areas. The minister also highlighted the initiatives that have reshaped the aviation ecosystem by bringing in the National Civil Aviation Policy 2016.
Under the UDAN scheme, 31 currently served, 12 under-served and 27 unserved airports are now connecting 128 RCS routes across the country. 50 airports are being revived and 13 lakh new UDAN seats are being added annually under the first round of UDAN for a Viability Gap Funding of Rs 205 crore.
Raju also pointed out the achievements of the Ministry in the last three years such as the 'ease of doing business' by allowing 100 percent FDI in domestic operations; Open Skies Service Agreements with 49 countries and 5 SAARC nations etc; developing a security system complying with ICAO requirements; Anti Hijacking Act; innovative technology like GAGAN; India's first navigation based system to improve accuracy of air navigation services; and skill development specifically for the aviation sector.
The Minister said that Aerospace and Aviation Skill Sector Council has been formed to monitor growth of skill development. The first Executive Aviation Course was launched by India's first Aviation University in February 2017.
Minister of State, Civil Aviation, Jayant Sinha said, "As against 70-75 airports in the country in all these years, we now have more than 100 airports with the implementation of UDAN. We hope to have 200 plus airports in the next 10-15 years. The capacity of existing major airports is also being increased rapidly, while Greenfield airports are coming up at several places in the country like Goa, Navi Mumbai and other places. Air India has also performed extremely well during the last three years."
Read also: BLR airport continues positive growth, processes over 34K tonnes of cargo in October