Impacts of Covid-19 on air logistics
The impacts of Covid-19 on the aviation industry are being recorded in many forms — from a sudden drought of passengers travelling through air to world's increased dependency on air cargo operations.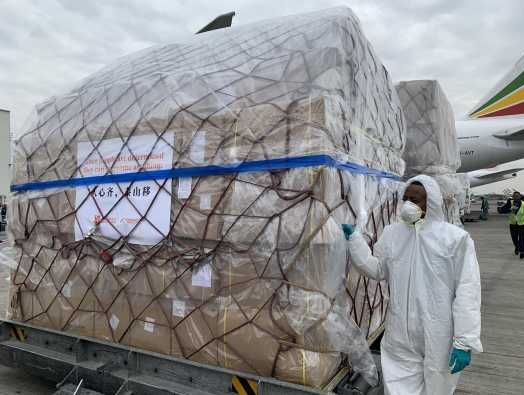 The impacts of Covid-19 on the aviation industry are being recorded in many forms — from a sudden drought of passengers travelling through air to world's increased dependency on air cargo operations.
With continued risk of the contagion, airports around the world are recording passenger volumes decreasing by over 90 percent, which has forced airlines to ground their passenger fleet. Due to the large scale grounding of the scheduled passenger aircraft, air freight has lost nearly 50 percent of its cargo capacity that gets checked in the belly of these passenger planes.
This profound shift in the aviation industry has forced the air cargo community to think of innovative ways to service the increased demand for essential and time sensitive medical supplies needed to alleviate impacts of healthcare and economic crises brought by the coronavirus pandemic.
Current industry trends
In the pre-Covid-19 world, air cargo served global trade by manoeuvring total world's supplies valued at around 35 percent, which interestingly added up to a mere 1 percent in volume. This signifies that goods that get funnelled into air logistics are high valued, need sophisticated and speedy transport.
According to the Air Connectivity Index, countries that have better air cargo connectivity engage more in trades that are high in value terms, and underscores that 1 percent increase in air cargo connectivity in a country accelerates its total export and imports by 6.3 percent. Air cargo transports stunningly stood at USD $6 trillion in value of goods.
In these dismal times brought by the virus crises, global trades have narrowed their focus on supplies needed to mitigate Covid-19 impacts and are buzzing largely around pharmaceutical products, perishables, and medical equipments and instruments.
The air of emergency around these essential commodities has drawn exponential demand for air freight. However, with reduced air cargo capacity, factoring the compromised belly hold, the rise in demand has distorted the freight delivery timeline. According to a report by The International Air Transport Association (IATA), compared to 2019, overall freight tonnes carried are expected to drop by 10.3 million tonnes to 51 million tonnes.
While air cargo sector remains riddled with the capacity crunch, increased freighter traffic, and charter operations are effectively and fitfully responding to the global supply chain.
With travel bans and lockdown restrictions "It became a huge challenge to keep the supply chain continue especially moving super urgent medical supplies and PPE. Charters were the only option since the traditional commercial lanes faded away and the need of the hour was to move relief supplies," said Jacob Matthew, president & board member, National Air Cargo, in a recent interview to The STAT Trade Times.
Air cargo challenges at present
2020 is turning out to be the worst year in the history of the aviation and supply chain as a whole. IATA, in its financial outlook for the global air transport, reported that airlines are expected to lose $84.3 billion in 2020. "On average, every day of this year will add $230 million to industry losses," said Alexandre de Juniac, IATA's director general and CEO, in a release.
In 2020, overall freight tonnes carried may reduce to 51 million tonnes, while cargo revenues may rise to USD $110.8 billion compared to 2019: IATA
On the contrary, increased buzz around air cargo along with its reduced capacity due to lost belly hold is expected to drive the freight rates up by good 30 percent. IATA reported that cargo revenues may reach a near-record $110.8 billion in 2020, which would mean an increase from $102.4 billion in 2019.
Having found the silver lining, air cargo community has been spectacularly flexible in responding to the crisis and is still circumventing challenges mostly related to structural changes like transporting cargo on passenger seats, flying cargo-only passenger flights, and, the wildest of all, stripping passenger seats of aircraft to make more room for cargo.
KLM Cargo and Virgin Atlantic aircraft loaded with cargo on passenger seats; Swiss WorldCargo and Finnair aircraft's cabin decks with passenger seats cleared for cargo.
These unconventional methods have dramatically contributed to the air cargo capacity, but not without present and future inconveniences. Cargo-only passenger flights are viable at the moment seemingly due to high freight rates and low fuel prices, which may not remain the same. Removing passenger seats is a technical process that adds cost to the airlines, and loading and unloading cargo in the cabin are tedious and labour intensive tasks, which generally adds to the increased ground time. Also, cargo in these modified aircraft is moved in through the passenger doors, which makes them impractical for transporting large equipments.
Since the demand for air cargo is largely being driven by shortage of medical supplies — personal protective equipment (PPE), medicines, Covid-19 test kits etc. — mostly coming out of the Asian markets, the above structural and operational changes are ingenuously servicing the capacity crunch.

However, latest figures from TAC Index that provides live market intelligence on air cargo rates showed PPE demands are falling around the world, threatening operations of cargo-only passenger flights. Rates from Shanghai to North America have declined by 12.8 percent in the first week of June week-on-week; Hong Kong to North America have dropped 12.3 percent; Shanghai to Europe down by 12.8 percent; and Hong Kong to Europe dropped by 9.8 percent.
Air cargo serves the demand for medical supplies

Governments around the world are running projects to solicit PPEs and other critical medical supplies to fight their battle against Covid-19. The US federal government, in an effort to bring medical supplies into the country, started an initiative called 'Project Airbridge', which involves funding from the Federal Emergency Management Agency (FEMA) for air freight operations. The project was kicked off by bringing in 80 tonnes of PPE from Shanghai to New York. Since late March, more than 200 flights containing medical supplies have been operated. Key players being UPS, FedEx, National Airlines, and Atlas Air.

In UK, Department of Health and Social Care (DHSC) partnered with many British airlines to bring in emergency medical supplies into UK for the National Health Service (NHS). Virgin Atlantic alone is expected to transport over 1,500 tonnes of PPE from China to the NHS through May-July.

Indian government launched an initiative 'Lifeline Udan', which operates flights to transport essential and vital medical supplies to remote parts of the country. The initiative was announced on March 24 and since then it has operated 588 flights, carrying 940 tonnes of cargo containing Covid-19 related enzymes, medical equipments, testing kits, PPE etc.

World Food Programme (WFP), the Africa Centres for Disease Control and Prevention (Africa CDC), and Jack Ma Foundation selected Ethiopian Airlines Cargo to facilitated PPE shipments for the African region, which took medical supplies to more than 39 African countries. And daily cargo flight operations by the flag carriers, to bring in medical supplies, are being performed for their respective countries. As more and more new and effective drugs, vaccines come to fore and requirements for medical devices, hospital equipments and instruments arise, air freight would continue to remain the biggest logistics force to transport these essential supplies.
The outliers: shining cargo carriers across the world

Covid-19 is demanding relentless service from the air cargo industry and, keeping the airlines afloat with its passenger volumes largely absent, air cargo is thriving to keep the aviation sector afloat. As per the IATA report, air cargo contributed 12 percent of total global air transport industry. However, in 2020, air cargo's contribution is expected to be around 26 percent.
Air cargo operations have contributed exponentially in keeping the supply chain from tipping. Qatar Airways Cargo, working with governments and NGOs, has delivered 200,000 tonnes of essential supplies to impacted regions so far. Qatar Airways' increased share of air cargo market, amid the coronavirus pandemic, has made it the largest cargo airline in the world.
Emirates SkyCargo, the cargo division of Emirates, operated a B777-300ER passenger aircraft loaded with 66 tonnes of general cargo, perishables and sanitisers in the lower deck of the aircraft, setting a new record for maximum cargo carried in the belly hold. Emirates SkyCargo has been instrumental in maintaining food supplies in UAE and is supporting Australian government in exporting Australian produce to overseas markets.
Responding to the pandemic-led grounding of the passenger aircraft, Air Canada was the first one to remove its passenger seats and load cargo in the cabin, strapping it on the cabin deck. Air Canada's remodelling success story soon become a trend, as Swiss WorldCargo, Ethiopian Cargo, IAG Cargo, and Finnair Cargo followed suit.

Air cargo as we know has always involved cargo in tonnes and distance in long-,mid-,short-haul. Last mile deliveries had never quite fit well in the air cargo space, until now. The increased demand for contactless deliveries and dwindled logistics workforce due to stay-home and lockdown mandates, cargo drones have been put under a spotlight.

Zipline, which is an American medical product delivery company that builds, designs, and operates drones, announced the launch of America's first emergency drone logistics operation for hospital pandemic response together with Novant Health. Zipline drones are being used to distribute Novant Health's critical medical products to its area hospitals.

A drone logistics company, Drone Delivery Canada (DDC), partnered with Air Canada to help deliver time-critical cargo in hard to reach locations in Canada. One of the DDC's drones offer a payload of up to 4.5kgs and a range of about 30 kms and is being used to keep First Nations in Ontario supplied with essential. Air cargo industry is increasingly embracing the use of unmanned aerial vehicles (UAVs) for cargo operations and the drones segment is seeing a spike in investments owning to its unique utility of providing fast, contactless, last mile deliveries.

Air cargo space is intertwined with many other challenges like its capacity to incorporate digitalisation in its daily operations; freight rates returning to normal even as countries struggle to contain the spread of the virus; consequences of US-China trade tensions, and, importantly, protracted fear among travellers to resume air travel. But bearing in mind the level of flexibility that has been demonstrated by the air freight industry and key role it plays in serving economies, it is safe to say that there cannot be an adequate economic recovery without air logistics.