Icelandair adds first Boeing 737 MAX jet in its fleet
March 1, 2018: Icelandair recently received delivery of its first Boeing 737 MAX airplane. <br></br> The MAX, which is a new and improved version of Boeing's 737 airplane, will join Icelandair's fleet of Boeing 757 and 767 jets to serve North America and Europe.<br></br> In 2013, Icelandair had placed orders for 16 Boeing 737 MAXs, […]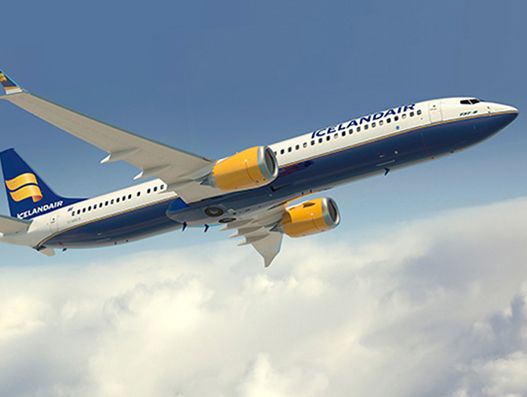 March 1, 2018: Icelandair recently received delivery of its first Boeing 737 MAX airplane.

The MAX, which is a new and improved version of Boeing's 737 airplane, will join Icelandair's fleet of Boeing 757 and 767 jets to serve North America and Europe.

In 2013, Icelandair had placed orders for 16 Boeing 737 MAXs, including MAX 8 and larger MAX 9 models.

"The arrival of the new Boeing 737 MAX aircraft is a milestone for us," said Bjorgolfur Johannsson, president and CEO of Icelandair.

"The 737 MAX is an excellent addition into our fleet of Boeing 757's and 767's, which will help in increasing flexibility and capacity of our network, besides add frequencies and new destinations. It will help our airline to grow and augment our fleet strength, and enhance our trans-Atlantic operations," said Johannsson.

The 737 MAX family is powered with CFM International LEAP-1B engines, which include design updates, such as Boeing's Advanced Technology winglet that result in less drag and further optimises the 737 MAX performance, especially on longer-range missions.

It also reduces fuel use and CO2 emissions by at least 14 percent compared to the current version of 737s.

"The 737 MAX will complement Icelandair's trans-Atlantic operations, which is aiming to seamlessly connect North America and Europe," said Monty Oliver, vice-president of Europe Sales, Boeing Commercial Airplanes.

"The incredible operating efficiencies of 737 MAX and Max 9 will allow Icelandair to steadily and profitably grow its network in the future," said Oliver.

The 737 MAX is the fastest-selling airplane in Boeing history, accumulating over 4,300 orders from across 93 customers worldwide.

Read also: Icelandair adds Boeing 737 MAX 9 aircraft to its fleet