How Virgin Atlantic is flying fresh fish from Norway
As part of our drive to increase cargo capacity, we've just started flying to the arctic circle to pick up fresh seafood. Our cargo team have had quite a year. With very few customers taking to the skies right now they're making the most of things by increasing the amount of cargo we fly. In fact, they've left no stone unturned in search of new opportunities. That includes flying to 11 new destinations in the last 12 months alone.
We've ventured into the Arctic circle for the first time and started cargo flights to Harstard/Narvik airport at Evenes in Norway. The twice-weekly flights on our Boeing 787-9 aircraft will offer over 100 tonnes of cargo capacity each week, that's 50 tonnes per flight, primarily serving the Norwegian seafood and fish industry flying fresh salmon.
This new service will offer fast, efficient connections via London Heathrow onto our extensive global network, which means the delicious seafood will reach its destination up to 72 hours faster than current options which go through Oslo.
"Virgin Atlantic Cargo continues to expand at pace, and this exciting new launch is testament to the innovative spirit of our business," Dominic Kennedy, managing director of Virgin Atlantic Cargo.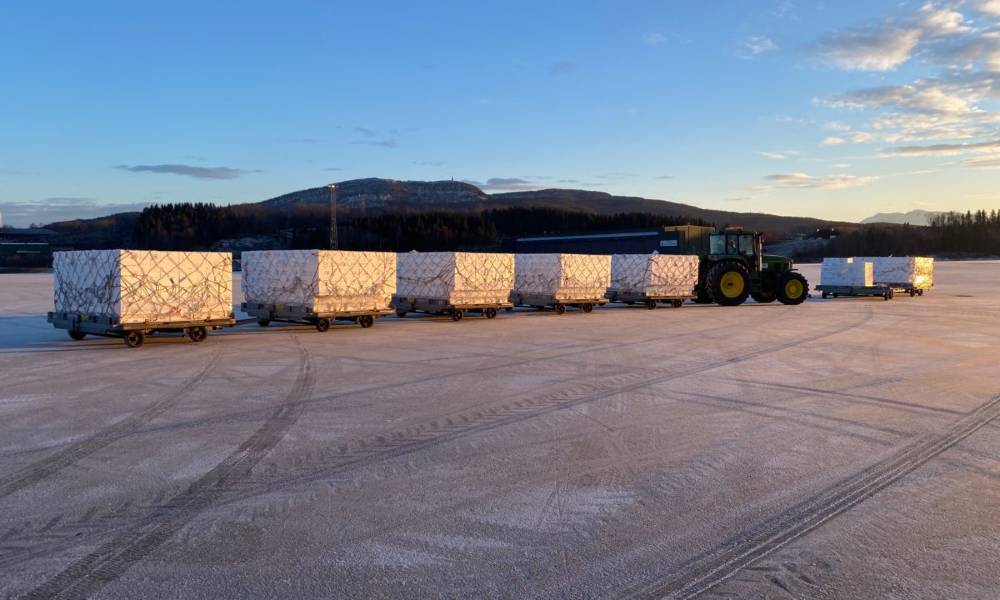 For the proving flight, 6 pallets of fish in the hold with another 1,270 kilos loaded in the bulk cargo bay. Future flights will carry 10 pallets plus 2,500 kilos. A total of 50 tonnes per flight.
We had to overcome several challenges to set up this new service and make sure the route was viable. With only two hours of daylight per day, cold and windy weather and temperatures never going above minus 2°C, we needed to make sure everything was in place for us at Harstead/Narvik. That included essential de-icing equipment which turned out to be two trucks called 'Cool as Ice 1 and 2'.
Like any new route there were a thousand and one things to be done before any aircraft could take off. Ryan Daniels, our network operation planning manager along with Jon Walker, senior manager, standards and operations, led a team from across many departments to make sure all bases were covered. This long list includes things like getting overfly permissions for the route, doing safety and security audits and working out weather minimums for the flights.
For Ben Crump, our regional manager – cargo operations UK & Europe, there was a lot of work involved with planning the weight and balance of the aircraft, working with our load control team to run computer simulations of the flight and get set up with equipment on the ground in Norway. This was the first time Ben had set up a new route like this with all the training having to be online rather than face-to-face. With everything set and a bit of extra time built in to the schedule for this being the first shipment, Ben handed over to our flight operations team to get him right up to the top of Norway, deep in the arctic circle.
The first flight, a 'proving flight' to test all the procedures, was flown by pilots John Neyland, James Symons and Iain Whittaker. Although our pilots are used to flying to cold weather destinations like Boston and New York in the winter, Evenes presented several new challenges such as steeper than usual approaches and surrounding high ground. To prepare for that, the pilots had a dedicated simulator session before the flight.
The article was originallly written by Dave Gunner, co-editor of Ruby, the Virgin Atlantic Blog.