Hong Kong Airport sees steady growth in cargo traffic in July
Aug 13, 2018: Hong Kong International Airport (HKIA) has seen steady growth in cargo and airmail throughput in the month of July. The hub has handled 433,000 tonnes of cargo in the reporting month. Transshipments recorded an increase of 9 percent year-on-year, driving the growth in cargo throughput. Amongst the key trading regions, traffic to/from […]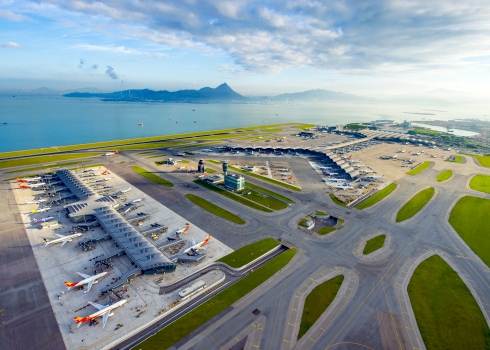 Aug 13, 2018: Hong Kong International Airport (HKIA) has seen steady growth in cargo and airmail throughput in the month of July. The hub has handled 433,000 tonnes of cargo in the reporting month. Transshipments recorded an increase of 9 percent year-on-year, driving the growth in cargo throughput. Amongst the key trading regions, traffic to/from North America and Southeast Asia increased most significantly.
During the month, passenger volume grew to 6.7 million, representing a year-on-year increase of 2.2 percent. The growth in passenger traffic was mainly contributed by Hong Kong resident travel, which saw an 8 percent year-on-year growth over the same month last year. Overall passenger traffic to/from Mainland China, Europe and Japan recorded the most significant increases.
Over the first seven months of 2018, passenger and cargo and airmail throughput both experienced year-on-year increases of 3.1 percent, reaching 43.6 million and 2.9 million tonnes respectively.
On a rolling 12-month basis, HKIA handled 74.2 million passengers, 5.1 million tonnes of cargo and airmail, and 425,770 flight movements, representing year-on-year growth of 4.2 percent, 4.7 percent and 2.7 percent respectively.
Meanwhile, HKIA is expecting the launch of a new airline service that will broaden the airport's extensive network even further, as part of its efforts to offer more convenience and choices to travellers.
Michael Yuen, general manager, Airport and Industry Collaboration, Airport Authority Hong Kong, said, "We are delighted to welcome EgyptAir, a new addition to HKIA's operating airlines, which will offer twice-weekly flights to and from Cairo via Bangkok starting from September 18. The service will be further increased to three times per week from October 28. We hope passengers enjoy the new service to this historic country, and we look forward to welcoming more new airlines adding even more destinations in the future."
Also read: Hong Kong Airport sees strong growth in cargo volume in November