Higher air freight demand, sea freight rates push DSV 9-months net profit to DKK 8 billion
DSV, one of the world's largest freight forwarding companies based in Copenhagen, Denmark, more than doubled its net profit to DKK 8 billion for the 9-months ended September 30, 2021, from DKK 3.1 billion for the nine months ended September 30, 2020, on high demand for air freight and higher sea freight rates.
Revenue increased 44 percent to DKK 121 billion from DKK 84 billion, according to the results announced today.
For the quarter ended September 30, 2021, operating profit (EBIT) before special items increased to DKK 4.5 billion from DKK 2.7 billion in the year-ago period. Revenue was up 77 percent to DKK 49.5 billion from DKK 28 billion.
The operational integration of Agility's Global Integrated Logistics business, which became part of DSV in August 2021. is likely to be completed by Q3 2022.
"In August, we completed the acquisition of Agility's Global Integrated Logistics business and took over a well-run company and were joined by a team of skilled new colleagues," Jens Bjørn Andersen, Group CEO, DSV said. "The integration is off to a good start, and in the coming period, our two organisations will be merged into one. The transport markets continue to be characterised by disruption and imbalances causing extraordinary challenges for both our customers and us. Under the extraordinary market conditions, we are happy to report solid results across all divisions."
DSV achieved 29 percent volume growth in air freight in Q3 2021 (13 percent YTD 2021). "Adjusted for the addition of Agility GIL, we estimate that DSV's growth figures were in line with the market." Gross profit per unit (DKK) was almost flat at 8,609 and YTD was up marginally (2 percent) to 8,383.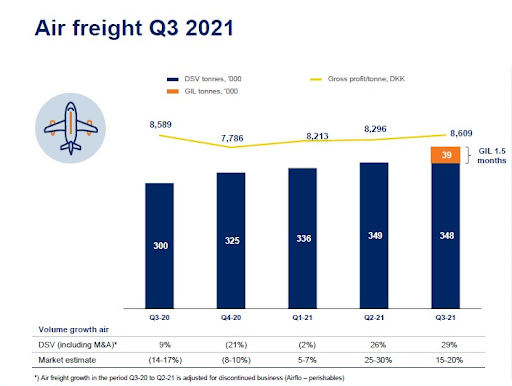 "High demand, airport restrictions (COVID-19 restrictions) and limited belly space capacity in passenger planes continue to impact the available capacity and are keeping rates high. The return of passenger traffic is gradually having a positive impact on capacity due to more belly capacity entering the market, although this is primarily relevant for regional and domestic passenger flights, and we only expect a gradual return of long-haul passenger flights," the statement said.
DSV achieved 12 percent volume growth in sea freight in Q3 2021 (8 percent YTD 2021). "Adjusted for the addition of GIL, DSV's volume growth was flat and in line with the market, according to our estimates. Securing additional capacity has been the main obstacle to gaining new customers during 2021 as we prioritise existing customers."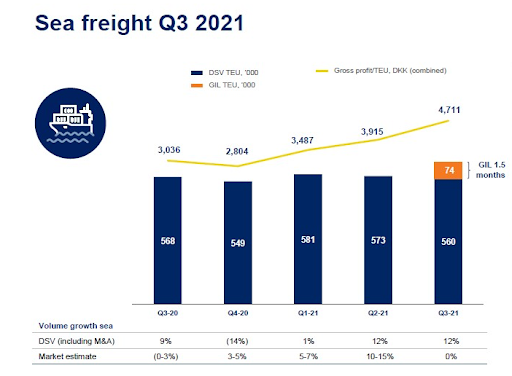 Gross profit per unit (DKK) was 4,711 in Q32021 compared to 3,036 in Q32020 - an increase of 55 percent. 

Giving an outlook for the rest of the year, DSV said EBIT before special items are expected to be in the range of DKK 15.3 billion-16 billion compared to DKK 11.1 billion till September 30, 2021.
Once fully integrated, GIL is expected to contribute approximately DKK 3 billion (previously 2.8 billion) to the combined EBIT before special items on an annual basis. 
DSV announced a share buyback today of up to DKK 5 billion. The programme will run until February 8, 2022, or earlier if finalised.
DSV also announced the expansion of its executive board. While Jens H. Lund will be the Group COO, Michael Ebbe has been appointed new Group CFO.
"We are strengthening the executive board to secure our continued ability to grow and develop our company at a high pace," said Thomas Plenborg, chairman of the board of directors. "At the same time, we ensure continuity in the management team. During the last almost 20 years, Jens Lund has been a fantastic Group CFO and has played an important role in the development of DSV. With his broad knowledge of the company and the logistics industry, Jens is the right person to head up areas for the continued development of our IT platform and optimisation of our business. Michael Ebbe has a long history with DSV and he has strong cooperation with Jens Bjørn, Jens and the rest of the executive committee."