Heathrow launches largest public consultations for new airspace design
January 20, 2018: As part of its proposed plan to strategically revamp its airport, Heathrow Airport has opened up a 10-week public consultation to seek views on options to deliver and operate and expand its airport, along with principles of new airspace design. <br></br> The consultation offers the public an opportunity to shape Heathrow%u2019s future, […]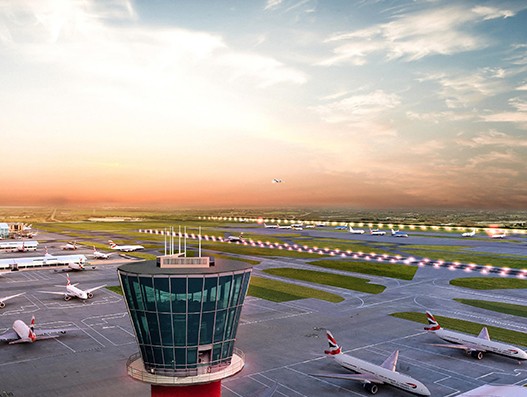 January 20, 2018: As part of its proposed plan to strategically revamp its airport, Heathrow Airport has opened up a 10-week public consultation to seek views on options to deliver and operate and expand its airport, along with principles of new airspace design.

The consultation offers the public an opportunity to shape Heathrow's future, and seek suggestions to build a new airport, which will help serve local communities and the UK economy.

Consultation is of part of Heathrow's latest delivery milestone, which comes ahead of a parliamentary vote during the first half of 2018 on a National Policy Statement for a new North-West runway.

According to reports, the planning process for Heathrow's expansion is in the pipeline, as the airport recently launched what is set to be one of the largest public consultations in its history.

Heathrow's consultation is a major milestone in delivering an expanded airport%u2014Europe's largest privately funded infrastructure project, and the best way to keep the UK connected to the global growth.

For the next ten weeks, Heathrow will seek views on how to shape its plans so it can deliver the huge opportunities of expansion while keeping to the promises it has made to local communities and meeting strict environmental tests.

Over last few years, Heathrow has been working with local stakeholders and airline partners to evolve plans to submit to the Airports Commission.

This engagement has identified options to deliver an expanded hub airport with an investment of 2.5 billion, which is less than previous plans%u2014thereby making sure that the airport charges stay close to the current economics.

The options can be delivered without compromising on the expansion commitments, which Heathrow had made to the local communities%u2014including a world class property compensation scheme, the pledge to introduce a 6.5 hour ban on scheduled night flights, and the promise to release new capacity, provided air quality limits are maintained.

The consultation will be an opportunity for the public to view Heathrow's emerging proposals and options in detail, and provide feedback on them.

It will be composed of two parts%u2014the first relates to the physical changes to the ground needed to build a new North-West runway, and operate an expanded airport.

Feedback is being sought on potential infrastructure options including three shortlisted options for the new north-west runway with length varying from between 3,200 and 3,500 metres. Potential locations to expand terminal infrastructure%u2014East of terminal-2, west of terminal-5 or a new satellite terminal by the new runway.

The proposed alignment of the M25%u2014repositioning it approximately 150 metres to the West, and lowering it by seven metres in a tunnel and raising the runway height so that it passes over the M25. Also options to change to local roads and possible change to two junctions leading to the M25.

The airport has also asked the public to review its plans to manage the effects of expansion on local communities and the environment.

The second part of the consultation relates to potential principles, or rules that could apply when designing the new airspace required for an expanded airport.

Airspace across the country is being modernised as it has changed little since the 1960s. Changes to airspace will ultimately improve resilience and punctuality for passengers while reducing noise, emissions and the number of late-running flights for local communities.

At this early stage, future flight path options are not being consulted on. The deadline for public responses is March 28.

Views heard in Heathrow's consultation will help to shape and refine the airport's proposals, which will then be subject to a second public consultation next year.

The Parliament of the United Kingdom is expected to vote on a National Policy Statement in the first half of this year, which will set out the policy framework for Heathrow's final planning submission.

Emma Gilthorpe, Heathrow's executive director expansion has invited local residents and stakeholders to take part in the consultation.

Said Gilthorpe: "When the government announced its support for Heathrow expansion, it had made a clear commitment to keep Britain open for business. We want an expanded Heathrow to be the world's best airport, ensuring that our country and its future generations have the infrastructure they need to thrive."

"We need feedback to help deliver this opportunity responsibly and to create a long-term legacy both at a local and national level. Heathrow is consulting to ensure that we deliver benefits for our passengers, businesses across the country but also, importantly, for those neighbours closest to us," said Gilthorpe.

Also read: Heathrow launches new service to connect to London